Frizz and loss of curl definition can happen at any time — it can from be the weather, the humidity, excess heat styling, or even from over-cleansing your hair. When defining curls and waves, the answer lies in addressing your daily routine and long-term care regimen. If you're looking to cut down on frizz and create beautiful, defined curls, we've got a few tips for you!
Utilize Redken Acidic Bonding Concentrate to Refine Curls and Reduce Frizz

1. Start with the right cut
Switching up your style might be the key to getting the curls you're after. Not only does getting rid of split ends and damage help accentuate your curls, finding the right balance of length and layers will also define your finished look.
2. Apply Redken Acidic Bonding Concentrate Intensive Treatment
This absolute treat nourishes the hair and rebuilds bonds from the inside out to cut down on frizz and refine your texture. With a pH-balanced formula to regulate your range and Citric Acid and alpha hydroxy acid to reinforce weakened bonds, this pre-shampoo, rinse-out treatment creates stronger, smoother, repaired hair after just one use.
Redken Acidic Bonding Concentrate Intensive Treatment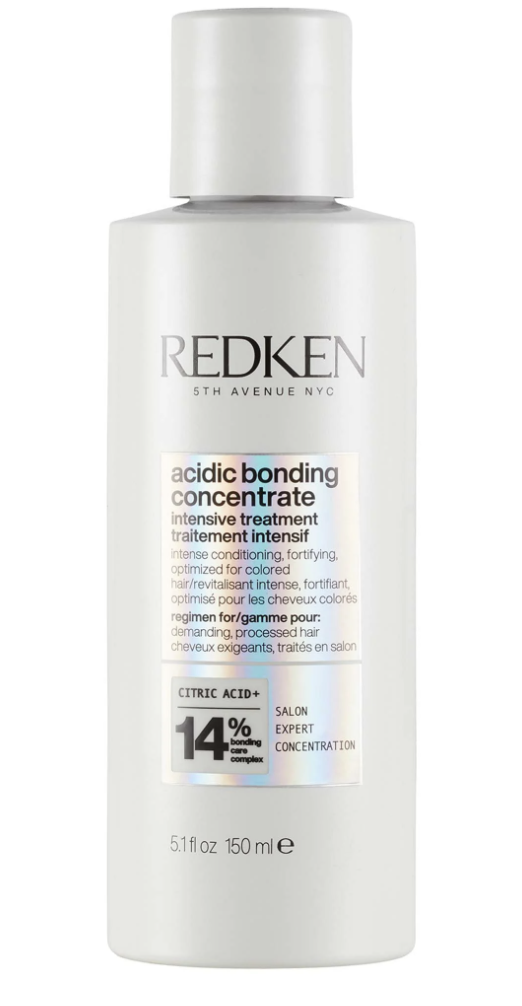 3. Practice daily healthy haircare habits
Adding Redken Acidic Bonding Concentrate Intensive Treatment at the salon or to your homeware routine is ideal to build strength and create smooth, defined texture. To continue the bond-building benefits, use Redken Acidic Bonding Concentrate Shampoo, Conditioner and Leave-In Treatment to your daily routine. Using the system together will enhance the effect to deliver 14x Smoother, 2x Stronger, and 90 percent more conditioned results.
4. Protect as you style
Heat damage is one of the top ways to damage your curl structure, which is why taking care of your strands each time you style is essential. Whether you're blowing hair smooth or diffusing for a voluminous finish, applying Redken Thermal Spray 11 Low Hold or Thermal Spray 22 High Hold is an ideal place to start.
5. Hands off!
The cardinal rule of curly hair is to keep your hands off, especially when hair is drying. Instead of raking product through the hair, your hair type might benefit from applying your formula with a flat hand instead. Once hair is completely dry and cool, you can then rake hands through to separate curls as you wish to enhance volume and finish with Redken Dry Texture Spray for a perfect finish.