While we all love a fresh blowout, washing your hair every day (or even every other day) is just not a sustainable option. Taking back time and energy, refreshing strands with a few choice product picks and styling techniques is the best way to enhance your style, cut down on damage and prolong the life of your color. Read on for a few of our top ways to get you through the season without sacrificing your style.
Prep + Product:
PREP: Achieving a great second (or third) day style actually starts with your wash and prep routine on day one. Pick a shampoo and conditioner duo that is tailored to your hair needs - frizz control, color care, moisture, or damage repair.
DAY ONE: Always wash twice to ensure oil and product buildup is fully removed and then apply conditioner to only the mid-lengths and ends. *If you have fine hair, consider applying only to the ends. Before drying, always apply a lightweight product to protect and nourish the hair. We love Redken Oil For All! This product instantly absorbs into the hair, seals in moisture, locks in shine and cuts down on dry time without the greasy feeling moist oils can leave behind.
Once hair is dry, apply Redken Invisible Dry Shampoo to your strands to immediately eliminate the risk of product residue and prep your hair for the next few days.
DAY 2+: When you get to day 2, 3, or even 4, swap your Dry Shampoo for Redken Deep Clean Dry Shampoo to instantly absorb excess oils. *Pro-tip: If you have fine hair or little residue, continue with Redken Invisible Dry Shampoo on day 2 and switch when extra absorption is needed.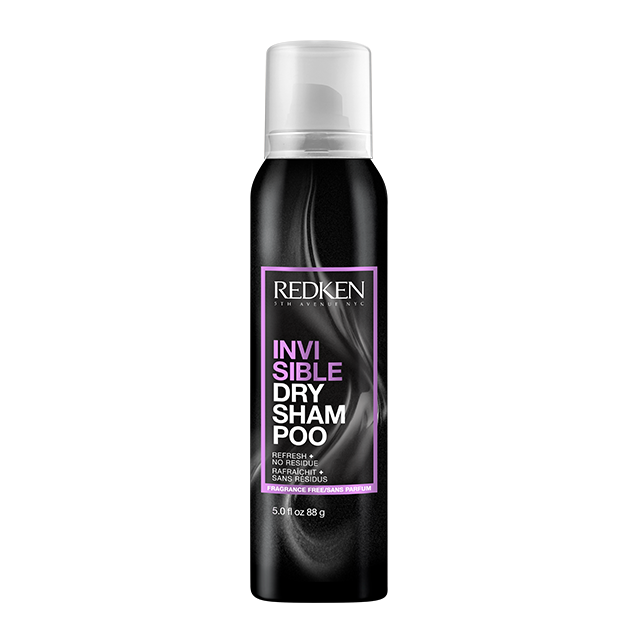 Second-Day Styles:
A little inspiration and a whole lot of style.
Bubble Pony: Ponytails are the obvious choice for a second-day style, but who says they need to be boring? Add a little interest by creating and easy, chic bubble pony. Prep hair with your choice of Dry Shampoo throughout strands and pull hair into a pony — either low, medium or high. If you have flyaways, consider adding a spritz of Redken Triple Take 32 to your brush as you comb your ponytail in to place. Once secure, use a comb to slightly backcomb your ponytail and add volume. Then space out elastics down the length of your ends, fluffing and pulling the hair bubble to create the perfect shape before moving on to the next.
Half Up Scrunch: Scrunchies are back in a big way and look ever so cute paired with a half-up hairstyle. Personally, we love our half-up to be slightly undone which is why we spritz with Redken Deep Clean Dry Shampoo and pull out tendrils around the face before securing into a cute little top knot. If you want to add a little extra texture, retouch your hair with a curling iron to create waves and bends in the hair.
Braided Designs: No matter what day you're on, braids always look chic. However, we prefer them on slightly "dirty" hair to give them character. Prepping with Redken Deep Clean Dry Shampoo before creating row braids, French, Dutch, Fishtail or even Figure-8 braids give them the grit and hold you need to create an ethereal feel.
Finish With Finesse:
Our favorite thing to pair with dry shampoo? A perfect tousle. After applying dry shampoo to your style of choice, allow the product to absorb and then place your hands (with fingers wide) at the base of your scalp and shake it side to side. Then use your fingers to pull apart curls and waves or fluff the hair and the base of your scalp. This instantly creates volume and that je ne sais quoi that we desperately love so much about second-day styles.