Heat, sun, salt, chlorine. All of our most-loved things about summer can also serve up grave effects on our hair colour. Instead of shying away from all the perks of the impending sunshine, add a few of these tips to your routine for an easy way to refresh your summer shade.
Consult Your Stylist
The key to any colour comes from consistency — from the shade you choose to scheduling regular appointments and keeping up with at-home care. During the summer months, various elements can contribute to uneven results and unwanted tones. To keep colour looking its best, start by regularly visiting your stylist for follow up appointments. After the initial colour is achieved, be sure to check in with them on when root touch-ups or gloss appointments should be made. In addition to this, opt for pH.D Treatments in between services to improve the tone, shine, and manageability of your shade.
You Don't Always Need A Colour
Scheduling appointments for gloss touchups to prevent and counteract unwanted tones is key to maintaining your colour, however, if you're taking care of your tone at home opt for a CLEAR treatment in the salon instead. Whether it is a CLEAR toner or pH.D Treatment, this service is like adding a topcoat to your hair to refresh shine, condition and enhance the vibrancy of your colour — natural or not.
Call On The Angels
Taking care of your hair colour at home is one of the most important aspects of colour care, especially for blonde, grey, and highlighted brunette shades. To combat the summer effects of brassiness, yellowing and colour fade, BLONDE.ANGEL.WASH and BLONDE.ANGEL treatment are the go-to duo for enhancing your shade while protecting against unwanted tones. With a lavender hue, this colour-enhancing pair maintains cooler tones and restores shine and brightness.
Use Heat Protection
While UV exposure is one of the biggest culprits when it comes to colour fade, heat protection is just as important. By working in a protectant anytime you heat style, you can cut down on colour fade and breakage. HEATED.DEFENSE is a lightweight, leave-in treatment foam that can easily be worked into your styling routine to protect hair up to 450˚F. In addition to protecting from heat, this formula will also help smooth and detangle hair while protecting against damage.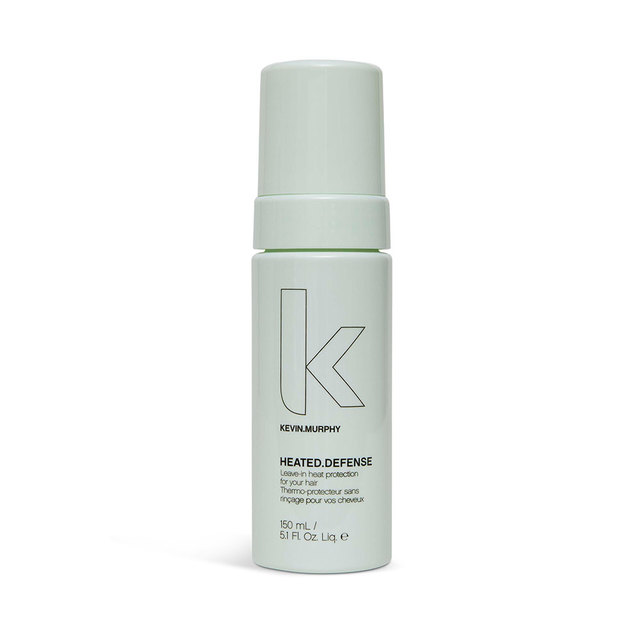 Add Shine…SHIMMER.SHINE!
Take your pick from SHIMMER.ME and SHIMMER.ME BLONDE. These formulas were created with the same technology as high-end skincare treat the hair while also enhancing the colour. SHIMMER.ME is great for all types of hair colours, while SHIMMER.ME BLONDE is specially formulated for highlighted, blonde or grey shades. Both of these formulas create shine with optical brighteners while nourishing and moisturising the hair to cut down on breakage.