Labyrinth
Hair: Sam Villa Creative Team
Art Direction: Geneva Cowen and Pascal Sauvageau
Photography: Shalem Mathew
Makeup: Marie Laure Larrieu and Joelle Boucher
Stylist: Jeremie Cote
Inspiration:
Labyrinth - an intricate combination of paths or passages in which it seems to be difficult to find one's way. Single paths lead to the center or 'goal - in this collection, shapes, up styles and cuts may seem complicated, yet through simple arrangements one can find their way. It's simple, yet complex – Simplexity – a complementary relationship between simplicity and complexity. Women want style that is simple and easy to maintain with details that add interest and luxury. The sections used to create these up styles are a labyrinth of horizontal, diagonal, and vertical lines creating haircuts with levels connected by flights of steps – at first sight, complex, but when approached step by step, very simple and easy for any stylist to navigate and find their way.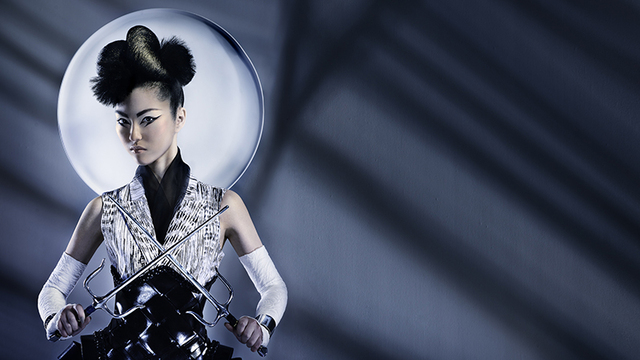 Finish:
Starting with shoulder length hair, create a high ponytail and split in 2.
Braid both sections and pin close to scalp.
Band sections with hair friendly elastics 1 ½" from ends, fold and band again and pin.
Create a roll to expose texture.
Place random Yak hair cut into 9" sections for a modern geisha look.
Finish with Redken Quick Dry 18 Instant Finishing Hairspray for hold.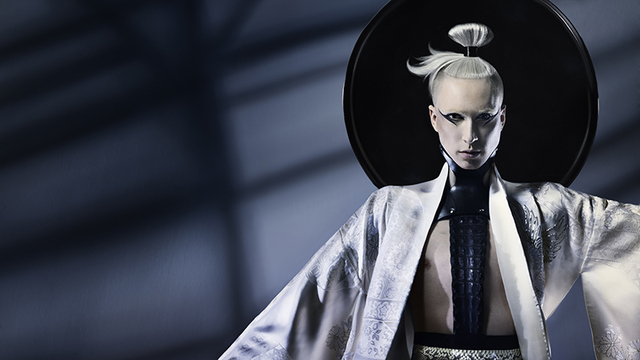 Finish:
Directionally blow dry with a Sam Villa 9-Row Finishing Brush.
Secure a tight ponytail at the crown using an elastic cord. Fold the hair over, use elastic cord again over the previous cord for a strong foundation and smooth topknot – use a Sam Villa Styling Brush to create a burst of wave on the ends.
Finish with Redken Fashion Work 12 Versatile Hair Spray for hold and Redken Shine Flash 02 Glistening Mist for a glossy finish.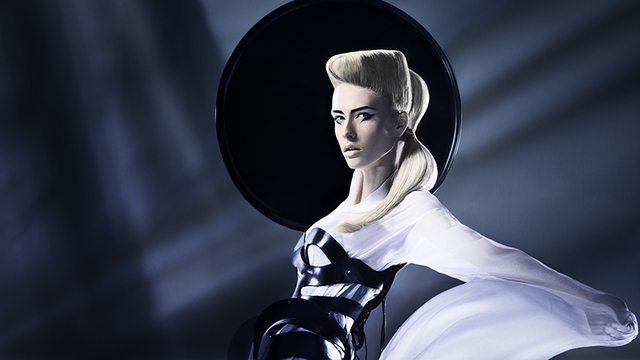 Finish:
Apply Redken guts 10 liberally to all hair. Section the sides from front to back at the ear and directionally blow dry the top and the crown with a Sam Villa Small Signature Series Thermal Brush for maximum volume.
Direct the sides up with a Sam Villa Signature Series 9-Row Finishing Brush.
Section the top and sides away.
Backcomb the hair at the back of the crown for volume and smooth the surface with the Sam Villa Signature Series Styling Brush.
Place a ponytail at the corner back and secure with elastic cord.
Wrap a small piece of hair around the base of the ponytail for a polished effect.
Section the top diagonally from the corner of the eye to the back of the crown.
Backcomb a strong square foundation in the top crown area.
Comb the sides straight up and create a roll towards the center. Use long hairpins to secure the roll to the center. Repeat on the opposite side.
Mist with Redken Quick Dry 18 and lay a plastic board on top of your roll. Heat up the surface of the board with a Sam Villa Professional Ionic Blow Dryer for a square shape.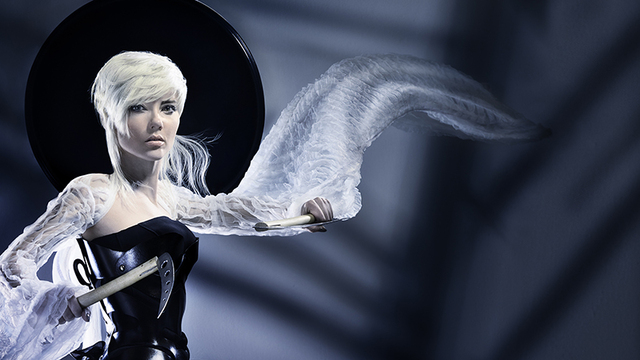 Cut:
Precision cut with compressed sections with transparent movement and texture. Sectioning: Take a zigzag section around entire hairline and isolate into a ponytail. Depth of zigzag section is determined by density and desired wispy affect around perimeter. Next section begins in front top area. Section off rectangle shape width of eyes from front top of head to back of crown area. This creates a top rectangle section. Note, there is a top rectangle section, a middle area and the zigzag section around perimeter.
Step 1
Middle Area: Separate front to back at the ear on both sides. Compress the entire side section, elevate the entire section vertically with a horizontal finger angle and no over-direction and cut the entire section. Repeat the same procedure on opposite side area.
Step 2
Back Middle Area: Divide center back and compress back left middle section with vertical elevation and finger posing square to the head with no over-direction and cut horizontally. Repeat the same movements on the right back middle area.
Step 3
Top Rectangle Area: Begin in back crown area of rectangle working with a horizontal section. Elevate section 90 and deep point cut horizontally. Next horizontal section, elevation 90 over-direct to previous section and deep point cut. Continue to work with the same movements alternating each section yet when we get to center over-direct each section to a stationery guide at center top.
Step 4
Refine shape with a Sam Villa Signature Series Blending Shear, removing any excess unwanted weight and blending for balance.
Finish:
Apply Redken Pillow Proof Prime and layer with Redken Velvet Gelatine 07 Cushioning Blow Dry Gel.
Begin in front area and wrap dry with a Sam Villa Signature Series Paddle Brush, then finish front and top area with a Sam Villa Signature Series Small Round Brush for movement and volume.
Blow dry wispy lengths with a Sam Villa Large Oval Brush for movement.
Finish with Redken Move Ability 05 Lightweight Defining Cream Paste for soft separation.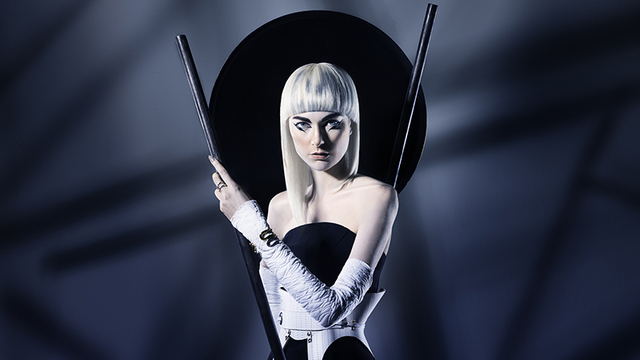 Cut:
Sectioning: Section out pre determined fringe area, high point of head to just at top of ear - look for natural separation of front to back by blousing hair to determine natural falling position. Isolate the fringe area and isolate the back area.
Step 1
Prep fringe area with Redken Pillow Proof Prime and layer with Velvet Gelatine 07. Blow dry fringe area working with the fine teeth of a comb to control growth and expansion of hairline. Finish with Sam Villa Styling Brush for smoothness and bevel.
Step 2
Begin cutting fringe area in center of fringe to create a balanced guide leading to ear. Cut sections with low elevation and no over-direction. Finger position is critical to maintain roundness of fringe.
Step 3
Move to back nape area, and working with diagonal forward sections, low elevation, finger angle diagonal forward with no over-direction, cut an A line bob to desired length.
Finish:
Wrap dry back area with a Sam Villa Signature Series Paddle Brush and Sam Villa Professional Ionic Blow Dryer, working back area into an X pattern as drying.
Finish off back area with a Sam Villa Signature Series Small Round Brush and Sam Villa Signature Series Sleekr iron to enhance bevel edge at perimeter.
Spry with Redken Control Addict 28 Extra High Hold Hairspray for hold.
For more articles, tutorials and products visit <a data-cke-saved-href="http://www.samvilla.com" href="http://www.samvilla.com" _new"="">Samvilla.com!