As stylists, it is important to keep track of our posture, stretch out our tired hands and invest in tools that will keep our career going strong! From carpal tunnel to back pain and knee trouble, we have a lot on our minds when it comes to taking care of our bodies. We're excited to announce that in an effort to cut down on some of this stress, Sam Villa has just released his Streamline Series Shears. They alleviate stress for stylists by adding comfort and precision to cutting. "These shears were based on feedback from customers, educators and platform artists." Said Sam Villa, co-founder of Sam Villa and Redken Global Artistic Ambassador. "It was apparent that there was a need for s slimmer, more sculpted shear designed for all-day comfort, ergonomics, and versatility," he added.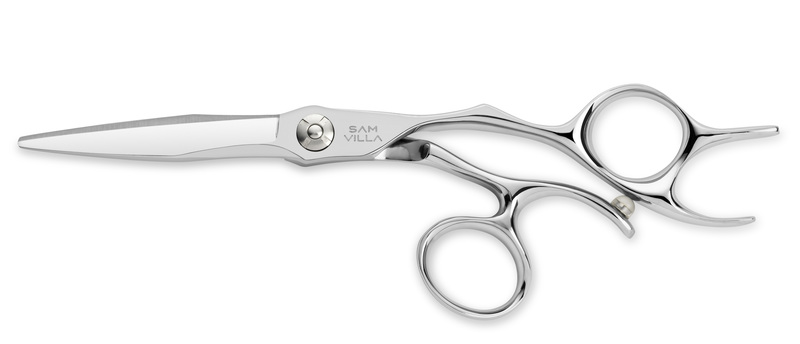 Features and Benefits
Slim Design – the reduced size and weight provide all-day comfort, even for those with small hands.
Highly Sculpted Finger/Thumb Holes – allows for a wide variety of cutting positions without wrist strain.
Crane Handle – designed for ergonomic comfort and control, allows elbow to rest in downward more natural position.
Forward Set Thumb – puts hand in natural neutral position for reduced repetitive use injuries to the thumb, hands and wrist.
Handcrafted Convex Blades – starts out sharper and holds edge longer.
100% Japanese Molybdenum Alloy – compression-forged for strength and durability.
Flat-Line Tension System – click stop adjuster for precise tension and sealed ball bearings for even tension from pivot to tip.
Polymer Lining in Pivot Point – eliminates metal-on-metal grinding, extending the life of the shear.
3 Sizes - Available in Right-Handed and True Left-Handed Versions: 5.5", 6.25", 6.75"
These shears will be available starting October 1st, so be sure to stay tuned on social @samvillahair for the latest updates!
---
For even more hair care and styling tricks, be sure to stalk Sam Villa Professional on Bangstyle and check out all of his tools in the Bangstyle Store!