If you ever want to see a prime example of a salon that has not only completely embraced the culture of its industry, but also evolved itself into a total lifestyle brand for its clients, look no further than Savills in the UK. Any conversation about men's barbering that doesn't include Savills is doing you a disservice, as owner Joth Davies has cultivated an experience that expands well beyond just hair, taking influence from fashion, grooming, decor, and even lifestyle. With a brand new space, and a team sharing Joth's passion for for barbering, Savills has established itself as the destination for the modern gentleman. We had a chance to talk with Joth about some of the exciting new services like custom tailoring and academy classes as well as pick his brain about the barbering scene.
Tell us about the new space? How does the decor and aesthetic influence the work you do?
The new Savills is a result of merging two smaller shops into one big space last year. I wanted to consolidate what we had and build upon the success of Savills. The unit was a blank canvas and this enabled me to bring to life the vision I've had had in my head since I was a young barber just starting out. It wasn't cheap or easy, but the results have been worth it! Much of our shop is derived from reclaimed stuff and antique furniture and objects.
I have a particular addiction for antique barbering equipment and have old and rare hot towel machines, hot lather machines and head massagers. They are quirky, look great and still in full working order after all of these years. It's these things that make Savills unique. And of course, our team, who are all walking adverts for Savills.
For us, image is important. All our guys and girls look polished. Shirts and ties are prerequisites, plus the canvas and leather barber aprons that we are shortly to launch for retail to other barbers. These have taken 12 months to perfect and we are really excited with the durability, usability and aesthetics of the finished apron.
There is no doubt that the image of Savills adds to the whole client experience. It also provides a great working environment for our team, and one that I hope makes them proud to work at Savills. It's not just visual image but the perception of our brand that is made up of the service, the staff, the shop and everything within it.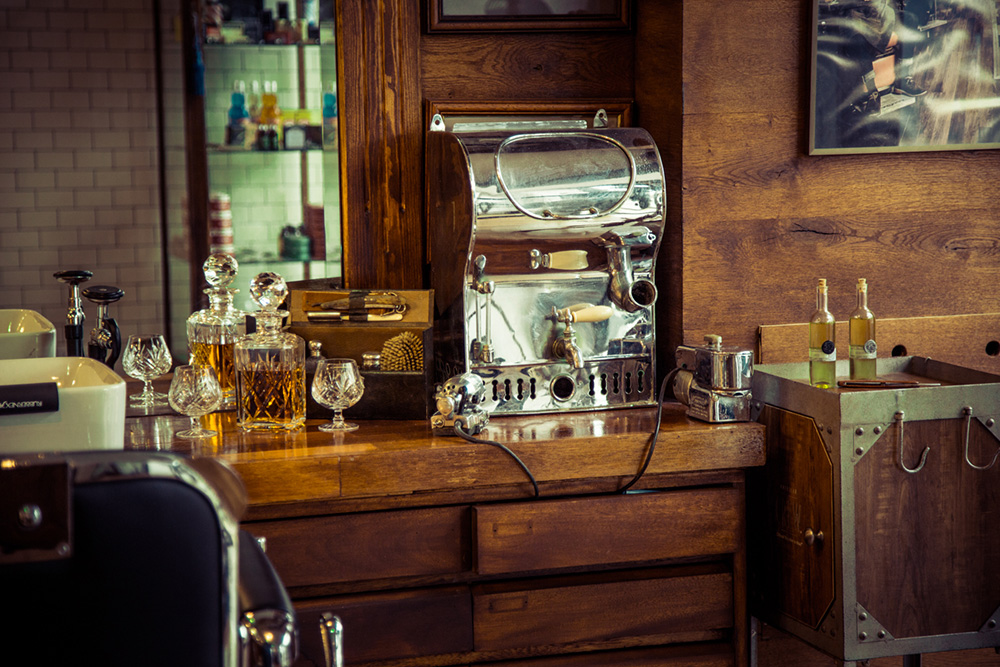 Can you tell us a bit about your new Custom Tailoring services and the partnership with a Savile Row tailor? What was the inspiration for the new venture?
As I've mentioned, Savills is about a total image. For the typical Savills gent, an awesome haircut, beard or moustache is only part of his overall look. In the past, in the U.K., a razor-sharp tailored suit was nothing short of a young man's right of passage to becoming a man. Look back at old black & white photos of British football supporters on match day and everyone is wearing a suit. Jump forward a decade or two and Teddy boys were the style rebels of their day, way ahead of punks and mods. But for Savills, it's the immaculately tailored early 20th century US gangsters and prohibition club owners who really made suits truly iconic.
Today, Savills cut suits, like our hair, from tried and tested techniques to deliver a seriously in-demand appearance. Every suit is individually made-to-measure by the celebrity Savile Row personal tailor John Lancaster who visits Savills from London at least once a month. The suits are constructed in London. Customers are invited to get involved with the styling and add personalised features such as monograms, and left or right-handed security pockets for wallets & phones.
Consequently, we now bring new season originals, one-off tweeds and legendary classic cloths to Sheffield sourced from the world's finest British & Italian mills, including Holland & Sherry, Harris Tweed and Ermenegildo Zegna. We are proud to also make suits in locally sourced wools from our own back yard in Yorkshire. Our collection includes 2 and 3-piece suits, tweed jackets & waistcoats, pea coats and double breasted winter coats, in all colours and best quality plain, checks, stripes or pinhead fabrics.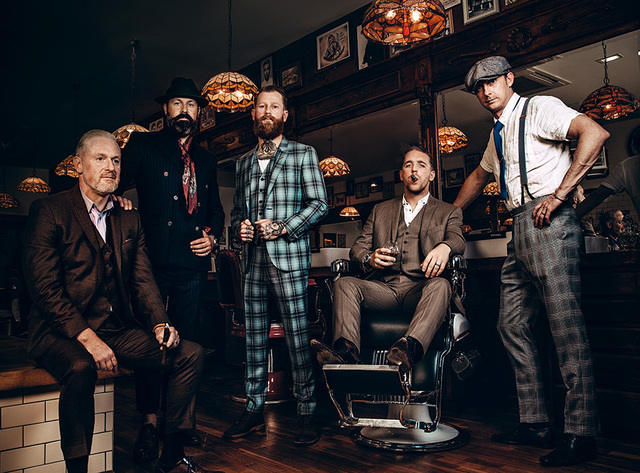 How do you find ways to marry the classic gentleman's style (hair, dress, etc) with the clients of today?
There has recently been a huge style resurgence that hails back to a look that was popular in the 1920s and 1930s, thanks, in partm to recent cult films and TV shows such at Boardwalk Empire and Peaky Blinders (In the UK). This, coupled with the explosion in the male fashion and grooming industry, and the fact that these days there is less of a stigma attached to guys wanting to take the time and spend the money to look good, has meant that we feel that Savills firmly has its finger on the pulse of what men today are after.
We are famous as the place to go for the traditional classic cut as well as the more edgier styles. We are also fortunate to have the kudos associated from being official partner to Sheffield Theatres, providing visiting actors with a look that will compliment their characters and the production.
Who is the Savills' client, and what experience do you strive to create for them?
Our clients are a real eclectic mix, everyone from tattooed greasers to students and businessmen (plus everyone in-between) and I wouldn't want it any other way. Our barbers are not targeted or put under any pressure to rush through haircuts. As a result, clients receive a personal, bespoke service, which in part creates the look that they are seeking but also provides a relaxed, luxury experience. Even whilst customers wait, they can relax with unlimited beer, tea or filter coffee and we will shortly be investing in technology that will further enhance the booking/waiting experience and reduce wait times.
Any humorous or memorable stories that happened inside the salon?
I guess the funniest anecdote that happened recently was a really crazy request for a hairstyle. A guy came in with an Anime picture and he wanted me to cut and style his hair to look like this Japanese cartoon character's! It was a pretty random style that would never have worked on his hair. Although it looked great on a cartoon, it would have not translated well into real life! So, I declined the challenge. Here, at Savills, we stick to the traditional or supremely stylish cuts.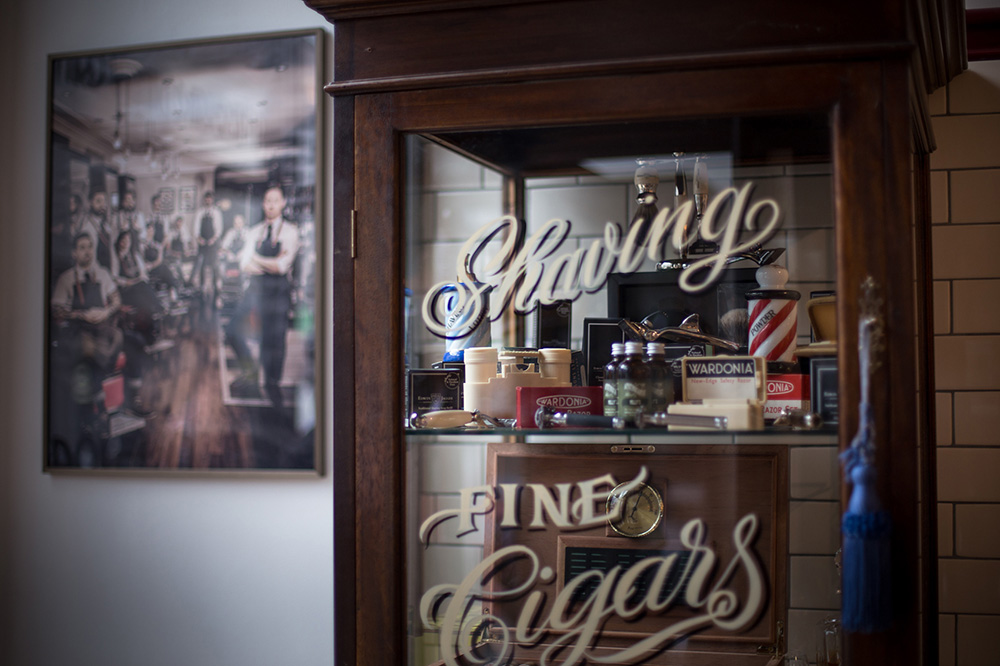 What do you look for in your artists?
It has to be pure passion for the barbering profession. For example, when recruiting apprentices, it is the guys or girls who clearly have the eagerness that can be detected in how animated they become in their interview. In addition to this, barbers must be extremely personable and be walking adverts for the profession.
Occasionally, clients will forget what you said or what you did, but they will never forget how you made them feel. You can only have this effect if you really love what you're doing and in my view, that's what makes barbering a craft. Quite simply, every haircut is an advertisement for you and the shop, so it's about giving your best every time. If you are not passionate about barbering, you will not fit in at Savills.
What is your guilty pleasure? Is there one that the salon shares as a whole?
Cuban cigars! So much so that we have recently started stocking a range! These are imported for us by an old English company that has been importing them since 1790 and are extremely high quality. For our customers, they are often an impulse buy to accompany a good night out or a treat for them to enjoy at home.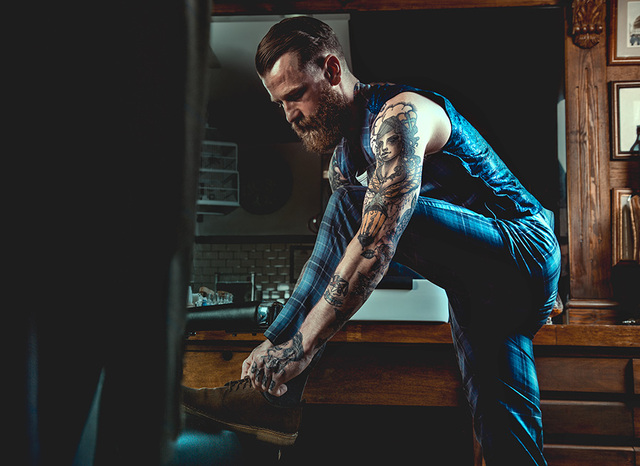 Which non-hair related fields do you and your team draw inspiration from?
Quite simply, all the main style icons of the past and present from Elvis Presley to current movies and edgy movie stars. Music also features heavily in our influences and the Savills experience as a whole. As we have a real cross-section of customers groups, we try to embrace most music genres in the shop in order to cater for all these different tastes. However, the Savills style lends itself well to a mix of Motown, Soul, Funk, Blues, Jazz, Honkytonk, Bluegrass, northern soul with a large helping of Rock n Roll, and these prove the most popular with our customers.
What do you believe are the necessities for the Modern Gentleman?
The Savills formula: A sharp cut + a smart suit = A sharp look.
What current happenings in the Men's space are you excited about or looking forward to?
As a result of unprecedented demand, our focus at the moment is launching the Savills Academy. For the past 6 months, we have been delivering NVQs (UK government accredited qualifications) in barbering and we are shortly going to compliment this by offering private barbering courses. These will appeal to those new to the profession as well as seasoned barbers who wish to hone their skills and hairdressers who are seeking to move into the barbering profession. We have received enquiries from across the globe and can't wait to move forward with this new tier to Savills and seeing where this exciting new concept takes the brand.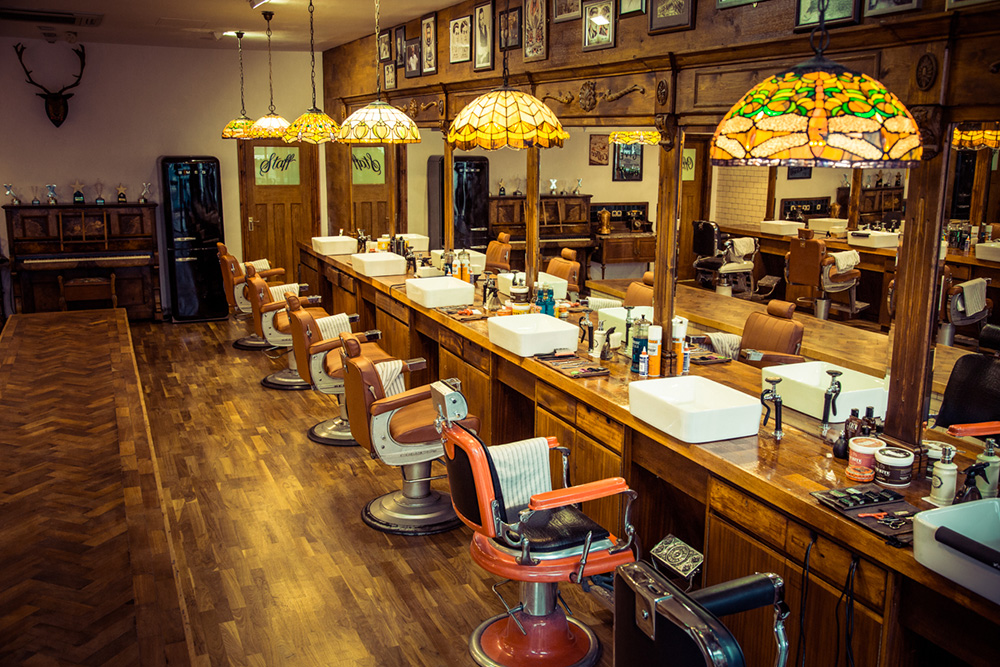 Do you have any tips/advice for guys who are new to the men's grooming scene?
Be inspired! There are so many good barbers and barbershops out there right now. It is impossible not to be able to access a plethora of knowledge and advice on a one-to-one basis or in an instant via social media. Essentially, as I have said before, it comes down to one thing though: Passion. If you have the passion in addition to the personality, attitude and work ethic, it is nigh on impossible to not succeed in this industry.
The barbering scene sort of rides a fascinating line between distinguished and edgy, how do you see the scene evolving and continuing to push new boundaries?
The barbering encounter is no longer the "short back and sides and something for the weekend?" experience. I predict that there will continue to be a merging of boundaries between barbering and a lifestyle concept that will see more barbers offering services, treatments and/or products that will compliment the capsule look rather than just a haircut.
Be sure to Stalk Joth Davies and Savills to see more of their incredible men's collections.