At some point in your life, you'll probably notice your hair beginning to thin or recede; this is not something to worry about, but rather, to prepare for. While keeping a healthy diet and lifestyle can help slow the hair loss process, there are also a few ways to make your hair appear more full. Read on to see some of our top styles and grooming techniques to combat the effects of Mother Nature.
Ask For Texture - It is best to avoid single length chops or hard parts as this can draw attention to thinning hair.  If you're not looking to change up your style but still want to add volume to your strands, ask your stylist to add texture to your existing look. This will update your cut while keeping a similar shape.
Switch Up Your Length – You can hide your loss of density by opting to grow your hair out to a medium-length. Slicked back styles or an updated quiff is a great way to keep your length while looking professional.
No matter the cut or style you're going for, products are essential for masking the signs of thinning hair.
Your routine starts in the shower with American Crew Hair Recovery + Thickening Shampoo. This cleanser is formulated with Pro-Vitamin B5 for moisture and regeneration of cells, Aesculus Hippocastanum to provide nutrients, Keratin Amino Acids to maintain moisture balance and avoid dry, dull hair and Quaternized Polymers to strengthen and condition.
After prepping hair with American Crew Hair Recovery + Thickening Shampoo, picking the right styling aid can make all the difference in the outcome of your look. American Crew Boost Cream and Powder are made to defy-gravity while either adding shine or a matte finish.
The Boost Cream is a great option if your hair is mid-length to long and will add shine to your style. To use: apply the cream to damp hair and then blow dry into the desired shape.
For shorter lengths, the Boost Powder should be your choice! Use a blow dryer to remove moisture from the hair and initially shape it into place. Next, use your fingers to sprinkle Boost Powder from scalp to ends creating lift, separation, thickness, and texture.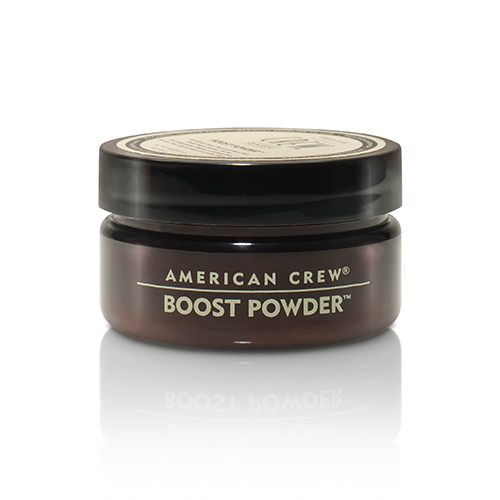 ---
As always speak with your stylist or barber – they know your hair the best. For more helpful styling tips, tricks and inspiration be sure to stalk American Crew on Bangstyle and check out their latest techniques on Instagram @AmericanCrew.