Looking for a new spin on rock and roll hairstyles? Manda Ziegelman, Sam Villa Ambassador @mandaziegelman has created a quick and easy how-to guide. They are headed to Columbia with their band to play a couple of shows at a punk rock festival. Before they left, they shared nifty tips and twists on how to style rocker hair. While all the cool shags, mullets, layers, sexy volume and organic low key texture can be seen on YouTube, how to style a wet set, create definition and paddle brush waves are highlighted below.
"Rock and roll/punk is my lifestyle. This messy organic type of hair comes very naturally to me because I've been doing it since I was 12! Now, I'm sharing how to do it the professional way to help others channel the vibe," says Ziegelman. "These methods are easy and offer fresh ideas for anyone."
The Wet Set:
A very simple set that creates rock and roll texture (create on the day of shampooing).
Foundation – Spray a sea salt spray on wet hair, like Redken Fashion Waves 07, liberally. Ziegelman's favorite is "Jelly" by Cult + King. A nourishing Himalayan pink salt used by rubbing into hands, working it in like lotion, and applying to hair from top to bottom and back to front, using hands as a comb. Continue to pull that surplus of product from the well of the palms of hands to add more product.
Wet Set - Use fingers to sculpt hair shape, comb fringe forward and make ends flip up. For rest of head, grab tendrils loosely, twist away from face, pinch root and shake to activate wave. Then, massage to open and let set and full dry. More massaging will create a looser relaxed wave for more of a rocker style and chill vibe.
Style – Don't touch until fully dry and then crack the curl open and shake the set up by raking hands through to reveal relaxed waves and alternative texture.
"Put your signature and flavor in it – really work hands in hair, it's your art, your sculpture. The more you touch it, the more energy you give it," says Ziegelman who advises not to wash hair all the time, "The grittier hair gets the better it looks."
Create Definition:
Bring messy slept on hair back to life (create on days 2-3).
Spray a Sam Villa Signature Series Thermal Round Brush with Redken Quick Blow Out or a favorite heat protection product.
Reform fringe by scooping brush forward to grab hair and rolling it diagonally back and away from the face, and dry product into hair on high heat.
Let cool, pull brush out to create a flick and use hands to emphasize the drama.
Paddle Brush Waves:
A quick way to create texture after drying wet hair.
When hair is 70-80% dry, use a Sam Villa Artist Series Paddle Brush to grab a large section of hair and then blow dry on high heat and twist section away from face.
Repeat down the hair strand leaving ends out for a more lived-in look.
Do entire head and let set and cool.
Heat up a light serum in hands, and starting mid-strand, work hands through to break up the curls.
"Everyone needs a little rock and roll in their life!" says Ziegelman who has been curating a rock and roll clientele for 16 years. More about these techniques, and many more - backcombing with a Sam Villa Signature Series Textur Professional Texturizing Iron, creating S waves with a flat iron, and unique placement of a Sam Villa Pro Results Double-Waver for an extra bump of volume and natural texture - can be experienced here.
Shop The Techniques:
Sam Villa Signature Series Thermal Round Brush

Sam Villa Artist Series Paddle Brush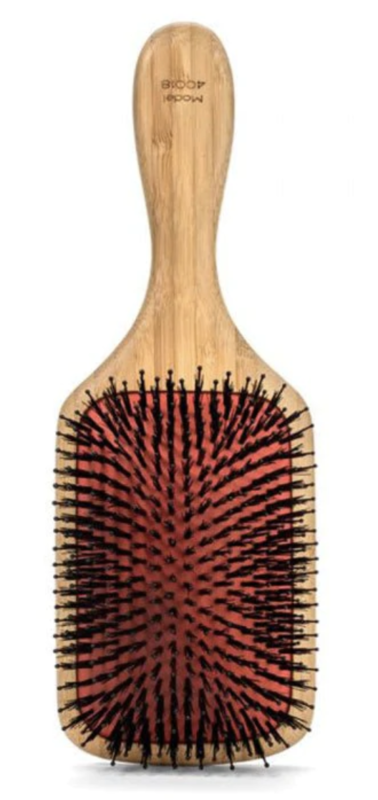 Sam Villa Signature Series Textur Professional Texturizing Iron

Sam Villa Pro Results Double-Waver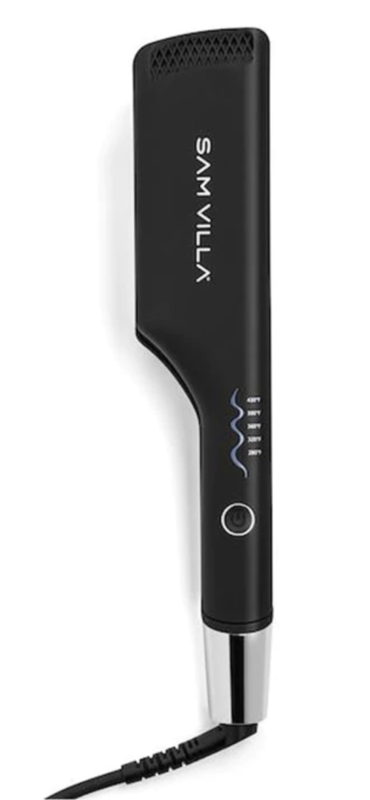 Compliments @mandaziegelman
Tune in weekly to learn more valuable information from Sam Villa and team here. Including "Mannequin Mondays," "Transformation Tuesdays," and "Wellness Wednesdays" on Facebook @SamVillaPros and YouTube @SamVillaHair. Quarterly "Show Must Go On" events can also be accessed on the same channels for FREE!