Succubus Incubus
Photography: Joey Goldsmith
Hair: Matthew Tyldesley
Make up: Isidro Valencia
Assistance/BTS images: Gary Barragan
Videos: Dark Heart Creative/Blake McGrew
Models: Jacey Calloway, Chris Diaz, John Wells, Erica Goldsmith & Elora Altunez
Location: ThoughtFly Studios Louisville, KY
We were beyond excited when Matthew Tyldesley asked us if he could share his new collection, "Succubus Incubus" on Bangstyle. With Matthew's love for dark and scary combined with his awesomely spooky collection we thought it would be a perfect way to celebrate Halloween! We wanted to learn more about the inspiration behind the collection and a little about what makes Matthew, our Master of Halloween, tick, so we asked him a few questions of our own.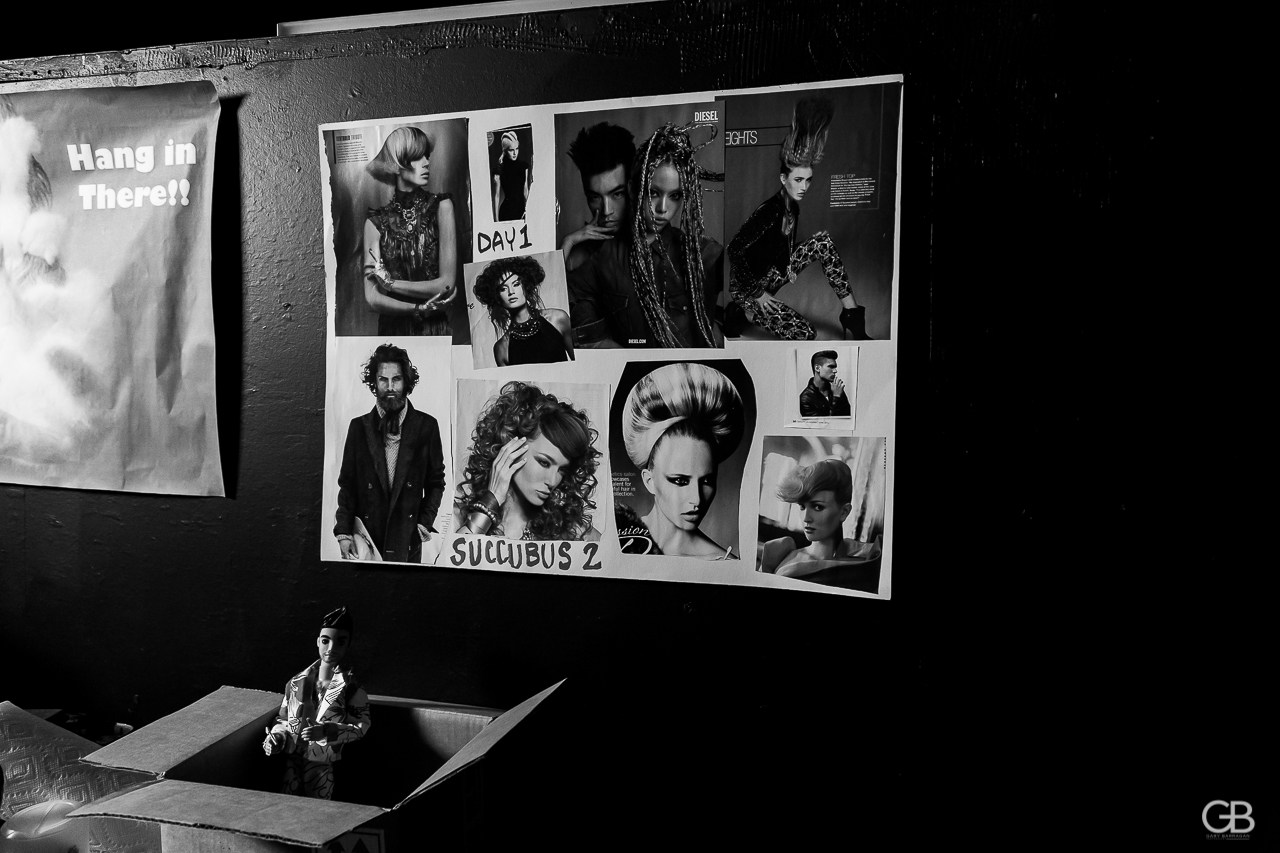 The collection has an "other worldly" feel.... What was your inspiration for the collection?
Succubus Incubus was a concept I wanted to create with make-up artist, Isidro Valencia and Goldsmith Photography. I had always been intrigued by the concept of the Succubus Folklore and only seen a few versions of the characters other than Capcom's "Darkstalkers" featuring a succubus and the 1971 Belgian film "The Devil's Nightmare". The Succubus is demon who is beautiful and seductive that steals the souls and punishes men and woman. Incubus is the male counterpart. We wanted to created this editorial version and really tell a story with stylized hair & make up.
Do you feel like you gravitate to a certain style? What style is it?
I don't gravitate towards any style…I feel versed in a vast array of classic, fantasy, futuristic and experimental hairstyling.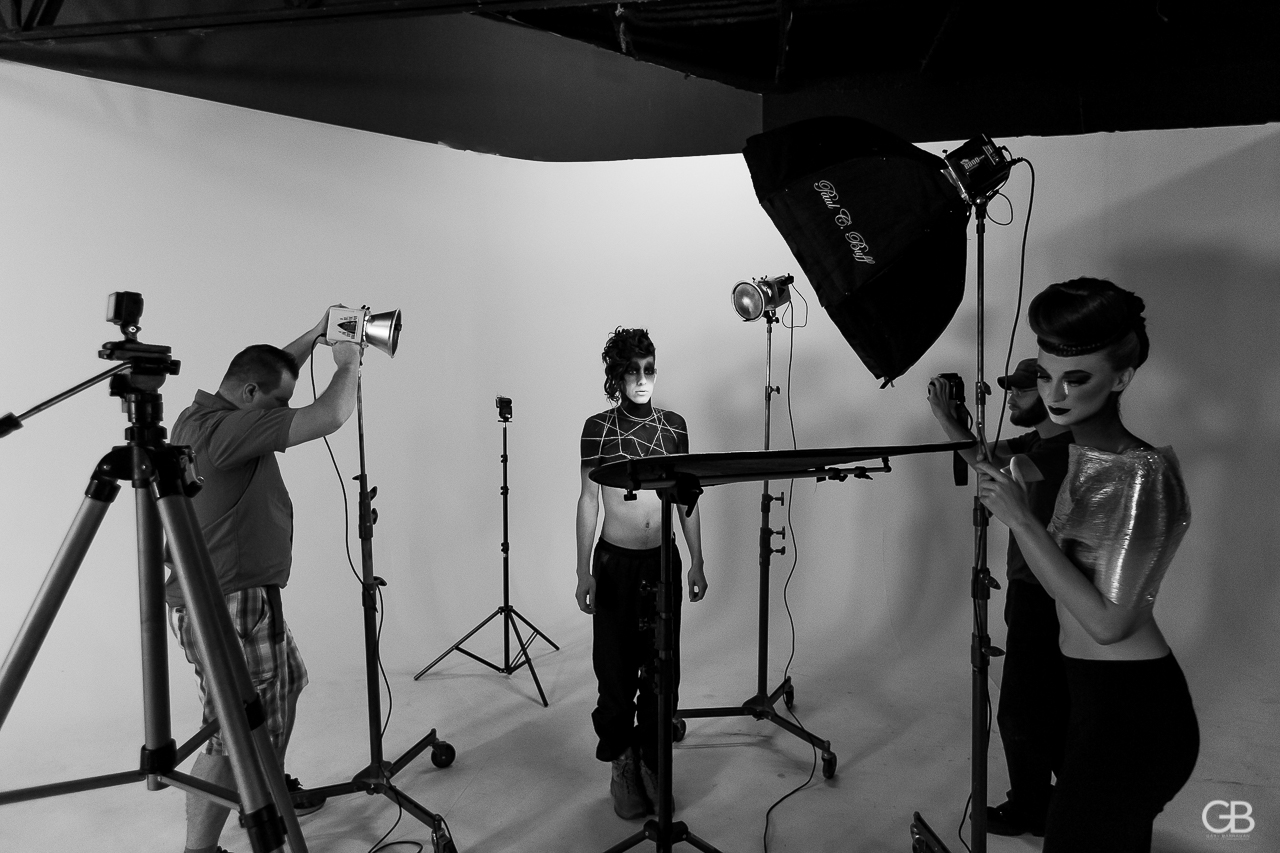 If you had an unlimited budget for a shoot...what would you produce? What style, theme, etc
If I had an unlimited budget the possibilities would be endless with extensive wardrobe, set design, and of course, hair. I would love to do a hair and fashion shoot with Jennifer Lawrence.
What is the one product you cannot do a shoot without and why?
Control Addict 28 is my must have product. It has a lot of holding power with no residue and the hair can be easily restyled for later looks.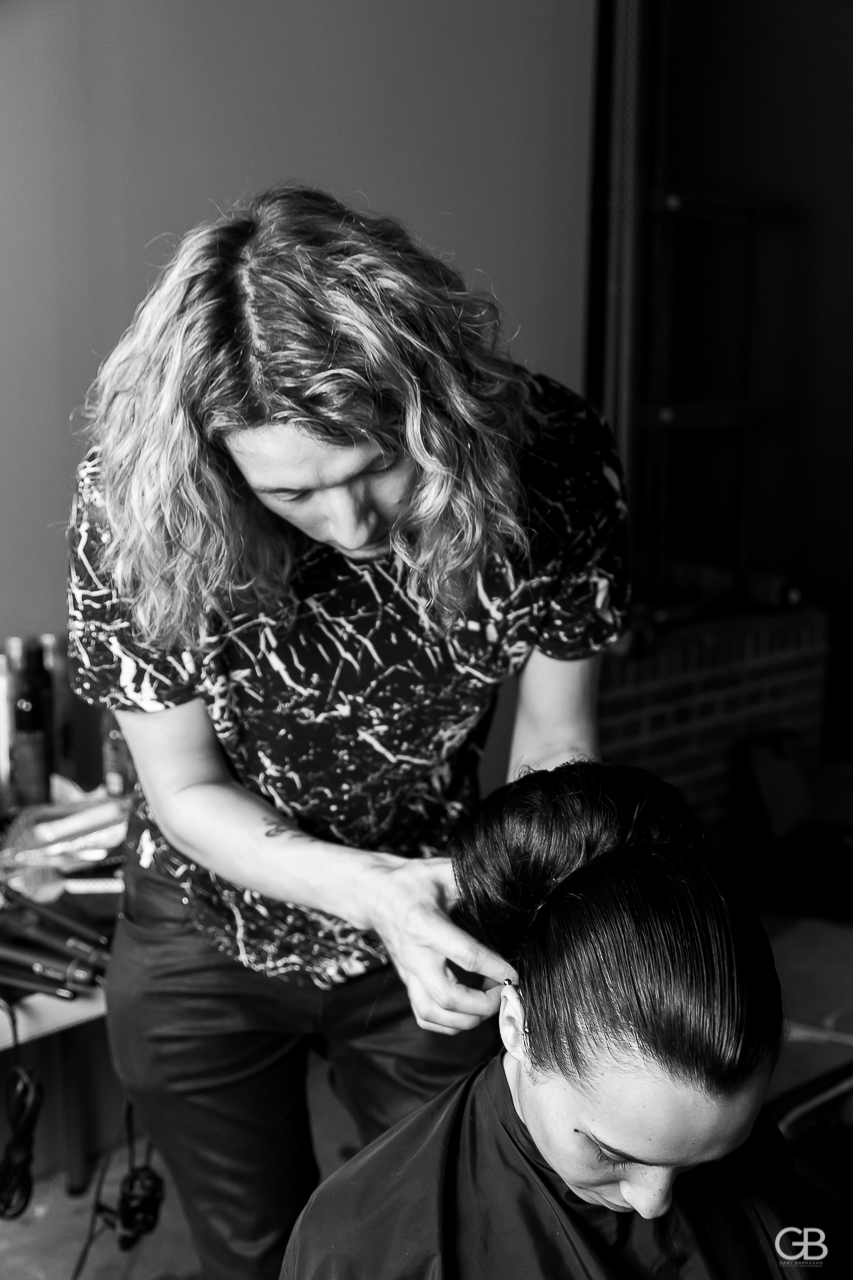 What types of film and TV do you watch, how do they influence the hair you do?
I watch everything Horror, Fantasy and Sci Fi and am inspired by all the visuals I see in the films. From the hair, make up, imagery to the story lines.
How long does the planning process take you for a shoot?
The planning for a shoot can take weeks and sometimes months to plan. Everything is essential in planning as far as location, wardrobe, selecting the right models and the right team mates to collaborate with.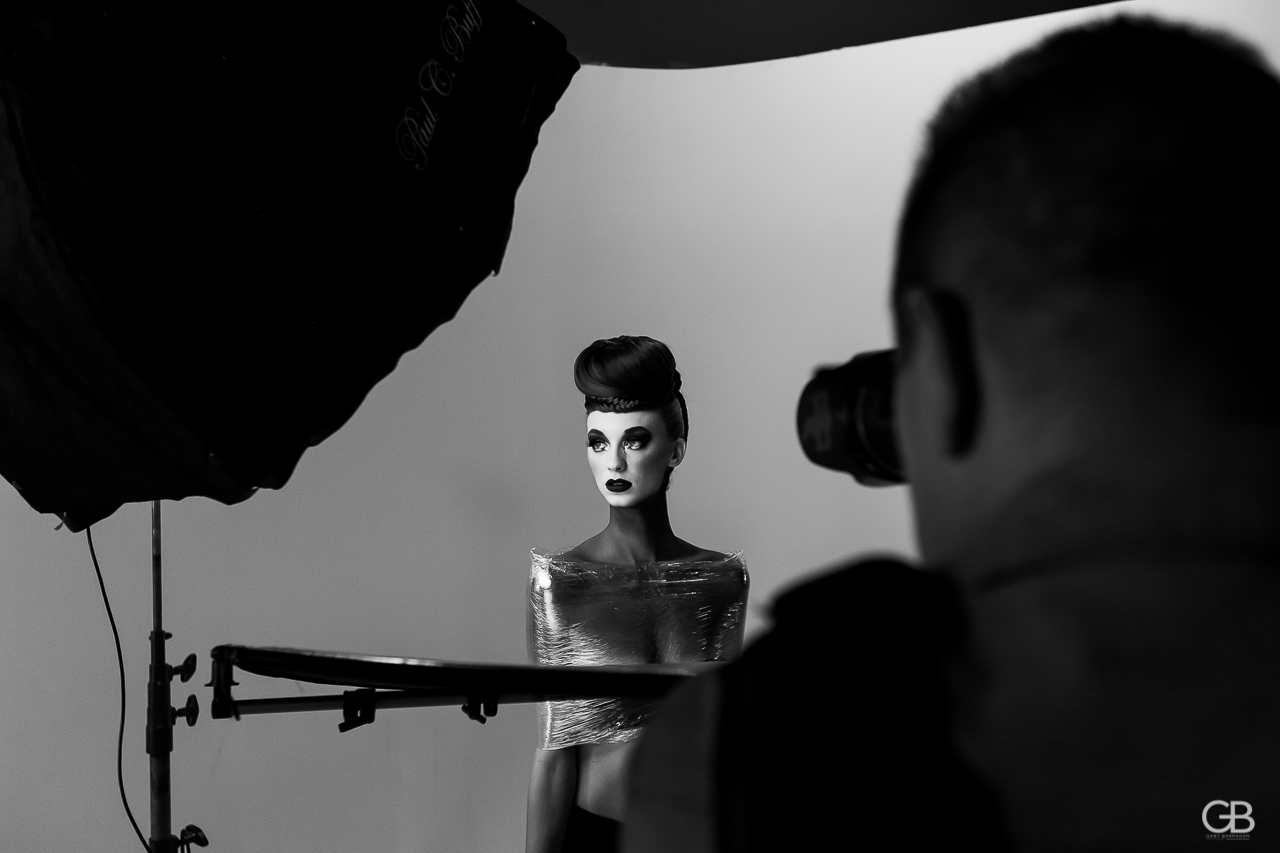 Do you have a guilty pleasure? Food? Movies? Activity?
My guilty pleasure is toy collecting, I love action figures and dolls.
Why did you choose Redken? Tell us why you love the brand so much?
I chose Redken for the education, knowledge, and their vast line of hair color and products. I felt empowered and confident behind the chair to grow my business and learned many skill sets as an educator for Redken. I also love the camaraderie and the lasting friendships I have made from other hairstylists in the network.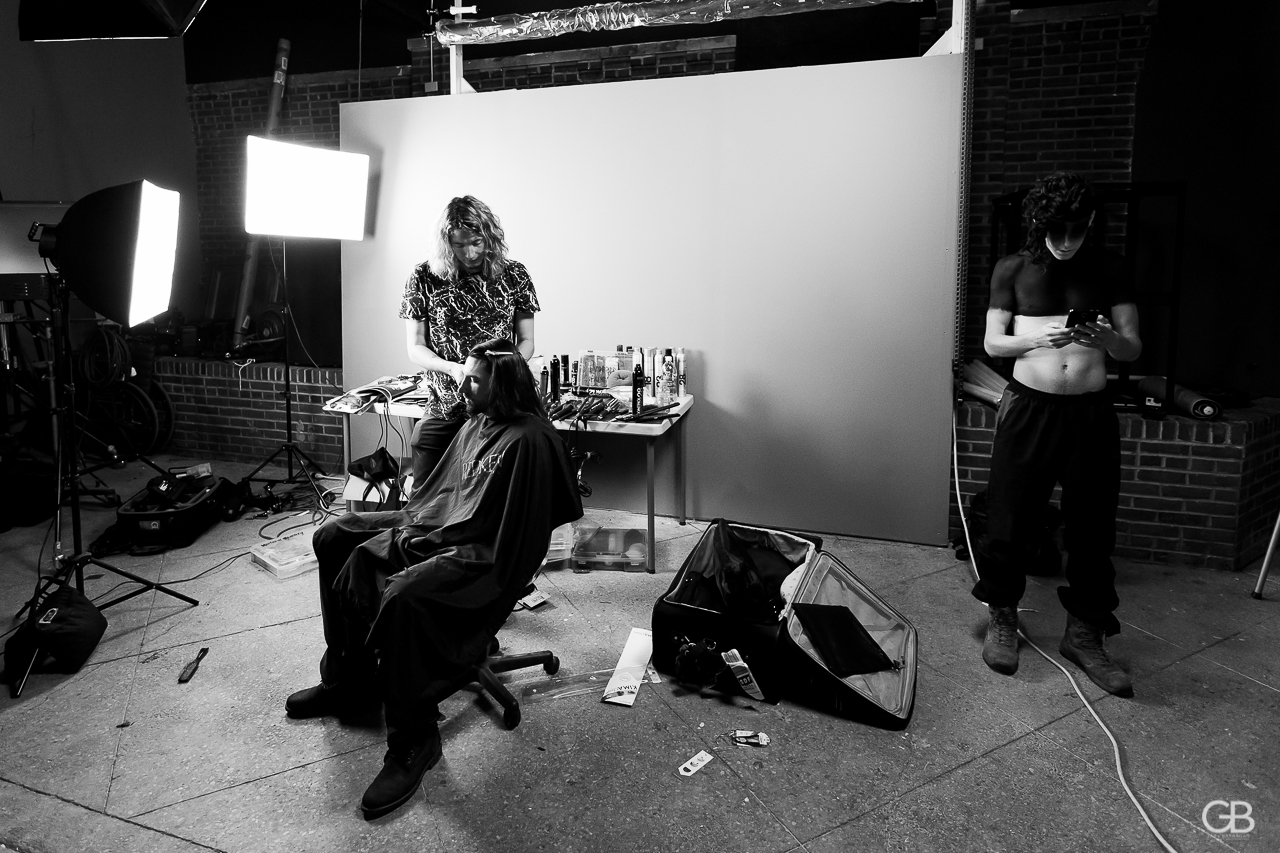 Can you tell us a bit about each of the looks you created for Succubus?
We spent an entire day at ThoughtFly Studios in Louisville, Kentucky where we had a total of 5 models and spent roughly 2 hours on each model. We used cellophane on select models and left some nude to really focus on the hair. Make up was created by Isidro using both airbrushed and hand painted techniques to enhance each look.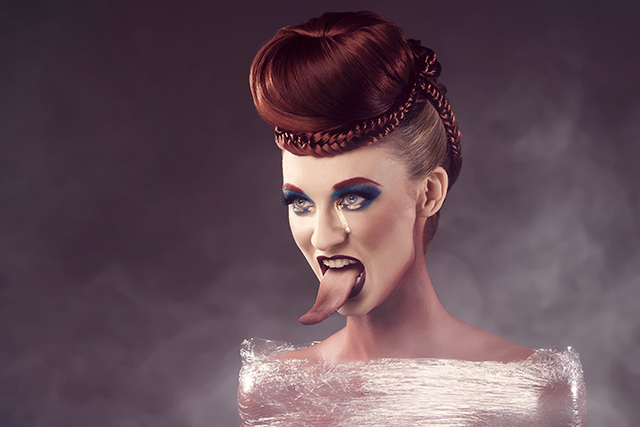 The first look, featuring model Jacey (the Redhead) the hair was blown smooth using Guts 10 and the Sam Villa round brush. I used a Kris Sorbie oversized hair pad and molded the hair around the bad using Fashion Works 12. I add custom fishtail braids using Kanekalon hair in Red and finished with Control Addict.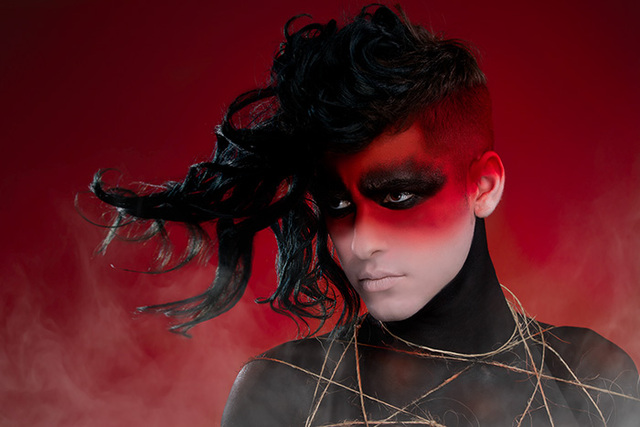 For Chris' look, I clippered his hair short on the sides and added 14"" extensions to the top and tightly curled his hair using Hot Sets 22 with a small ½ inch Hot Tools Ceramic Curling Iron.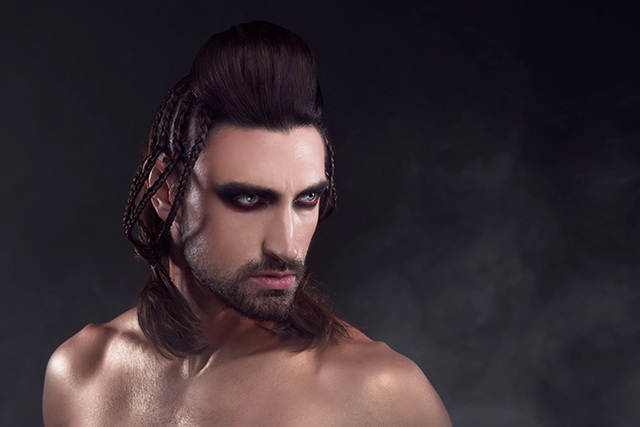 For John's look, I Round Brushed the top with Guts 10 and set it with a large 2 inch Marcel Iron with Iron Shape 11. I created a Pompadour roll on the top and section and a triangular section on both sides of the head and cornrowed the looks to create a "Cage-Like" shape and secured to two side ponytails.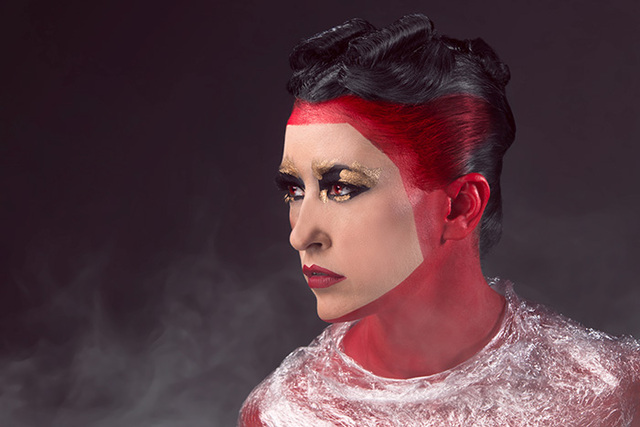 Erica's Look I wanted to be more sleek, so hair was parted and rolled using Bobby Pins into to symmetrical rolls and the head and the hair was formed around the rolls.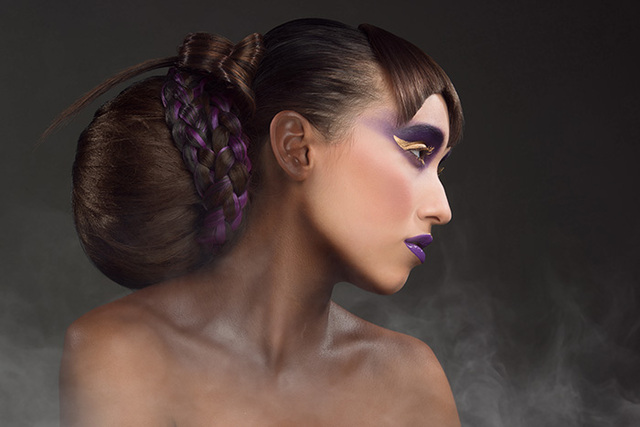 Elora's look was a lot of fun. She had bobbed hair so I added a large round hair pad and added hair extensions using Fashion works 12. The looks was accented by Kanekalon Braids and custom bangs I cut into a vampy shape.

Goldsmith Photography did a superb job of lighting and shoot the collection. His eye for lighting and finishing helped to bring the entire collection together.



Be sure to "Stalk" Matthew Tyldesley on Bangstyle to see the rest of his Succubus collection as well as all his other incredible and visually stunning hair art.