Summer trends come and go, but one that we continue to see each season is the return of the quintessential summer braid! It's a go-to for beachgoers, mum's, avid athletes, and fashionistas for good reason - braids are as practical and useful as they are chic. Whether you're trying to tame windswept hair, grow out fringe, or simply add a statement to your look - pick up a few basics on The Art of Braiding from KEVIN.MURPHY STYLE.MASTER Paz Bamrolia and tune into her KM.TV here to watch the techniques in action!
Start with the prep work
The foundations of braiding are as important as the braid itself. In this KM.TV - The Art of Braiding Techniques & Product Usage, Paz details a few key braiding techniques and how to use your natural texture or current style to easily get the look. Watch the techniques in action below or read on to discover how to use braids to maintain curly or wavy texture, capitalise on longer lengths, create thick fishtail braids with ease, and work with fringe grow out on shorter lengths!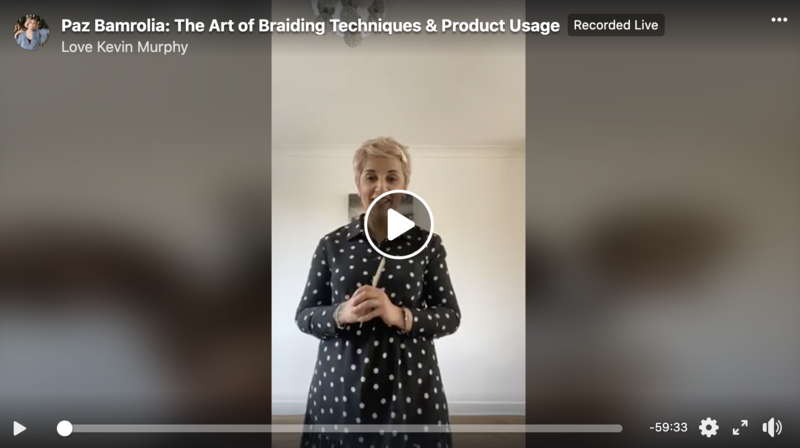 How To Maintain Texture
Braids are a great way to help you maintain volume while controlling frizz. Instead of throwing your curly or wavy hair into a top knot utilise products and a simple braid while you sleep to wake up with an effortless finish.
THE STEPS:
If you have naturally curly hair, before you go to bed, apply products from the Curl Regimen that are best tailored to your hair type - KILLER.CURLS, KILLER.WAVES, MOTION.LOTION or EASY.RIDER
Apply products near the scalp and massage through the mid-lengths to ends and then create a few loose braids. Pushing the hair up and in as you braid to help add movement near the scalp.
Use a hair net or scarf to protect this style as you sleep
In the morning, remove the braids, apply KILLER.WAVES or MOTION.LOTION and use the fingers to tousle your texture and create the final look.
Products to get the look:
Create Movement on Longer Lengths
Paz loves this style because "it will help you learn to love your natural texture instead of fight against it". Not only will it ease your routine, but it can also help hide regrowth and easily add volume near the root area.
THE STEPS:
Apply KILLER.WAVES or ANTI.GRAVITY.SPRAY on towel-dried hair and allow it to air dry.
Once hair is completely dry, lift the hair up near the root and use a curl clip to secure the hair. This does not have to be uniform or structured, the more variety the better!
Once the root area is clipped, apply SESSION.SPRAY and allow it to dry, or use a dryer to speed up the process.
Once cool, remove the curl clips and use a tail comb to create a zig-zag parting. *If you have fine hair or typically have trouble holding a wave apply POWDER.PUFF + SESSION.SPRAY, it will give volume, expansion and grip in the hair.
Starting near mid-lengths to ends, begin creating a three-strand side braid with minimal tension for a more textured look. As you braid, pull and separate your braid to accentuate the texture and secure with an elastic. *For an easy way to upgrade your second-day style be sure to watch Paz on KM.TV as she teaches you how to turn this look into a soft upstyle.
Products to get the look:
Create Thick Fishtail Braids Without Losing Length
Paz agrees, "It's all about embracing our textures right now and making the most of it"! With this look, she teaches you a few easy ways to control your hair and hide regrowth while adding a chic fishtail braid anyone could create at home.
THE STEPS:
Start by slightly blowdrying your hair to smooth the texture. *If you have fine hair blow-dry upside down and comb forward to achieve more volume.
Touch up your lengths with a curling iron to get a bit of movement.
Apply POWDER.PUFF, DOO.OVER or BEDROOM.HAIR to create movement and volume while embracing length.
Casually part the hair in two from the forehead to the nape.
While leaving softness around the face, start with one side and then mirror the steps on the other.
Beginning on one side of the initial parting, take a section (one from front one from the back) and secure with an elastic just behind the ear. Then, create a "pony flip" and repeat as you move toward the ends.
Create a few of these for a half-up fishtail or continue through the ends. This look is less about structure and clean partings and more about having fun with your style!
Products to get the look:
How To Hide Fringe Grow Out with a Braid
If you've been dealing with a fringe grow out - adding a braid can accessorise your look while easily hiding your need for a bang trim.
THE STEPS:
Comb hair to create a low side part
Spray with SESSION.SPRAY
Begin the braid at the part using length from the crown and integrate it with the shorter pieces in the fringe area.
Secure with an elastic and slightly pull the braid out for a fuller effect.
Products to get the look:
The great thing about all of these techniques is that you don't need professional tools, all you'll need are a few key products to get the look. For more education and styling tutorials, be sure to tune into KM.TV on Facebook and YOU DOO YOU on Instagram!