As we head into the summer months, we're all getting a lot more time in the sun. Those extended hours of sunlight mean more time in swimming pools, increased outdoor sports with friends, bike rides through the neighborhood, and so much more!
While we're all looking forward to spending more time in the sunshine, it can also bring some major damage to your hair, as it would to your skin if you don't properly prepare for it. We know you spent a couple of hours in the salon recently to touch up your color or get entirely new hair color, so we wanted to ensure you were equipped with everything you need to care for your perfect hair color all summer long!
Prepare for Fun in the Sun with UV Care
As glorious as the sun is, it can also be very damaging to the health and appearance of your hair. To protect your hair and combat any potential sun damage, we recommend using the Keune Care Sun Shield range. First, before going out for the day, add a protective layer of Care Sun Shield Oil. This oil will work proactively to protect your tresses from the sun, saltwater, and more summer elements.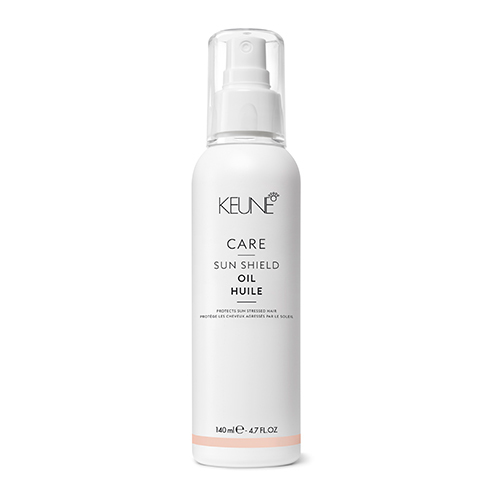 Then, once you get back from your daily summer activities, remove product and other buildup from the day with Sun Shield Shampoo and Sun Shield Conditioner. It's crucial to remove product buildup regularly because buildup can cause dullness in your hair! Plus, for an added benefit, the Keune Care Sun Shield range also protects your hair color from fading!
Beat the Heat with Moisture Retaining Products
There's no question that summer heat can dry out your hair! On top of that, if you're spending a lot of time in chlorine-filled pulls, that can also contribute to your hair becoming more brittle, dry, and having dull color. When your hair is properly moisturized, your color will look 100 times better! Beat the heat with the Keune Care Color Brillianz range. This four-product range includes the Care Color Brillianz Shampoo & Conditioner, Care Color Brillianz Conditioning Spray, and Care Color Brillianz Mask.
Each of these products is tailor-made for your color-treated hair and packed with ingredients that add shine, boost moisture retention, and protect your hair against sun damage. Each of these products can be used individually, but work extremely well when used in congruence with each other!
Keep your Blonde Shining All Summer Long
It's no secret that summer is the season for blondes! We love all blondes too! Platinum blondes, honey blondes, vanilla blonde, all the blondes! We also want to show love to all of the blondes (and even those of you with gray hair) by providing a product line that's developed specifically for your color needs. This is the Keune Care Silver Savior range.
The Keune Care Silver Savior Shampoo is exactly what you need to cut down on unwanted brassy and yellow tones in your blonde. Then, partnered with the Keune Care Silver Savior Conditioner your blonde and silver tones will look completely refreshed! Almost like you stepped right out of the salon!