The rain has finally subsided – for now – and the abundance of sunshine have you dusting off your favorite cutoffs and straw hats. Summer is literally a hop skip and a jump away and once you dip your toes into the ocean, lake, or pool for the first time you know it has begun! The great thing about summer is not just the longer days of light, the soirees and the sundresses, it signals a whole new season of hair trends that you get to live out in the sun! From product picks to styles you can't help but want to steal, we're giving you options to get your best summer hair in a snap!
Braided Ballerina
If there's anything that is certain about summer it is the heat! And when things start heating up, you're going to want your hair off your neck, amirite? This braided ballerina bun is a quick and simple staple to dress up your top knot with a twist! Perfect for a second-day style, spritz a little BLEND Refreshing Spray and begin!

STEP 1: Create a block section in the nape area.
STEP 2: Create a boxer braid (Dutch or French) in this back section. Then, tie the braid with a tiny elastic.
STEP 3: Spritz with BLEND Fixing Spray to secure the style and protect against flyaways.
STEP 4: Starting at the nape, brush the hair from the neckline upwards.
STEP 5: Leaving the braid out, create a high ponytail and secure with an elastic.
STEP 6: Braid the secured ponytail.
STEP 7: Tie the ponytail braid with an elastic and pancake the braid to thicken it.
STEP 8: First, wrap the small boxer braid you previously left out around the ponytail and secure with a bobby pin. Then do the same with the braided ponytail and secure and set with U-pins.
High & Tight Pony
Thanks to Ariana Grande, high pony's are back and better than ever. They also happen to be a great style to wear during summer when the temps begin to rise. Looking for a little extra oomph, consider adding extensions to create an XXL pony that will have you ready for "breakfast at Tiffany's and bottles of bubbles".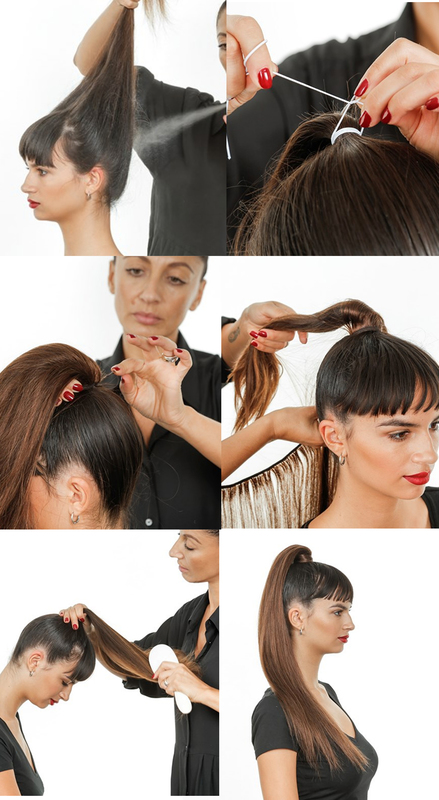 STEP 1: Prep hair with BLEND Gloss spray to add shine.
STEP 2: Starting at the nape, comb the hair using a finishing brush up to the crown.
STEP 3: Secure the ponytail with a thread elastic so you are able to get it tight!
STEP 4: Spritz BLEND Fixing Spray at the nape and comb any flyaways up and away.
STEP 5: To add volume or length, use an extension and secure into the base of the ponytail until it is secure with bobby pins.
STEP 6: Brush the ponytail with the extension to blend and twist a strand of the extensions around the base of the ponytail to secure the look and finish the style.
Bouncy Boucles
During the summer, hair is meant to feel free! What is more, freeing that larger than life curls and extraordinary texture? With this tutorial, you'll be able to take your style to the level with ease.
STEP 1: Once hair is air dried or blow dried, curl 1-inch sections in alternating patterns around a 1-inch barrel. Keeping sections tight will help add more volume to the look.
STEP 2: Once all the hair is curled and cooled, brush hair forward with a finishing brush.
STEP 3: Spritz with BLEND Refreshing Spray and add a dash of BLEND Volume Powder through the roots and mid-lengths.
STEP 4: Place hands at the base of the scalp and tousle to create extra volume.
*Pulling the hair apart and using product is key to getting the finished look!
---
Keune, for the salon professional since 1922.
To learn even more about their brilliant color, stunning styling, and trend inspiration be sure to stalk Keune on Bangstyle and follow them on Instagram, Facebook, Twitter, and Pinterest!