Continued education is a must for stylists wanting to enhance their portfolio. If you have been thinking about getting more on-set experience to grow your depth of work, read about Matthew Tyldesley's experience at Tearsheet; a studio geared toward collaboration and creativity.
Located on 38 W. 28th of New York exist the John Curry  Photograhy Studio. You have to be buzzed in to enter this vintage building which is home to Tearsheet. Setting the standard in editorial education, Tearsheet is ran by artistic director, Giovanni Giuntoli.  Aided  by events manager, Ariella Mendez and their team take the attendees through an in-depth  hands on educational, editorial experience. Complete with models, photographers, make up artists and stylists to collaborate on images to be used for promoting all parties involved.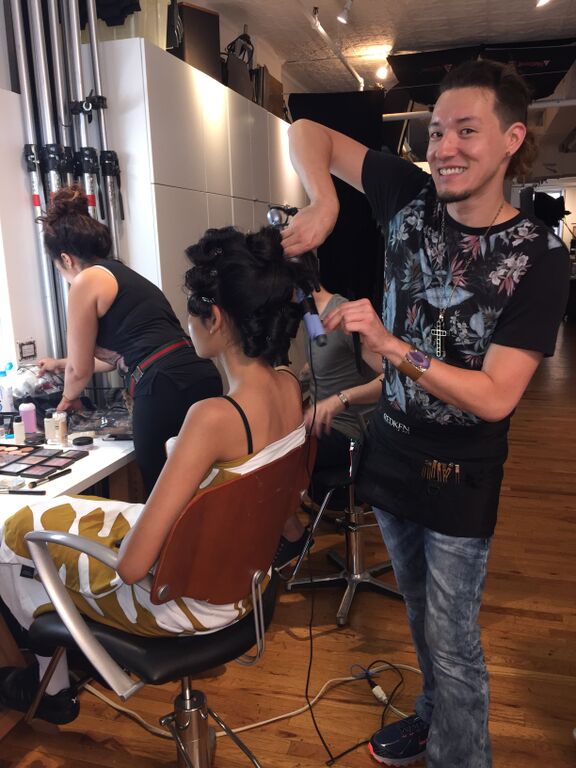 The first day was a meet and greet for the hairstylists attending, the photographer, Jesus Baez and the Tearsheet team. The attendees were given a run through of "must/haves" essential to have in ones session kit including items such as a brittle paddle brush, hairline combs, static free combs, no/bend clips and a variety of hairpins.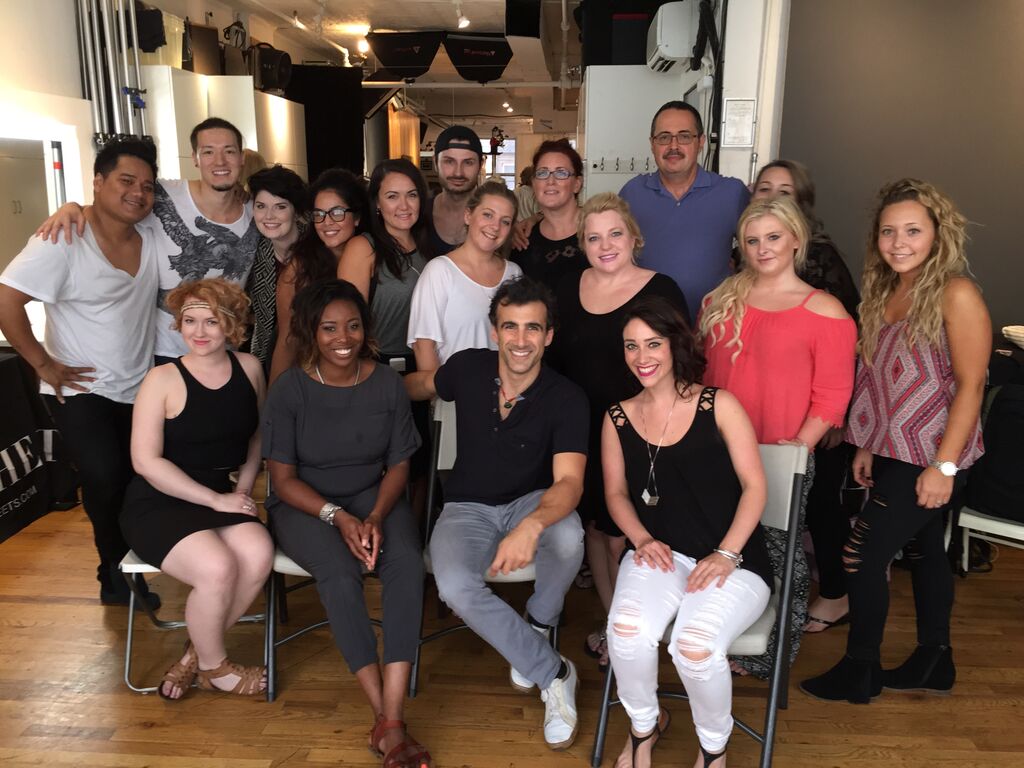 The facilitators for Tearsheet took turns facilitating segments focusing on quick efficient commercial hairstyles using hair forms, hair extensions, and fishtail braiding along with various methods to secure  hair for ponytails and up styles. We also focused on directional blowdrying and different ways to set hair using marcel irons.
We engaged in open discussions about the learning as well as shared ideas and discoveries. The Tearsheet team made sure everyone felt important as well as gave individual coaching on their finishing skills.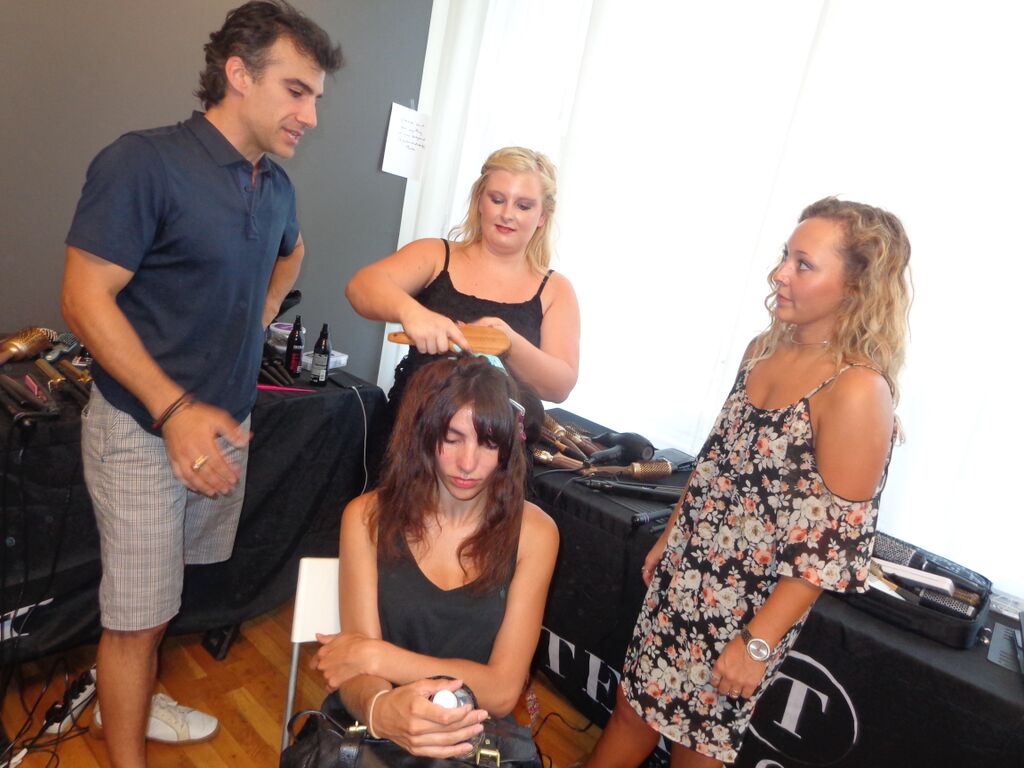 Day 2
Arrived at 9am to the studio were we split the class, and alternated shooting with two photographers. I was assigned to Jesus Baez for day 1, Baez is a young, fresh fashion photographer. Models were assigned by Tearsheet and my first model, Tiri Kananruk, a beautiful darker haired model for whom I created two looks. We were given imagery for the photographers to replicate a certain style however it was up to each hairstylist to execute the styling using imagination, principles and skills to create the finalized looks. I started my initial look for a classy, polished set with a slight wave. The day was very humid and I first needed to smooth and polish Tiri's hair. I applied Redken Guts 10 and smoothed the hair using the Sam Villa blowdryer along with a boar brittle brush. Then I set the hair using a 1 inch marcel and double prong pins to sustain the shape. Make up artist Mary Downes created a light eye and bold lip and stylist, Kira Kiensicla dressed Tiri in a long lacy gown and presto she was camera ready.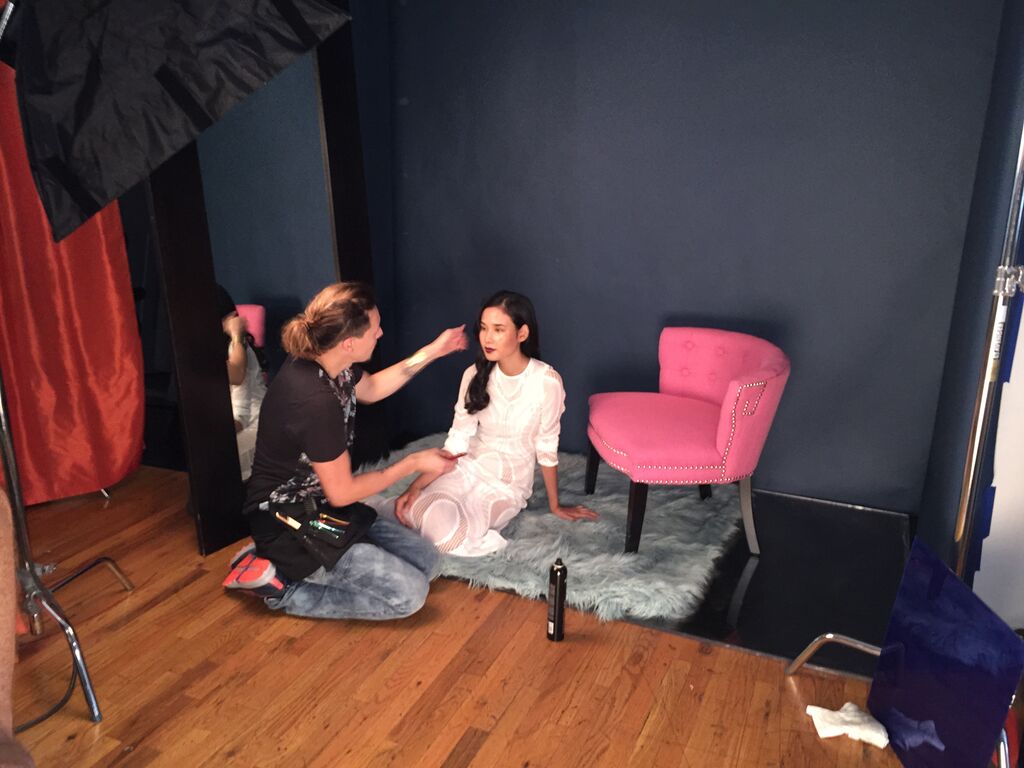 For the first look, Baez created a nice composition complete with several beauty lights and props.. For second look I had found a large hair pad in my session kit along with some fish tails and French braids which is how the second look was created, a texturized up-style. We chose to only use a faux fur throw for minimalism in the imagery. I enjoyed the camaraderie between the hair stylists throughout the experience. Post class, a group of us would dine out both nights and reflect on the events of the day and we even had time to enjoy a few rounds of karaoke.
Day 3
I arrived at the studio at 9 am and met my model Megan along with photographer, Chris Grosser.  Grosser is a beauty and and fashion photographer who has an eye for lighting. He showed me two looks to create for Megan. For the first look I created a contemporary 1960's Bardot inspired look, complete with a center part. I did a directional blowdry on Megan's hair using Redken Guts 10 with a round brush and hair dryer and immediately set the hair using the round brush. Afterwards I used a large marcel and reset Megan's hair using Iron Shape 11, then sent her to make up artist Francis Michael. Francis created a beautiful smoky eye and a nude lip very clean to bring out Megan's features. I then brushed out her hair out using a my little Tearsheet Bone comb and smoothed out the surface for a clean, voluminous finish. Megan donned a geometric vintage inspired dress styled by Kira and finally Chris began to shoot Megan against a light blue backdrop. For Megan's next look I created more texture and by doing a spiral tong set in the nape and side areas then set the hair in the crown croquignole style. I brushed it out for a beautiful textured/wavy look, then I pinned up the hair quickly for one last final up style. The day ended with a graduation ceremony with the Tearsheet team and an invitation to return. I became a Tearsheet artist that day. I enjoyed the class format and the opportunity to do what I love. There was a lot of creative freedom and assistance was available if needed. I contemplating taking a class with Tearsheet for a few years now and I'm glad I did. Education is a lifeline to inspiration and the opportunity to network and grow is crucial.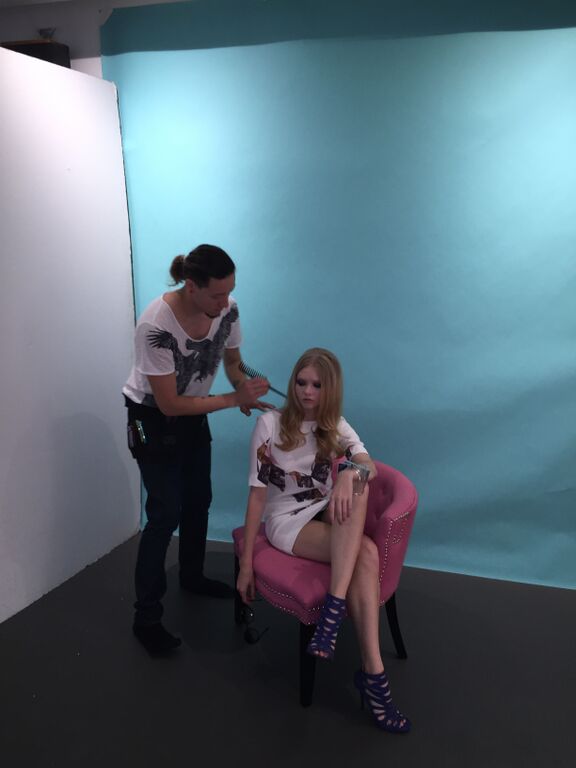 Be sure to stalk Matthew Tyldesley to see all of his amazing work!
Contact info:  
www.yourtearsheets.com
ww.matthewtyldesley.com @hairbymatt
Photographers:
Jesus Baez www.jbaezphoto.com @jese_Baez
Chris Grosser www.chrisgrosserphoto.com @chelmutgrosser
Makeup artists:
Mary Downes @davava_creative
Francis Michael @francis_michael_nyc
Models
Tiri Kanauruk Q Models  @ngonngontiri
Morgan Hollis Major Model/JEA model @_morgan_45