"You can't create beautiful hair without a beautiful palette, which is what Cezanne is all about," says CEO Shay Hoelscher.

Which is why Cezanne has worked so hard to expand the range. Our new leave-in spray, crème, thermal protectant, and Reboot Keratin Restorative Treatment will keep your salon and your clients up to date and in the know.

Cezanne's after care products were created to build an entire support system around the smoothing treatment. Free from toxins, formaldehyde and all aldehydes, the smoothing treatment and after care provides clients with an all-in-one way to protect their investment and prolong their Cezanne treatment.

This smoothing treatment also gives the client the option to wear the hair curly, making it versatile for all hair needs. Traditional smoothing treatments can sometimes eliminate curl altogether, which is a problem when the hair starts growing out from the treatment—there's a line of demarcation present.

"We have a unique proprietary formula that doesn't chemically change the structure of the hair, but smooths it without breaking disulfide bonds," Hoelscher said.
Cezanne Classic and Express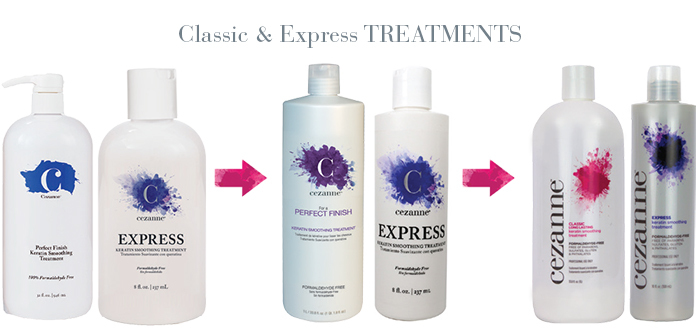 New name, same great formula! We recently changed the name of our best-selling smoothing treatment from "Perfect Finish" to "Classic." This helps better differentiate between the two treatments, so stylists can make the best choice for their clients.


Leave-In Perfector Spray - Coming in April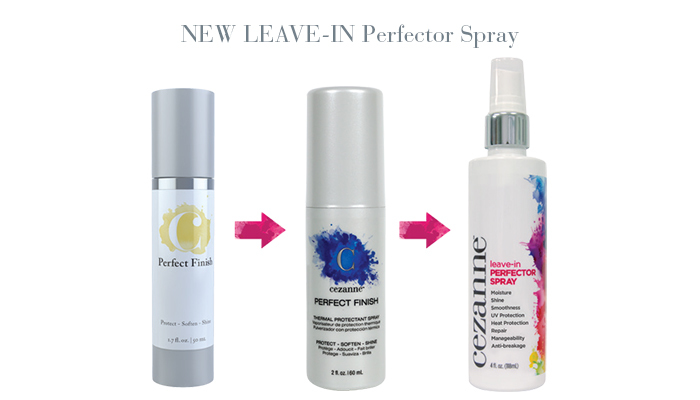 Our brand new leave-in contains Crodabond™ and Sericin to extend the life of your Cezanne treatment. It also protects from heat and UV rays, adding moisture, shine, smoothness, repair, manageability and anti-breakage properties along the way.

"It's a miracle product used both wet or dry to protect hair from damaging effects of the sun," said Hoelscher.

Transformational Crème - Coming in July

The new Transformational Crème combines the leave-in spray and crème conditioners for an all-in-one, lightweight way to keep your hair smooth and manageable between appointments.

The crème will be available for salons in July.

This product will give the hair intense shine and body while also keeping it smooth and silky. Formulated with heat protectants, it will help prevent damage from the blow-dryer and hot tools.

Reboot Keratin Restorative Treatment - Coming in September
Our Reboot Keratin Restorative Treatment contains our new Cezanne Signature Fragrance, a blend of eucalyptus, lavender, rose and ylang ylang with traces of vanilla, tonka and musk. The Reboot is an intensive, velvety, moisture-restorative keratin treatment mask that will revitalize the hair during the cold winter months.

The Reboot and its brand new formula will be available for purchase in September.

"It has a very special ingredient list that supports and increases the longevity of both Cezanne keratin treatments. It uses the same propriety blend of key ingredients, like Sericin, that's found in the smoothing treatment."

Perfect Moisture Shampoo and Conditioner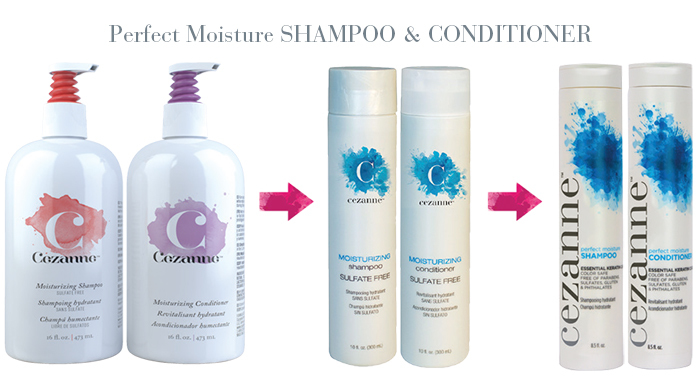 Protect your smoothing treatment from the inside out with the products made specifically to support your smoothing treatment. Our Perfect Moisture Shampoo and Conditioner is focused on getting your hair the moisture it needs, without sulfates, parabens, phthalates or gluten.
Clarifying Shampoo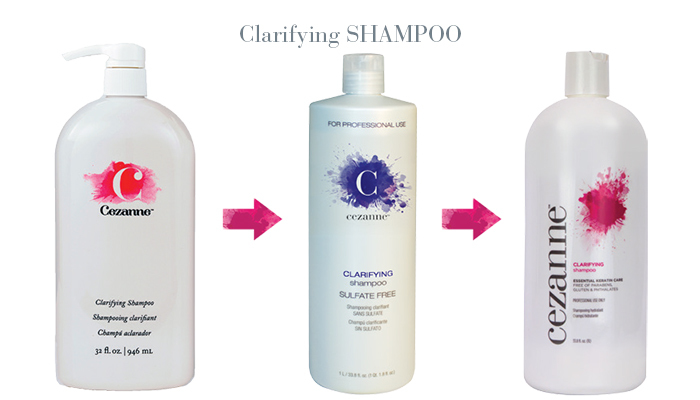 The evolution of our logo is evident on our Clarifying Shampoo, a crucial step in the Cezanne treatment. The paint splash inspires and reminds the stylist that great hair is an art form. Cezanne creates the perfect hair "canvas" for whatever look you want to achieve.

Root Blast and Hairspray

Our Working Hairspray and Root Blast have been formulated with similar ingredients to our keratin treatment that have incredible proteins to protect the hair from frizz.

"Every woman uses hairspray. It's the most popular product in the industry."
---
If you're thinking about getting a treatment or simply want to pick up a few key products from Cezanne, follow us on Instagram @Cezanne_Hair and visit CezanneHair.com for even more helpful tips and tricks!