Low-maintenance with the ability to add endless texture, the shag was deemed 2021's cut of the year. Redesigning the trend for summer, the Shaglet — a shag/mullet hybrid, is currently the most requested cut of the season. Clients love this trendy cut for the "have it all" ability of this hairstyle, it's full of easy texture, get up and go effortlessness, and edgy-cute finish. All about individuality and the ability to frame a person's best features, this versatile look can easily be customized for any client and length with ease. Watch Manda Ziegelman, Sam Villa Ambassador @mandaziegelman, demonstrate this hybrid cut below.
"I connect hair to personality + lifestyle and believe in the transformative power of a haircut," explains Ziegelman. "As soon as you chop a fringe and carve some layers around the face, clients become more aware of themselves. They feel badass, become confident, they evolve. There's a liberating attitude behind these types of cuts and it's definitely a mood," they add.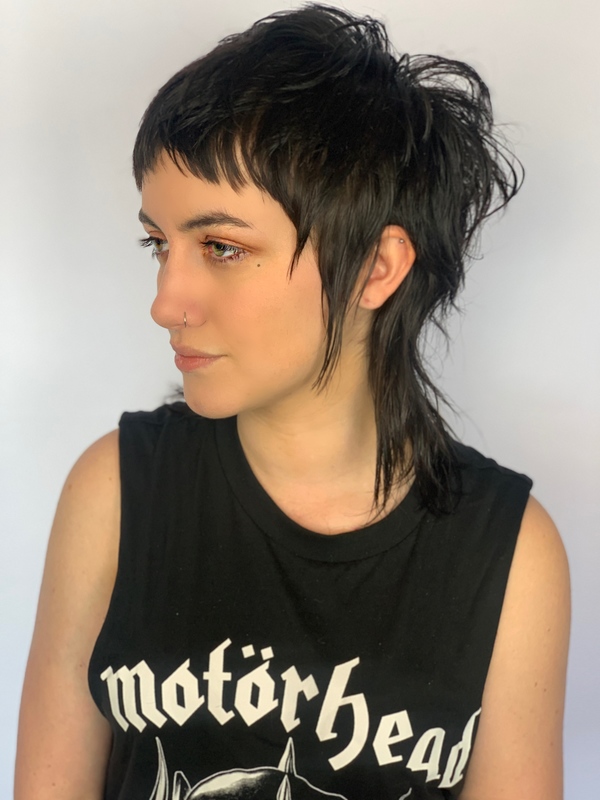 According to Ziegelman, the best shaglets have fullness without heaviness. The key element is removing enough weight by "out cutting" or cutting away from the scalp with a razor or shear to create amazing texture and versatility with the shape so that the hair is light enough to move freely. Ziegelman touches on a few additional things to ponder when approaching this modern style:
Design: Consider the head shape itself when customizing this look for each guest.
Back: It's vital to collapse the silhouette by removing bulk with tricky internal layering.
Crown: Create strategic texture to build volume.
Ears: Use cutouts above the ears for exposure and to create disconnection preventing the dreadful "dog ears" effect.
Fringe: The ultimate statement piece, the more "chewy" the better. Watch Ziegelman create signature fringes here.
Tool: Use a Sam Villa Signature Series Razor, its swivel handle allows dynamic movement for carving out weight seamlessly.
Styling: Ziegelman teaches guests how to hand style using three simple products by Cult + King that work for all hair types. TONIK for invigoration and scalp health, SETSPRAY for a bit of structure, and JELLY for volume and texture without stickiness or chemicals.

What you'll love most about the Shaglet? "This hybrid cut and simple hand styling finishing method provide endless styling options with room to grow. The individualized experience keeps your guests excited, fresh, inspired, and coming back for more," adds Ziegelman.