Whether you're an experienced hairstylist or just beginning, one this is for certain – you know what thinning shears are – although you may not know how to use them accurately. Through education and trial and error, learning the best ways to utilize this tool can make a vast difference in your end result. From removing weight to adding texture, knowing when and on what type of texture to use thinning shears is imperative. To give you a few guidelines to improve any haircut by utilizing thinning shears follow along below.
Thinning shears are equipped with a blade on one side and notches or "teeth" on the other - which allow you to cut out portions of the hair without a hard line.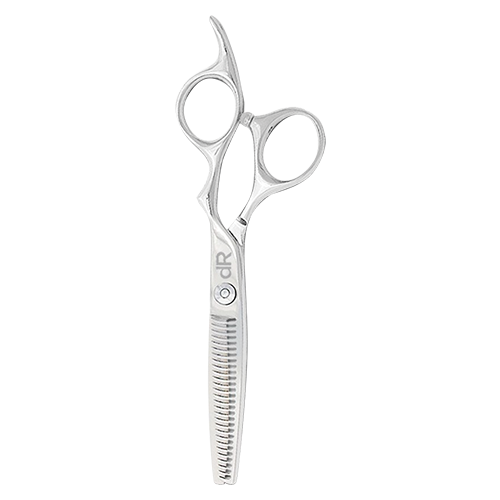 When to use them? Thinning shears can be used on any hair type, however, a great tip is to reach for them when styling men's hair. Thinning shears are the perfect tool for shorter cuts, by removing bulk and blending. It is best to use thinning shears on dry hair during the texturizing portion of any cut. It gives a more accurate account of what the shear is actually doing. Keep in mind that short hair directs longer hair, so thinning shears can actually help build volume.
Types of hair to avoid? Use caution with curly or thick textured hair, they already have a direction of their own. Some clients may think that they can improve their curly or thick hair by asking for their hair to be thinned so it will be easier to style. This can actually have the complete opposite effect, so be sure to discuss this with them. If used at the roots to mid-shaft, thinning can actually add bulk and frizz. By using thinning shears improperly, curly and thick hair is no longer weighted down by the strands next to it - so you may see more frizz. You can still use thinning shears on these clients, but stick to the ends to create a softer edge, or carefully take out bulk throughout keeping in mind their styling preference.
The importance of investing in your thinning shears: We can not stress the importance of investing in quality tools; they make blowdrying faster, results smoother, and cuts crisper. Investing in a proper array of shears will assure better cuts and thus happier clients. The sharpness of the steel used in your shears affects the tools ability to cut the hair instead of bending it - when shears bend hair it leads to breakage and imprecise cuts.
Daniel Roldan Shears are made of Premium Japanese Stainless Steel. This material will keep its shape and hardness over time with improved corrosion resistance to extend their lifetime. To grab a pair be sure to visit the Bangstyle store and to learn more about them, check out the video below!
Looking for hair inspiration? Check out these looks and stay tuned for even more fashion-forward styles from Matrix and be sure to get your holiday shopping done early with our top picks!