Need a little hair inspo? We've got you covered! If you want to break out of your style rut or perfect your braiding skills, now is a perfect time. Here, we've put together all our favorite Pinterest looks we're loving right now to help you get inspired.
Double Dutch Braids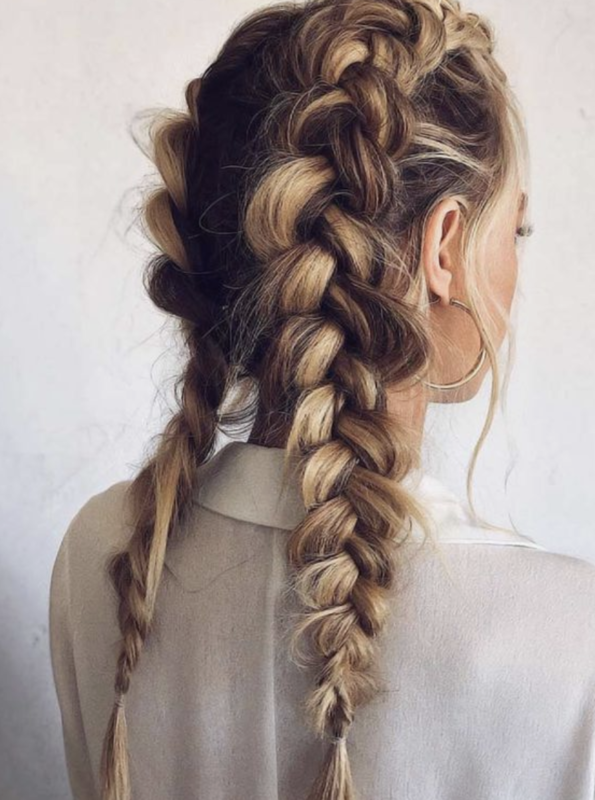 We're loving this voluminous twist on classic French braids! To create Dutch braids (or reverse French braids), take pieces of hair and braid from below, pulling up and over (rather than braiding from the top, as in a traditional French braid). Braid all the way down, leave ends loose, or even twist ends up into a chic chignon to personalize the look.
Elastic Alternatives
Bored of your regular ponytail? Elevate the look by swapping out a plain elastic with something a little more stylish! Try a metallic clip or a loosely tied bow for a softer, more romantic look or, if you need stronger hold, trade a plain hair tie for a trendy scrunchie.
Flipped-In Ends
Update your super-sleek, super-straight look with flipped-in ends. Think of it as 2020's answer to the flipped-out ends of the 90s. It's trendy but chic and works on all lengths and face shapes.
Long, Low Ponytails
We're loving the glam of a long, low pony. Bonus: the style is super easy to create! Keep it sleek with pin-straight strands or pull loose waves back into a low ponytail for a romantic, feminine look. Or, if you want to add a little interest, section a low ponytail into two strands and twist for a textured, rope-like effect.
Piled-High Hair
When you just HAVE to get your hair out of your face, pile it up! We're super into these sky-high styles. Add a little interest with a baby braid or two, or tie on a hair scarf to accessorize the look.
Twin Topknots
The perfect look for carefree, sunny days, twin topknots add a dose of fun to your everyday style. We love the casual, lived-in vibe of this look, so don't worry too much about controlling fly-aways and frizz; when it comes to twin topknots, the messier the better!
Hollywood Glamour
Not into the lived-in look? Take a queue from these glamorous, polished hairstyles inspired by old Hollywood glamour! Pair the look with modern hair color shades—like blush pink, mushroom brown, and platinum blonde—to keep it chic, not costumey.
Imperfect Updos
We're feeling inspired to take our everyday hairstyles up a notch with these perfectly imperfect updos that aren't exactly wedding looks—but totally could be. The key to making it casual is keeping things loose. Let a few strands fall loose around your face and don't worry about tucking ends in. Imperfection is the goal!
Natural Texture
It's official: individuality is IN! We can't get enough of these natural hairstyles. Whether you've got loose curls, tight coils, thick hair or fine strands, embracing what makes you unique is always gorgeous.