From stress to hormones, genetics and the natural progression of aging - there are multiple reasons why you may experience hair loss. An often difficult topic to discuss, many suffer silently without getting the support or utilizing the treatments they need.
Additionally, there are very few natural skin and hair care products that address the issue of hair loss from the inside out, until now. From the start, Shiny Leaf has been dedicated to finding natural solutions for hair care products and the Shiny Leaf treatment is dedicated to treating hair loss and promoting growth. Read on to learn more about the benefits!
The Treatment:
Shiny Leaf believes in taking a well-rounded approach to combat hair loss and jumpstart regrowth, which is why they created their DHT Blocker + enHAIRgy Bundle. Containing everything you need to revamp your hair routine. This bundle includes their best-selling DHT Blocker Shampoo and Conditioner plus the daily enHAIRgy Supplement.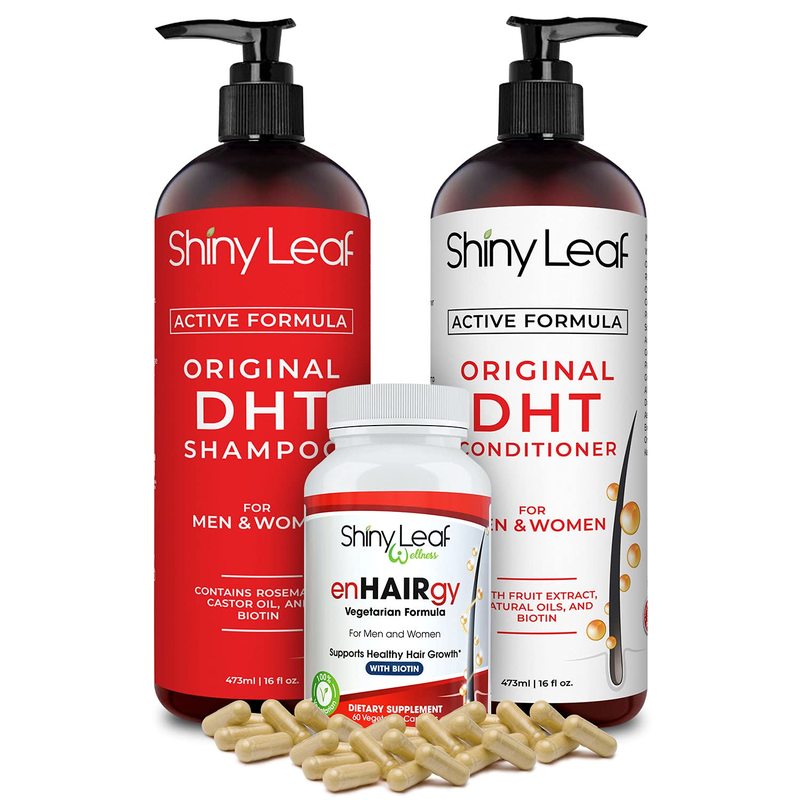 What You'll Love About It:
This natural shampoo and conditioner duo is formulated with DHT blocking ingredients that will nourish and strengthen your strands while preventing hair loss. In addition to cleansing and moisturizing the scalp and strands, this duo is ideal for daily use for all hair types and even gentle enough for color-treated clients.
While DHT Blocker Shampoo and Conditioner cares for your strands, the enHAIRgy Supplement works from the inside out to revitalize the hair and scalp to promote hair growth and reduce hair fall and breakage by increasing the strength and vitality of hair follicles for continued growth.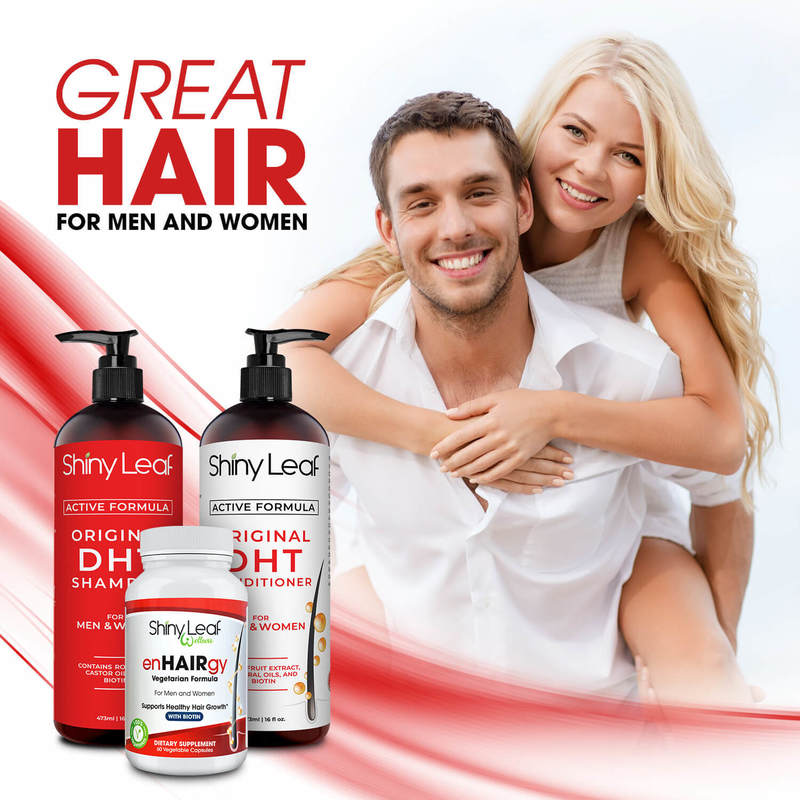 Why You Need DHT Blockers:
Both men and women can experience hair loss due to aging, this is known as androgenic alopecia. Experts from the American Hair Loss Association have discovered that DHT (or dihydrotestosterone) is the culprit because of the way this androgen impacts testosterone levels, interrupts hair growth and can cause hair follicles to shrink — leading to hair loss. While many have turned to prescription treatments, Shiny Leaf features natural DHT blockers that can aid in the problem.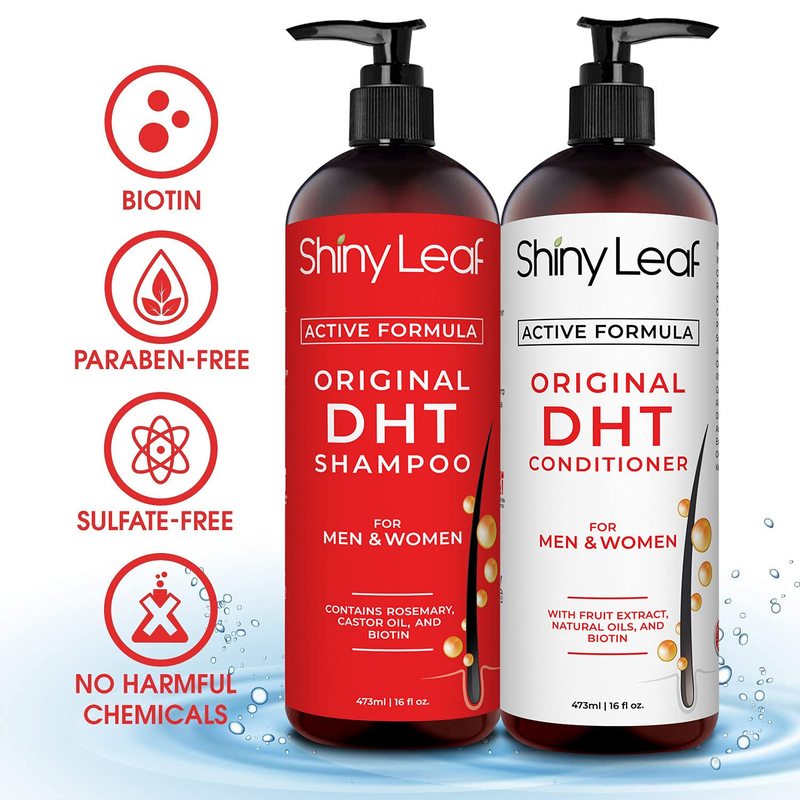 Shiny Leaf's Natural DHT Blockers:
The DHT Blocker Shampoo + Conditioner contains a results-proven mix of Natural DHT Blockers, Saw Palmetto, Pygeum Bark Powder, Biotin, Essential Hair Vitamins and Plant Extracts and Oils that work together to treat internal and external factors that can lead to hair loss. This unique formula not only works to cut down on hair fall and loss by blocking DHT, but it also reverses hair loss and increases hair growth.
How Shiny Leaf Promotes Healthy Hair Growth:
From start to finish, the DHT Blocker + enHAIRgy Bundle combats against hair loss and promotes growth in a natural, healthy way. Their twice-daily enHAIRgy Supplement is free of fillers while their DHT Blocker Shampoo + Conditioner is free of Sulfates, Parabens and Silicones to work for all hair types.
The two-prong approach of utilizing a twice-daily supplement + topical hair products guarantees you're treating the problem of hair loss from all angles.
To learn more about the Shiny Leaf treatment be sure to check out even more information on their website ShinyLeaf.com and follow them on Instagram @ShinyLeafUSA.
For 15% off, Bangstyle readers can use the code: BANGSTYLE at checkout for exclusive savings!
*Please note this is a sponsored post, paid for by Shiny Leaf. These products have not been tried or tested by Bangstyle.*