Various bob haircuts have been trending all over the map but as we head into fall and winter, clients may be looking to add a little length to their look. Whether they are growing their hair or transitioning to extensions, when it comes to achieving longer hair — the answer might be in the products you're using.
Tips for Keeping Long Hair Healthy
Whether you're looking to grow your hair long or simply take care of your lengths, hair care is the number one way to ensure both. Everything from brushing to environmental stress and heat styling can wreak havoc on strands. For best results, start a healthy routine for your hair before visible signs of damage or dryness show. To do so, finding products that promote moisture within the hair should be your first step.
Enhancing moisture correlates to length because it helps hair become more elastic and less prone to breakage and damage.
How To Promote Hair Growth
Everything from diet to stress can impact hair growth. It can be a great idea to work in new routines with targeted treatments, gua sha, or massage to help stimulate the scalp and promote new growth. In addition, choosing products that improve the health of your hair and don't contain ingredients that hinder it is essential. Look for formulas that are free of parabens, sulfates, and phthalates. These are better for your hair and body and are traditionally safe for color-treated, keratin-treated, chemically-processed, and extension-filled hair.
Consider Using Extensions as a Hair Filler
While extensions have always been known for their ability to extend length, they are now becoming popular among celebrities using them as "hair filler" for short lengths like lobs and bobs. Chris Appleton, the celebrity stylist behind the most iconic hair looks for Kim Kardashian, and Jlo often uses extensions to create a bouncy bob look. Used as a filler - extensions can fill in sparse areas of the hair for a fuller look.
When using hair extensions, use hair products that won't damage the wefts and help promote healthy hair.
Product suggestions:

Soften and smooth strands with a luxurious shampoo and conditioner duo that gently cleanses the hair and provides an uplifting shower experience with a lovely aroma. This formula provides moisture for all hair types to create shiny, soft, manageable hair. Safe for color-treated or chemically-processed hair and extensions. In addition to protecting color, this formula will also cut down on frizz, protect color, and improve elasticity.
Treat yourself to this highly concentrated formula full of proteins, vitamins, and antioxidants. This mask promotes intense shine and hydration while restoring dry, damaged hair.
Anytime you wash your hair, a hydrating leave-in should be applied to enhance the benefits of your moisturizing system. From sealing split ends to calming frizz and protecting against UV rays and heat — this leave-in is a must.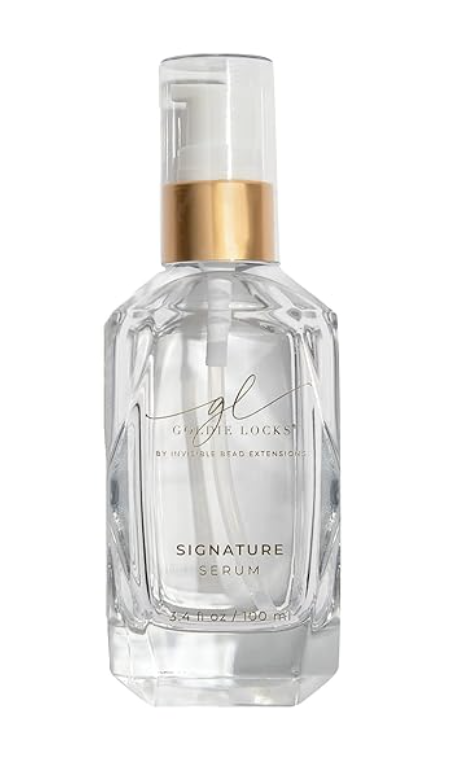 Utilize on freshly washed hair or work into your hair oiling routine throughout the week. This lightweight serum is highly effective at restoring hair and providing frizz-free, humidity-resistant results and helps hair retain moisture and mend split ends for a flawless finish.
In addition to being extension-friendly and color-safe, Goldie Locks products are vegan, cruelty-free, and free of sulfates, parabens, phthalates, gluten, and DMDMH. Learn more about the products here!
*Some of the links in this post are affiliate links. This means that Bangstyle will collect a small share of the sale from any purchase you make from the products we recommend.