We are thrilled to partner once again with the Professional Beauty Association (PBA) to promote all of the talented artists who are finalists for the 2018 NAHAs (North American Hairstyling Awards), the most prestigious hair and beauty award in the country. In this feature, get to know more about this year's Master Hairstylist of the Year Finalist – Vivienne Mackinder.
Inspired by the Kaleidoscope of color and texture, Vivienne wanted to create a Fine Art Collection, mixing bold shapes with movement and color. Being mindful of color placement to add depth and drama to each look. The challenge was to push the creative spirit without compromising beauty. Keep reading to see more of her inspirations and her beautiful work.
---
What was your favorite technique to use?
The color melting and placement, as it had to enhance the silhouette. The color had to complete and not compete.
What was your biggest challenge in creating this collection?
When searching for an original idea, it is the ultimate creative journey stepping into the unknown. One needs a childlike quality of curiosity without judgment. A new idea is delicate and it can be killed by impatience. Many things go wrong during the process, but I always tell myself; "Keep doing the right thing, even when the right thing is not happening". Brilliance could be around the corner.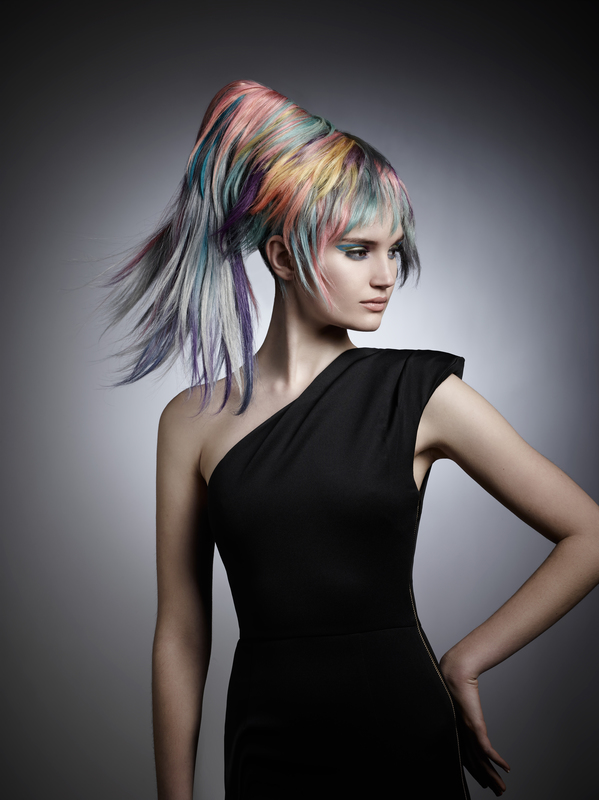 What does your collection say about trends?
Not being shy about color, you will notice that a couple of the styles have every color within the Joico Color Intensity Line, nothing like a bit of extravagance. While I wanted originality, it was important for the style to look expensive.
The Trend Statement - The fusion of color melts and color accents to make a statement about SHAPE.
How did you select/work with your team to hone your vision?
Teamwork makes the dream work! To be the best you need to work with the best of the best. My color team and guest Artists for Joico Phil Ring and Gion Vincent pushed the creative boundaries to create a Kaleidoscope of color. It was a magical collaboration for which I am so grateful. Extra shout out to Roby Woobank for assisting with Rosemary Tejeda, Cindy Depinto Elliott, and Tim Pamment.
The vision:
It was all about the shape and then once the silhouette was determined how to make the color look expensive, especially as we were using so many shades.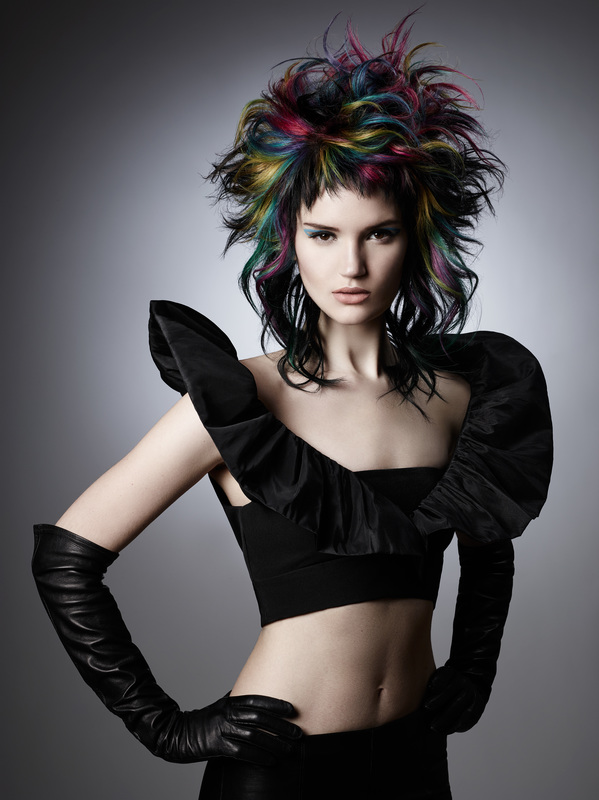 How does social media influence your work?
I follow a very small and elite group on social media, only my hair heroes. I love to see amazing work, it's always inspiring.
If you were to describe this collection in one word, what would it be?
Kaleidoscope.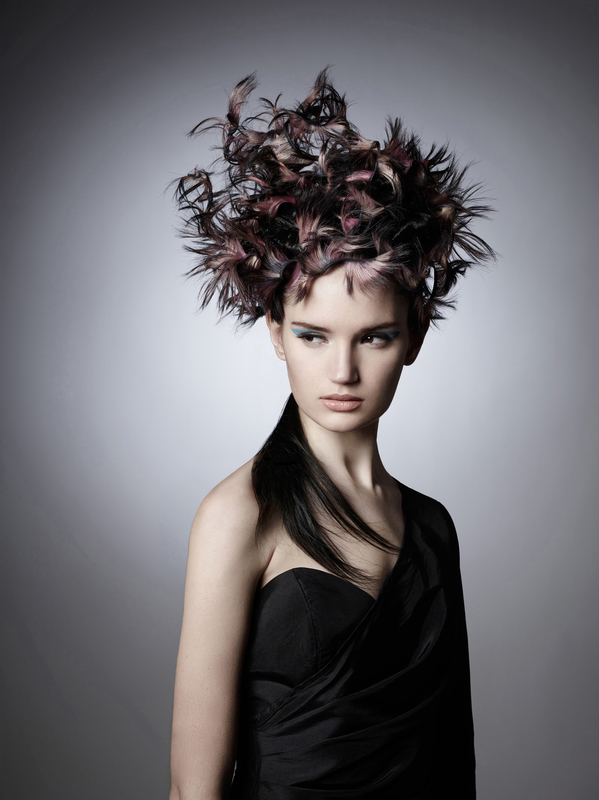 Tell us a little more about you, as an artist.
I love to create; beauty first, fashion second. I am curious and very open-minded, always hungry to learn and improve my skills. I am a little eccentric and very playful.
How do you Vegas?
I am usually working when there, but if time allows I love to go to a great show. Gosh, I still have not seen Thunder Down Under!!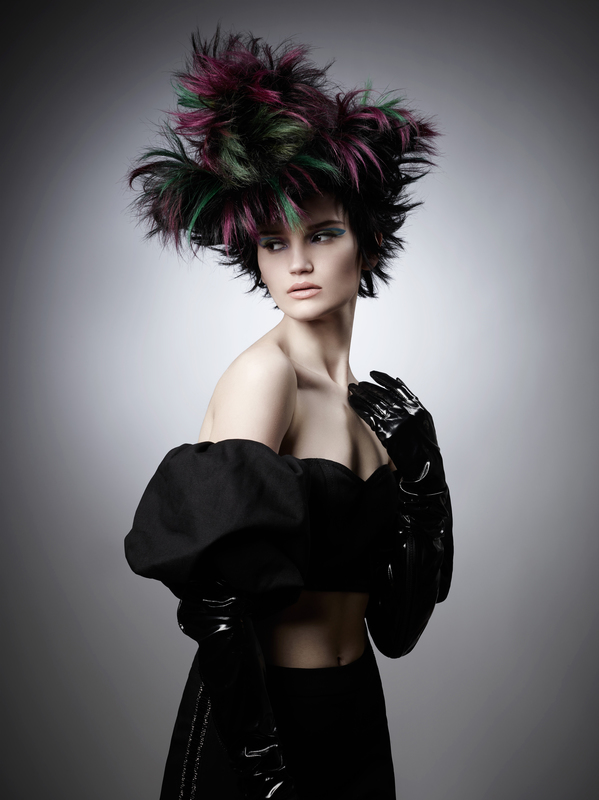 Salty or sweet?
Sweet.
What did you learn about yourself through creating this collection?
Patience, it took three weeks to create. A lot went wrong before it went right! Keep in mind that I have been down this path before, so I know it's a long journey. Experience has taught me that I can't quit if it is not working, every challenge is an important lesson. I learned how important it was to go with the flow, stay open and believe.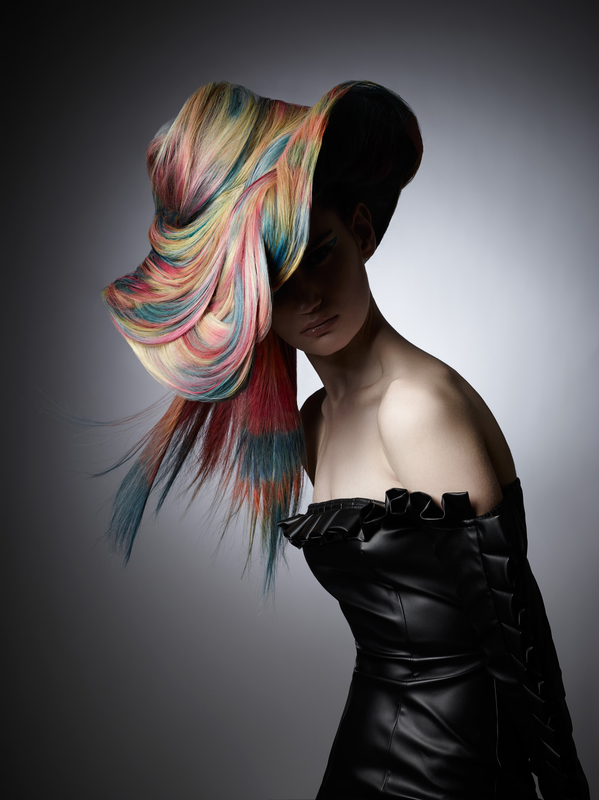 If you won the lotto (or slot machine) tomorrow, what would you do?
Take care of my family. Buy a horse farm and apartment in NYC.
Credits.
Hair Design: Vivienne Mackinder
Color: Gion Vincent and Phil Ring from Joico color team.
Photography: Roberto Ligresti
Makeup: David Maderich
Fashion: Nikko Kefalas