2020 was the innovative year of digital education. With endless amounts of Youtube videos, Facebook Lives, Instagram Reels, Stories and IG.TV, stylists (and clients) are now more informed than ever when it comes to their beauty regimens. But, do they know to ask for pH.D?
Like all hair care treatments, colour is best left to the professionals. However, as a client, it can still be a great idea to learn about various service options to know exactly what to ask for in the salon, and a pH.D is the perfect place to start.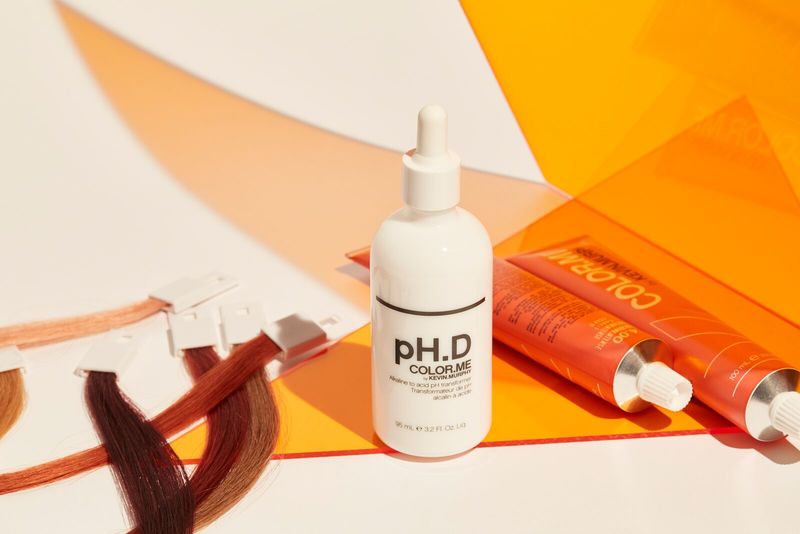 What It Is:
pH.D is an in-salon professional treatment for hair colour. Similar to a glossing service, it can help refresh tone or create darker colourations with ease. It is generally a quick 10-20 minute service that is applied with an applicator bottle and can be done at the shampoo bowl.
How It Works:
pH.D is a revolutionary new product from COLOR.ME by KEVIN.MURPHY that allows a stylist to change any permanent SHADE into a no-lift, no-shift acidic colour formulation. What this means is that stylists are able to use any COLOR.ME SHADE as a deposit-only colour.
Why You'll Love It:
With the ability to turn any SHADE into a deposit-only colour, stylists are able to tone, refresh, or darken with an endless array of intermixable colour options. Whether you typically get highlights and need to combat brass every few weeks or are looking to refresh ends when getting a new growth retouch, this is the perfect formulation for you. Additionally, pH.D is a treatment that helps the cuticle lay flat and therefore adds shine and brilliance to any style. Apart from a brilliant colour, you'll also notice that there is improved manageability and hair is easier to blow dry. From CLEAR to a hint of LAVENDER or a deep shade of BEIGE, a quick refresh to any SHADE is now easier than ever.
How To Care for pH.D At Home:
After receiving a pH.D treatment, you'll want to care for your hair in the same way you would after getting any hair colour. Be sure to add a colour-safe WASH and RINSE to your regimen daily. Consider adding BLONDE.ANGEL (for blonde or grey tones), to help combat against yellowing or brassiness between salon appointments and be sure to use a great leave-in conditioner and heat protectant any time you style.
What We Recommend: