There's no doubt about it, by now you're either riding out the rest of your winter vacation on the beach or trying to defrost your fingers in front of the stove. Either way, you've probably got a base tan and a protective layer of sunscreen slapped on your face. While sun protection is key year round, during the winter months we tend to look like we could use a little extra Vitamin D. Read on to learn how to warm up your complexion as temperatures continue to drop.
Bronzer, everywhere!
One of my more makeup savvy friends gifted me a much-coveted Hourglass Ambient Lighting Palette set for my birthday and while it was great all over for added shimmer during summer it is proving itself an important ally as I begin to add layers to my daily wardrobe. During the summer I'll apply a few swipes to my cheeks and to contour my jawline, but during winter you'll notice that applying a thin layer all over will give you the glow you really need. My favorite new place to apply bronzer? On my eyes! As 70s trends hit the runways and bronzy palette's appeared everywhere, I noticed that my warmer (think clay undertone) shade perfectly highlighted my eyes without looking too shimmery – the perfect winter tone.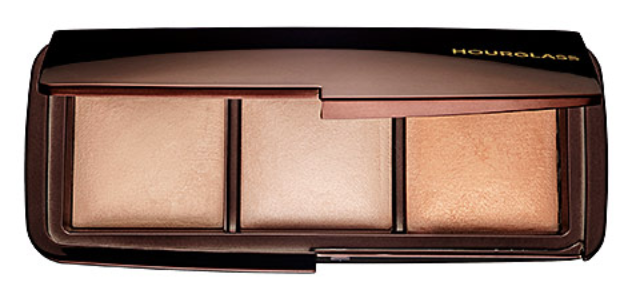 Amp Up Your Vitamin C Intake.
Although we've all been downing Emergen-C like tic-tacs, applying it to your face will give you the glow you're looking for (from within) and on your skin! Try out a Vitamin C serum this season. You'll notice it brighten your complexion almost immediately. We've been obsessed with Ole Henriksen Truth Serum. We've tried a few other Vitamin C powders and serums before, but nothing brightens like this beauty. Available in all types of sizes from 0.5 oz. to 3.4 oz. you can try it out or commit for the long hall. After cleansing and toning your face, simply apply one pump (or more if needed) all over face and décolletage for a flawless glow.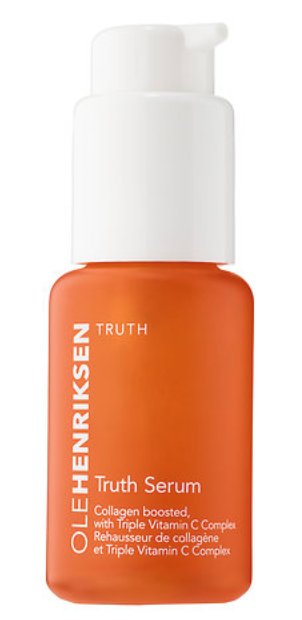 Fake It 'Till You Make It
While self-tanners of years past may have left your orange and splotchy, there have been vast improvements in formulas and application tactics, leaving you with silky smooth glowing skin with the swipe of a lotion. Getting an even glow starts with the proper prep work. Exfoliating about 12-24 hours ahead of time and ensuring skin is clean and hydrated is the first step. While self-tanners come in all forms these days (from lotions to sprays, mousses and even wipes) a few of our favorites are in the form of classic lotions. St. Tropez Gradual Tan Classic Every Day Body Lotion is a great way to dip your toes in the self-tanning pool. Due to its buildable formula, it makes it easy to adjust your hue. (The St. Tropez Express Bronzing Mousse is a close second, especially if you're in a rush.) Often a fan favorite – the Clarins Delicious Self-Tanning Cream is scented with pure cacao extracts and will leave you looking like you spent hours under the sun. Last, but not least TAN-LUXE offers both a FACE and BODY version of their drops, which can easily be added to your favorite lotion or cream, transforming your skin with the ultimate luminous glow.
Be sure to check back for the latest tips for your beauty routine!