Maestrando la consulta del peinado es la clave para cualquier cita de cabello del día de boda exitosa. Aquí hay 10 maneras estilistas pueden mejorar su consulta de peinado.
Completando una consulta cuidadosa calibra cómo importante un peinado es a su cliente, que hace la estilización del cabello y administra su "ocasión especial" estrés, mucho, mucho más fácil. Conquista cualquier cita de cabello para el día de la boda con estos 10 consejos para mejorar su consulta de peinado.

1. Prepare el cabello de su cliente antes que entran en la puerta. Pregunte a la recepcionista que camina a través una lista de productos que el cliente debe tener en su cabello cuando llegan a la cita. Hace que sus clientes secan su cabello con un voluminizador, como espuma, en cabello mojado, siempre es una buena recomendación, ya que estará trabajando con el cabello sólo cuando está seco.

2. Mucho clientes traen fotos de peinados con sólo la parte posterior de la cabeza. Lo que necesita salir de su cliente es cómo quieren que su peinado se mira por enfrente, no sólo la parte de atrás. La parte posterior de la cabeza podría tener un trabajo de vestido hermoso, pero si la parte delantera del estilo no complementa su cliente, es todo para nada.

3. Asegura que su cliente llega 20 minutos temprano a su cita para llenar una consulta escrita. ¿Es su evento una ocasión especial, corbata negro, invitados de boda, novia-a-ser, un baile, reunión o primera salida? Si el cliente es emocionalmente invertido, sepa que habrá presión adicional en usted para funcionar.

4. ¡Este es un consejo muy importante! En el testimonio escrito, pregunta su cliente, "¿Cuál es su definición de formal?" Haga que su cliente clasifica este evento de 1 a 10. Esta pregunta va a abrir una conversación, dijo Michael Albor, Director Artístico Global de Matrix.

5. ¡Rulos están de moda otra vez! Sabe su colocación básica para ofrecer sus clientes este viejo-es-nuevo look.
a. De-Base te va dar volumen más suave. Muchos estilos son de-base por un rizo más suave, liso y relajado.
b. Mitad De-Base te da un poco más volumen.
c. En-Base es donde vas a conseguir más volumen.

6. Considera la forma de la cara y proporciones faciales . Si un cliente tiene ojos grandes, no haga algo demasiado grande en los lados que pondría atención a esa característica.

7. Su personalidad y edad influirá en el estilo, también. Para una madre de la novia, ir para una mirada que está más pulida que su cada día look, pero no vas mucha más allá. Si vistes el cabello demasiado, puede parecer forzada.

8. Adaptar el peinado de cada cliente a su gusto usando estos diferente técnicas de peinados.
a. Trenzas deshacerse de pelo rápidamente y dan un intrincado, elegante sentido.
b. Giros y nudos dan una apariencia de movimiento y textura. Tres nudos se puede mirar clásico.
c. Nudos círculos dan altura y una apariencia formal.
d. Rollos de cabello hacen cabello mirar elegante. Puedes conseguir una forma más suave por combinando rollos con otro estilos, como un giro francés.

9. Una palabra: Equilibrio. Pone atención a la proporción de la cabeza y cómo el estilo se mira atrás, del lado, y por enfrente. Los tres ejes principales de la proporción es: Levante (frente de la cabeza), Moño de Princesa (parte superior de atrás de la cabeza), Moño bajo (bajo por el cuello.)

10. Cuando usted piensa de la fundación del cabello, refería al cabello como tiendo el sentimiento de diferente tipos de tela.
a. En un escala de 1 a 10, seda es 1, algodón es 5 y lana es 10.
b. La textura más ideal es 7, si tienes que tomarlo hasta 7 o levantarlo a 7. Se siente como una camisa de algodón con un poco de almidón. Parece brillante pero tiene un tacto de algodón.
c. Seda es alguien con cabello fino. Necesitas hacerlo más lana para crear un peinado.
d. Tipo de cabello de algodón es la textura ideal para crear un peinado.
e. Lana es un tipo de cabello que querrá suavizar con una suavizante crema y un aceite como, StyleLink Smooth Setter yStyleLink Gloss Booster.

Si su cliente es dudoso en la silla, tranquilíceles con líneas como, "Me gustaría poder ver te en tu vestido" y "Tu cabello está mirando increíble." Después de todo, con una apropiada consulta de peinando, es la verdad. Lee más de Estilo y Forma en nuestro blog y síguenos en Facebook por más consejos útiles.

---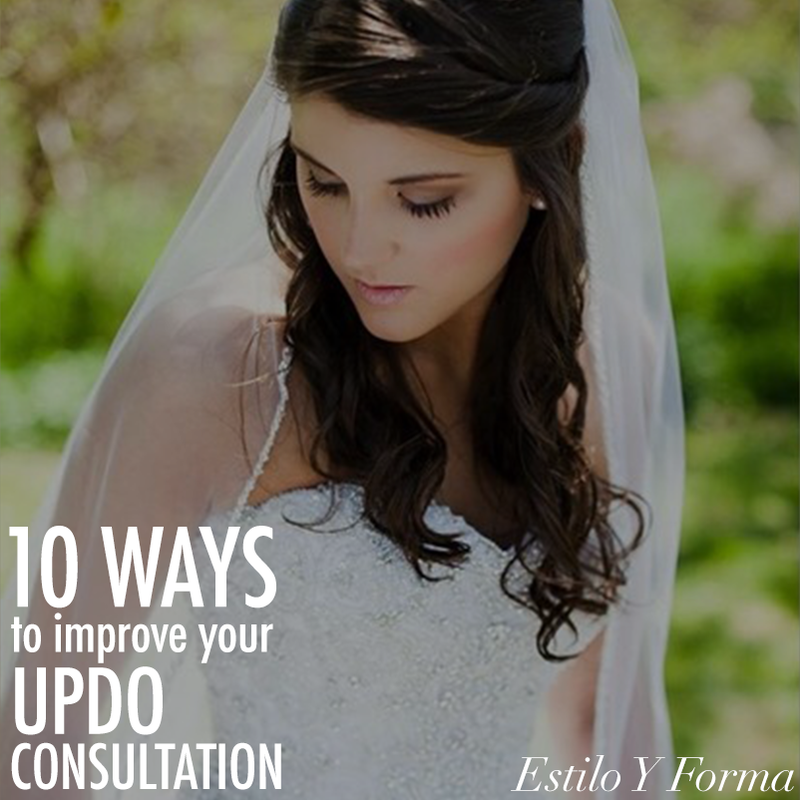 Mastering the updo consultation is the key to any successful wedding day hair appointment. Here are 10 ways stylists can improve their updo consultation.
Completing a thorough consultation gauges how important an updo is to your client, which makes styling the hair and managing your "special occasion" stress much, much easier. Conquer any wedding day hair appointment with these 10 tips to improve your updo consultation.

1. Prep your client's hair before they even walk through the door. Ask the receptionist to walk through a checklist of products that the client should have in their hair when they arrive to the appointment. Having them blow-dry a volumizer, like mousse, into wet hair is always a good recommendation, since you'll be working with the hair only when it's dry.

2. A lot of clients bring in pictures of updos featuring only the back of the head. What you need to get out of your client is how they want their updo to look from the front, not just the back. The back of the head could have beautiful dresswork, but if the front of the style doesn't complement your client, it's all for nothing.

3. Have your client arrive 20 minutes early to their appointment to fill out a written consultation. Is their event a special occasion, black tie, wedding guest, bride-to-be, prom, reunion or first date? If the client is emotionally invested, know that there will be extra pressure on you to perform.

4. This is a very important tip! On the written testimonial, ask your client, "What is your definition of formal?" Have your client rank this event from 1-10. This one question will open up a conversation, said Michael Albor, Matrix Global Artistic Director.

5. Rollers are coming back! Know their basic placement to offer your clients this old-is-new look.
a. Off-Base will give you softer volume. Most styles are off-base for a smoother, straighter and relaxed curl.
b. Half Off-Base gives you a little more volume.
c. On-Base is where you'll be getting the most volume.

6. Consider face shape and facial proportions. If a client has wide-set eyes, don't do something too big on the sides that would bring attention to that feature.

7. Their personality and age will influence the style, too. For a mother of the bride, go for a look that's more polished than their everyday look, but don't go too much further than that. If you dress the hair up too much, it may look forced.

8. Tailor each client's updo to their taste by using these different updo techniques:
a. Braids get rid of hair quickly and give an intricate, lacy feel.
b. Twists and knots give the appearance of movement and texture. Three knots can look vintage.
c. Loops give height and a formal appearance.
d. Rolls make hair look sleek/elegant. You can get a softer shape by combining rolls with other styles, like a French twist.

9. One word: Balance. Pay attention to the proportion of the head and how the style looks from the back, side and front. The three main axis of proportion are: Pompadour (front of head), Princess Bun (top back of head) and Chignon (low by the neck).

10. When you think of a hair foundation, refer to the hair as having the feeling of different types of fabric.
a. On a scale of 1 to 10, silk is 1, cotton is 5 and wool is 10.
b. The most ideal texture is 7, whether you have to take it down to 7 or bring it up to 7. It feels like a cotton shirt with a little starch. It looks shiny but has a cotton feel.
c. Silk is someone with finer hair. You need to make it more wooly to create an updo with it.
d. Cotton hair type is the most ideal texture to create an updo.
e. Wool is a hair type you'll want to soften with smoothing lotion and an oil like StyleLink Smooth Setter and StyleLink Gloss Booster.
---

If your client is hesitant in the chair, reassure them that their special day will be perfect! Read more from Estilo y Forma on our blog and follow us on Facebook and Bangstyle for more helpful tips.