Whether you were watching the 2016 MTV VMA's live, on Snapchat, or completely even forgot they were on; there were some notable events that took place. Yes Drake, we know you love Rihanna, don't we all? Take a peek at the styles, which gave hints to the trends we are sure to see at Fashion Week this year and throughout the rest of the season.
BANGS – Fringe is in my friends and if you weren't sure before the VMA's you should be positive after. Ariana Granda debuted a thick set of fringe with her straight and sleek ponytail that did not disappoint.
TEXTURE – There has been quite the battle over texture this season, as we either saw super straight and sleek or curls beyond control! Dare we mention SIA?! Sia and Maddie Ziegler debuted the most adorable curly black wigs to the show. This has to be the first time Sia has ever gone curly and we're thinking, this season, it wont be the last!
SUBTLE BRAIDS – You know if Beyonce does it, it's going to be huge. Although Blue Ivy might have stolen the show, we can't help but swoon over Beyonce's subtle side braid.
COLOR – Cassie proved two things, bold colors and bobs are still SO in! We absolutely loved her bold bob especially the way it equally stood out from her metallic pants.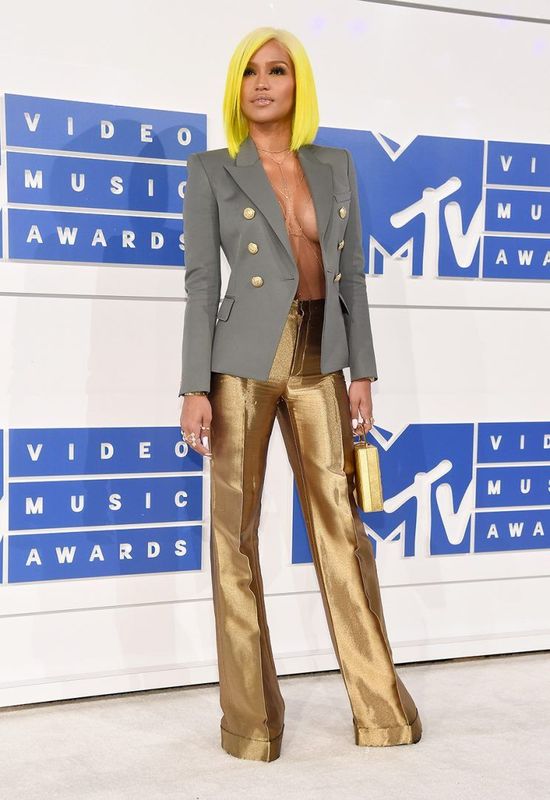 The hair, the clothes, the makeup - we absolutely love this time of year and can't wait to see what walks down the runway this fall. Oh, and in case we didn't already love the trend, the #nomakeup makeup look is still holding on strong; we're in solidarity with you Alicia! What did you think of the styles at the 2016 VMA's? Leave it in the comments below!