Bulgarian actress Maria Bakalova took home the win for Best Supporting Actress at this year's Critics Choice Awards and stunned the audience (through Zoom) with her hairstyle fit for a queen. The 24-year old is gaining accolades for her breakout role in Borat Subsequent Moviefilm. Wearing a dramatic black Prada gown and a crystal-embellished headband — the star stood out in true Prada fashion.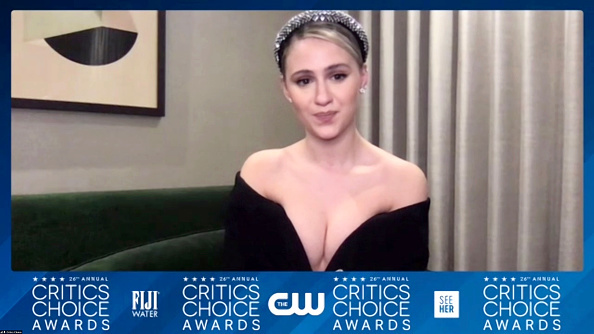 As we look forward to a season full of various outfits and accessories at award shows, one thing that we can look forward to is fresh color! We chatted with Maria's colorist, Redken Celebrity Colorist Tracey Cunningham, the mastermind behind Best Supporting Actress Maria Bakalova's beautiful blonde color, who also shares how to get the look below!
Tracey says: "Maria is such a natural beauty and would look gorgeous with any haircolor! We went for a sunkissed blonde and created a bit of a root. This look is very chic and grows out nicely, which is a must for an actress like Maria, who is always working, or anyone who might not be able to come into the salon as frequently. Case in point, we weren't able to see each other for a touch-up, since she's on set, but her color still looks fabulous. I got her blonde to the perfect tone with Redken Shades EQ Gloss 09M and 09N. There are so many different shades of blonde, so I always tell my blonde clients to bring in photos so I can customize their color perfectly with a Redken Shades EQ Gloss."
Get The Look:
Step 1: Redken Celebrity Colorist Tracey Cunningham highlighted Bakalova's hair using 2 oz. Redken Flash Lift + 2 oz. Redken 30 Volume Pro-Oxide Cream Developer.
Step 2: She then toned the root area (Zone 1) with 1 oz. Redken Shades EQ Gloss 09M Sand Dunes + 1 oz. Redken Shades EQ Gloss 09N Café au Lait + 2 oz. Redken Shades EQ Processing Solution.
For more fresh hair color inspiration, be sure to follow along on social media@redken!