We wanted to know more about vivid colors and what we can expect from them this season so we chatted with PRAVANA Artistic Educator Presley Poe about the latest trends, tips and tricks. See where she draws inspiraiton from and follow along below as she shares her favorite formulation this bold pink hue!
How do you create your color combinations?
So often, the color combinations are almost completely determined by my clients' wants and the degree of lift their hair can accommodate. In my opinion, hair will tell you when it's done by simply stopping in the lifting process. At this point, I make sure to educate them on the options available for them at that level and determine whether that color will benefit us in our journey towards their dream hair. Strangely, it's working within these confines that I feel I have to most artistic freedom. In this space, I can focus on the nuance of a color to create a tone that will "work for me" and towards our goal. I.E: If a client wanted extremely white hair and they will only lift to a level 9, I would suggest a beautiful metallic silver with a base of blue/violet knowing that it will fade beautifully and the blue/violet will tone out any unwanted orange/yellow tones by our next visit, making our goal of white that much more attainable.
What steps do you take to get the truest colors possible?
To create the truest tone, it is imperative to mind your starting level of deposit! Having a controlled lift to the desired level for appropriate tone is essential. During each treatment, I take special care to lift only to the level needed to have the most consistent and pure outcome. For example, if I wanted a pure, bright blue hue, I would not place the color on an untoned level 9 with a contributing pigment of intense yellow; the outcome would be green. Instead I would apply to a pre-toned level 10. If I wanted a rich red, I would place the pigment over level 8 untoned with contributing pigment of orange/red. The warm undertones would contribute to the outcome and have more lasting results.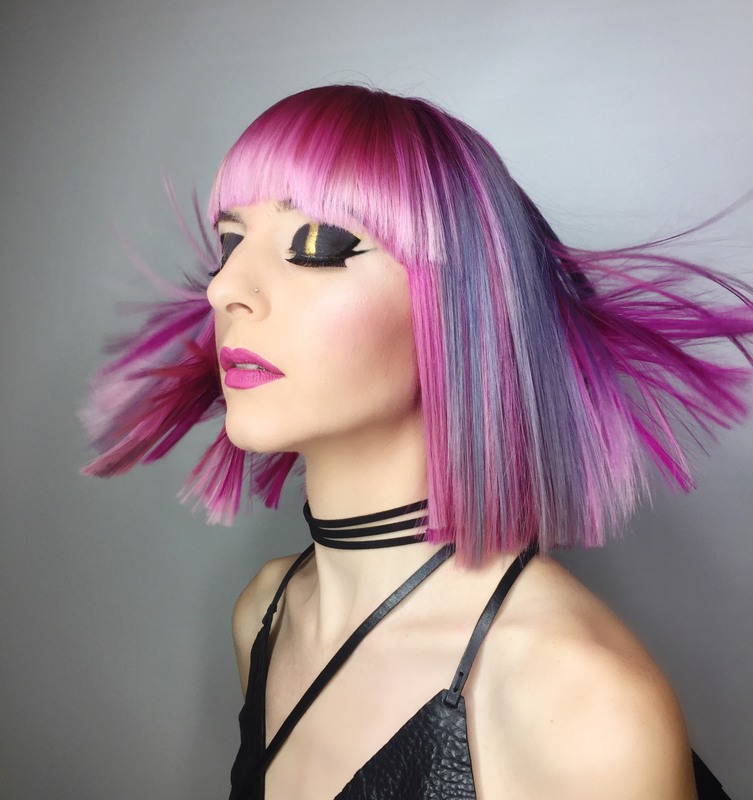 Any tips for first time fantasy color stylists or clients?
For stylists, my biggest tip would be to understand that half of your formulation is in your chair! Think of the color that you are mixing in your bowl in terms of what it will look like in addition to what your client's hair color is currently. A simple equation of your hair color + this color = ?
Always, always, always refer to your color wheel and have a good time!
For clients thinking of going the mermaid route, know this! While bold color is beautiful, expressive and FUN, it is also more maintenance! Take note of your stylist's instructions for aftercare and be flexible with your expectations. Sometimes it's a process to get you where you would like to be.
How is color changing the hair trends?
Today is unlike any other time in history! Color trends are bringing high fashion to the streets! And now more than ever, fashion tones and metallic hues are more socially acceptable. It's so exciting to see people expressing themselves through hair color in ways we have never seen, women and men who may have opted for a natural tone are now often choosing a beautiful bright VIVID shade. Hair color is single handedly changing the way we see fashion and self-expression... and it's amazing!
What will be the next it-color of the season?
If I had to choose a color, I think it would be pink! More specifically, pale pink and fuschia. I truly feel that it's not a matter of what color it will be, it will be how we wear them. Muted tones and neons are here to stay! I foresee these two color combinations making a splash with some natural tones for a wearable yet bold statement.
Besides color formulation are there any other tips or tricks when it comes to styling that can affect the color?
It's extra important to remember that the less pigment applied, the quicker the fade. Pastels can be beautiful until the moment heat touches them and then, poof! They are gone. So be careful to ALWAYS use a heat protectant! PRAVANA VIVIDS Color Protect Shampoo and Conditioner are perfect for maintaining VIVIDS. PRAVANA Color Lock spray has heat protection up to 450 degrees, is completely weightless and is a wonderful protectant for daily use for all hair colors. Tip: remember that sun is heat too! Even if you are not using heating implements and simply air-drying, you still need protection!
What at-home care do you usually recommend to your color clients?
There are a few essential products I send home with my clients including the PRAVANA Intense Therapy Leave-In Mist for elasticity, shine, porosity equalization and protein. PRAVANA Color Lock helps stop the oxidation process after your treatment and offers heat protection, scalp health and UVA/UVB protection. Depending on the hair type, for fine hair I recommend PRAVANA Hydra Pearl Replenishing Oil for enhanced elasticity and shine, and for medium to coarse hair, try PRAVANA Silk Degrees Shine Serum for intense shine and enhanced moisture.
What color is your hair right now?
My hair is a short buzzcut that fades from PASTELS Pretty in Pink to VIVIDS Magenta in the back.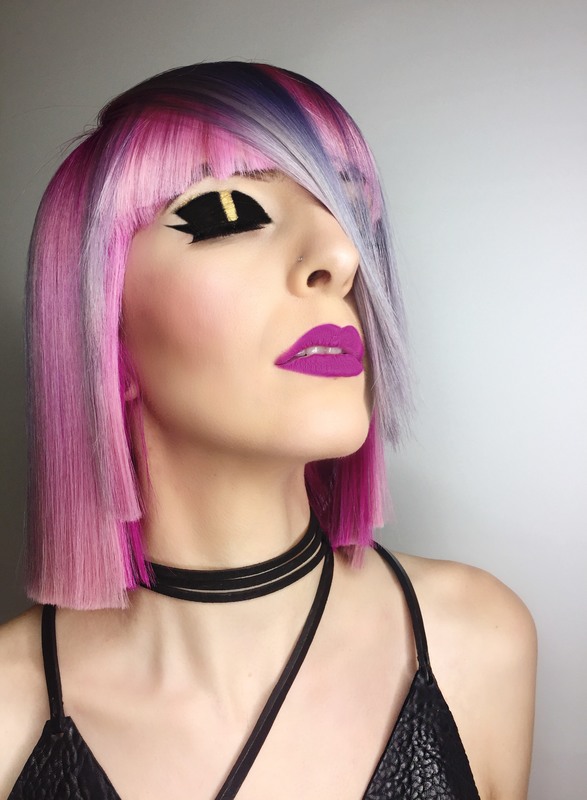 Presley Poe transformed her client using VIVIDS XL and formula below:
Pre-lighten hair to level 10 with Pure Light Power Lightener and developer of choice.
Shampoo, condition and dry completely.
Apply VIVIDS XL Wild Orchid to base.
Create pie-shaped subsections at the apex. Apply VIVIDS XL Wild Orchid 1" above the ears and 2" above the occipital.
Apply VIVIDS XL Silver + VIVIDS XL Clear to crown.
Apply VIVIDS Pink + VIVIDS XL Clear to bangs.
Process 20 to 30 minutes at room temperature.
Shampoo, condition and protect with the VIVIDS Color Protect aftercare line
Style as desired.
---
Want even more color inpsiration? Be sure to check out the latest trends, tips and stylist tricks only on Bangstyle!