First Published on SaschaBreuer.com
Celebrity stylist, Sascha Breuer, was lucky enough to style some of the most coveted looks from the Met Gala 2016. With a front seat to the fashion, he gives us a beautiful report on his favorite looks. From Taylor Swift to Lupita Nyong'o, and Kate Bosworth. Find out what he loved about the looks and what he expects the next big trends to be.
---
If you've been waiting for this year's Met Gala –arguably fashion's biggest, craziest night– this post is going to have you reaching for your hairstyling tools and opening up a new 'wacky and wonderful hairstyles' board on Pinterest. Like just about everyone else enthusiastic about fashion, I measure the year by two events– the Oscars for elegant styling inspiration and the Met Gala forwhen you're craving something a little unusual.
I've compiled a list of the best hairstyles from the 2016 Met Gala: we're talking about bold statements, fascinating choices and unusual pairings of people and fashions. It's always interesting to see how celebs will tread the line between costume and couture. The minute we learned this year's theme –Manus x Machina: Fashion in an Age of Technology– I knew we were in for some seriously cool, futuristic looks and I wasn't disappointed. Take a look.
Ciara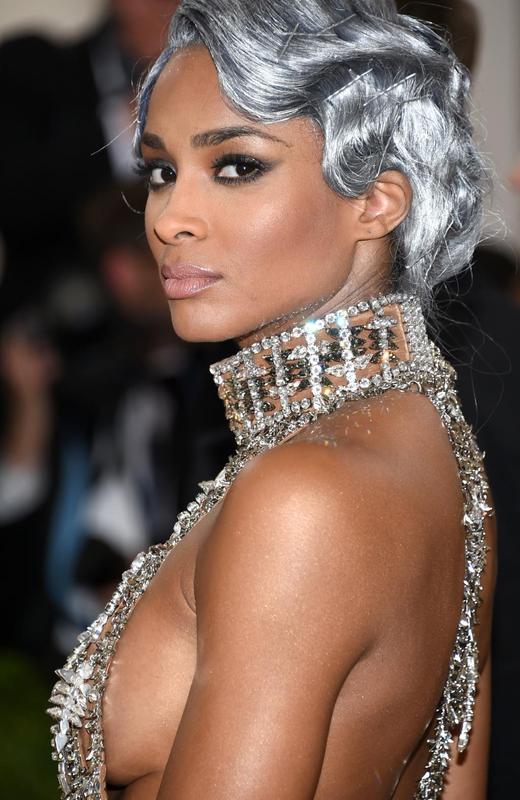 From the moment the theme was publicized, it was pretty clear we'd be seeing a lot of metallic at the 2016 Met Gala. However, just because something is predictable doesn't mean it's impact value has been compromised. Take, for example, Ciara.
The songstress wore her hair in a chrome-plated retro-inspired hairdo. I'm going to go with the assumption that the color/ finish are temporary and were styled only for the Met Gala theme, because it's a hard look to maintain in the long run, even with a army of stylists to help you out. That said, as far as themes go it was quite on the nose but endearingly so. Not too many people would have thought of combining a metallic color and texture with a 1920s-esque hairdo, so the end result is rather arresting. It's not everyday you think of silver-plated finger waves and a metallic Flapper but when it works, it works.
It took me a minute to choose between Ciara's metallic do and Rita Ora's silvery foil hair tattoos, but in the end I decided to go with Ciara's look simply because it's so much more dramatic. The Met Gala is the one night of the year where it's all but mandated to go big or go home, and whether or not you like Ciara's take on the theme, you cannot deny the look sure packs a punch.
Emma Stone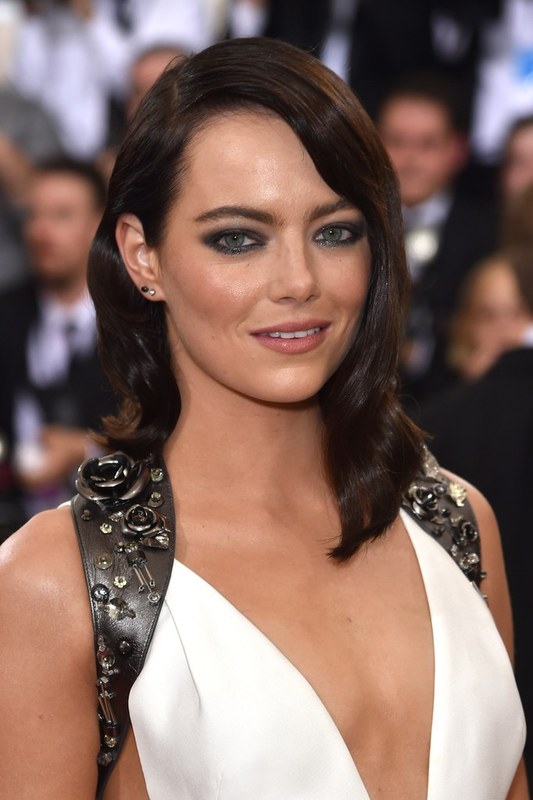 Emma Stone is one of two women who debuted a new hair color on the Met Gala Red Carpet after actually having made the change a while back (Taylor Swift's the second). We're used to Emma's auburn mane, so the chestnut locks are really striking, but also successful.
Emma went brunette earlier this year in February, but very few photographs of the hair have made it to the public realm, and they've been grainy at best. If you're keeping a new hairdo under wraps to unveil at a big moment, it really doesn't get bigger than the Met Gala.
The dark rich brown works wonderfully with her tan and plays up the stormy tones of her eyes. The asymmetrical lob and side part keep things futuristic while the swooping hairline and soft waves make the look more wearable.
Kate Bosworth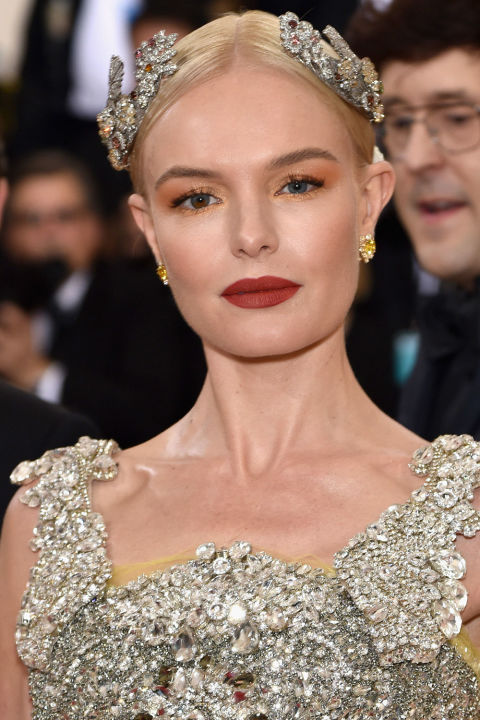 Given the world of potential that comes with a theme like Manus x Machina, I'm surprised we didn't see many more headdresses and hair accessories at the 2016 Met Gala. I mean, just think of all the bejeweled, metallic, lattice-worked, gem-laden hairpieces that could have added to an already spectacular style showcase!
And that's why I'm doubly impressed with Kate Bosworth's hairdo from the Met Gala. The beautifully encrusted headpieces are all the things breathtaking, and she looks like an Elven princess who wandered through the backstage of a Dolce & Gabbana Fashion Week show. The styling is on-point, both in terms of the night's theme as well as how the hair itself has been styled to let the accessories do the talking.
Lupita Nyong'o
Lupita Nyong'o has never, ever phoned it in. From clothes and accessories to hair and makeup, the 33-year old stunner always brings her A-game to the Red Carpet and tops it off with one of the sunniest personalities ever seen.
When you're working with a theme like the one from last night, it's easy to fall into a predictable rut (silver, metallic, sparkly, deconstructed). Lupita's look was none of those things and yet it did the theme justice and how.
From a sheer-and-sequins silvery green Calvin Klein Collection dress to hair that defied every known law of physics and gravity, Lupita's look was crazy, beautiful and electrifying. Admittedly, it's a whole lot of look and it's surprising that both the gown and the hairstyle not only work well together but also individually.
People can't stop talking about the Lupita Nyong'o's Met Gala hairstyle and while the stacked bun tower might not be something you can rock to your next formal event, it deserves full marks for effort. This isn't a look you can pull off at home –think endless teasing, pro supplies, hair extensions and tons of hairspray– but it's one that deserves all the love it's getting and more!
Taylor Swift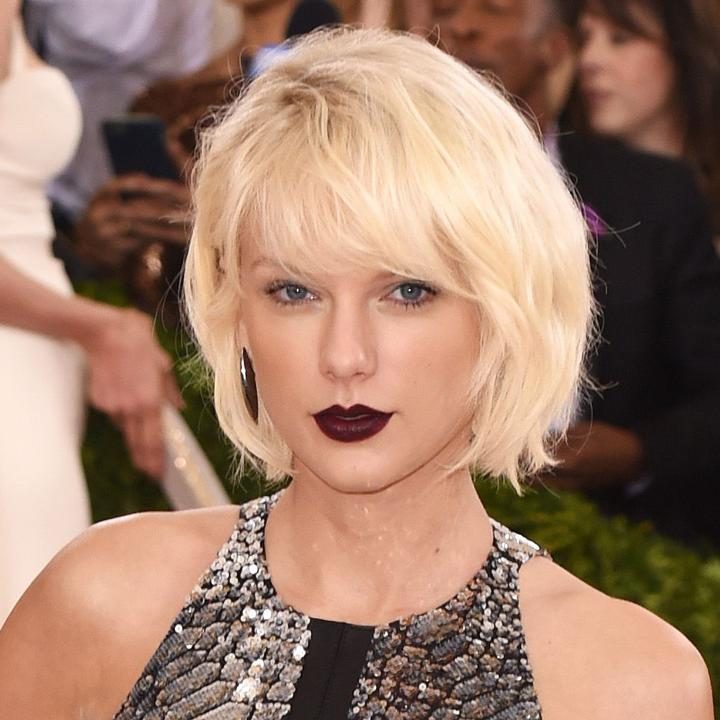 As co-chair of this year's Met Gala, I knew Taylor Swift would be pulling a look that would do justice to her title. Known for her trademark retro glam style, Taylor's choices for the night were nothing short of remarkable- and stupendous. With hair so light and a lip so dark, she struck just the right balance between fantastic and familiar.
We've already seen the platinum blonde hair on a recent Vogue cover, but it did make a greater impact at the Met Gala, playing to the audience perfectly. I'm sure we'll see t Taylor's honeyed locks resurface soon enough, but as far as theme-appropriate styling goes, the messy platinum bob was total perfection.
One of the things that makes Taylor's entire look for the 2016 Met Gala so successful is that it clearly adheres to the theme and is such a departure from tradition for her, but it doesn't overpower her own unique brand. The platinum bob and the vampy lip are so different from Taylor's usual hair and makeup choices, but they still let her shine through. And rocking a completely unpredictable look while also maintaining your identity is what true style is all about.
Zendaya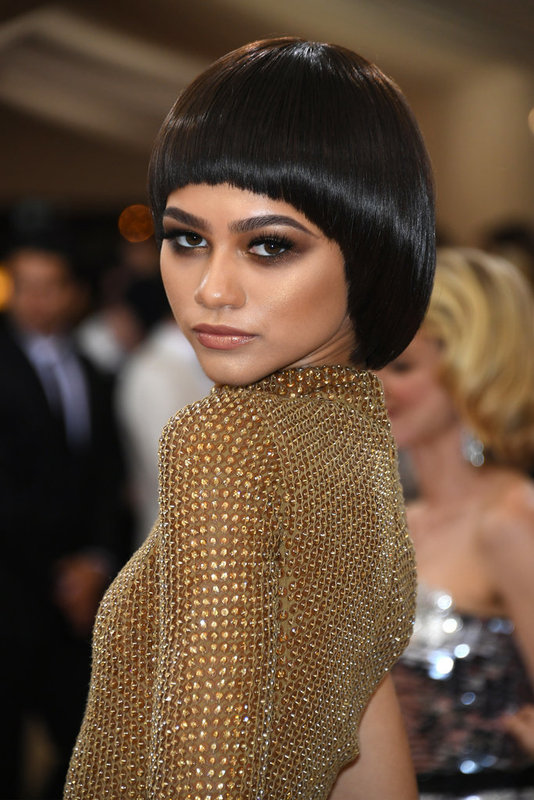 Zendaya's experiments with hairstyling have made for some of the most memorable looks of recent times (such as the mullet in tribute to David Bowie) and she's one of those celebrities who not only manage occasion-appropriate style statements without fail but also look interesting and attractive in getups most folks would shy away from.
If you do manage to draw your eyes away from the bowl blunt wig, you'll notice she has on a stellar gold Michael Kors gown: the metallic color as well as the highly tactile, studded texture of the gown are the exact foil you need to the blunt, smooth bowl hairstyle. I love how the hairdo seems to lovingly caress Zendaya's fabulous face and trace its contours. Let's also take a moment to appreciate how edgy the style is, while also throwing off a bit of a retro flair.
These looks have made my cut for the best 2016 Met Gala hairstyles; which ones made it to your list?
---
For more style inspiration and editorial looks, be sure to check out SaschaBreuer.com and follow him @SaschaBreuer to see the beautiful styles from all of his travels!