Global Artístico Director de Matrix, Robert Santana te enseña cómo aligerar morenas a rubias con su Viaje a Aligeramiento serie de Estilo y Forma.
Estilistas ven este reto todos los días: Una persona caminando por las calles con una naranja muy caliente o oro color de cabello, también conocido como WOO (Cálido Naranja Naranja) —no un tono muy agradable.

¿Cómo estilistas lo vuelta alrededor?

Volver a los básicos y aprenda cómo aclarar a los clientes la manera correcta en este Viaje a Ligereza con Global Artístico Director de Matrix, Robert Santana, una continuación en línea y la discusión de Santana "M2R (Morena a Rubia)- Viaje de una Morena a Ligereza que organizó en el salón de Andreas Houge en Northbrook, Illinois.

En Parte 3, nosotros estamos caminando a través del proceso de aligeramiento exacto y formulación utilizada en el modelo, Marta y también rompiendo la ciencia del pigmento natural del cabello.

Cómo Pigmento Natural Afecta el Proceso de Aligeramiento

Para averiguar cómo levantar mejor el pigmento natural, es útil determinar la cantidad y tipo de melanina presente en el cabello y cómo eso afectará el proceso de aligeramiento.

Melanina se crea en los melanosomas que se producen en los melanoctios en la base del folículo piloso. Color natural del cabello es el resultado de uno o dos pigmentos naturales (melanina) en diferentes cantidades y proporciones en la corteza y la forma en que luz reacciona con los pigmentos.

La profundidad o nivel de color natural del cabello es la primera indicación de cómo mucho y, hasta cierto punto, qué tipo de melanina está presente. Generalmente hay dos tipos de pigmento de la melanina natural reconocido: la feomelanina (pigmento rojo y amarillo) y la eumelanina (pigmento negro.)
Cabello negro contiene gránulos de eumelanina que se embalan denso.
Cabello café contiene gránulos de pigmento negro que no se cómo densamente empacados como en cabello negro. También contiene gránulos llenados con una mezcla de melanina (eumelanina y feomelanina)
Cabello rubio tiene una baja concentración de melanina. Se trata de eumelanina o feomelanina. El pigmento es tan escaso que el color amarillo pálido natural de la fibra de queratina crea a "rubio claro natural."
Cabello rojo tiene gránulos llenos de feomelanina. La feomelanina no responde a los aligeramientos. Intentos para blanquear el cabello rojo verdadero podrían resultar en roturas antes de rubiando.

Cuando feomelanin es dominante, el cabello puede aparecer que puede aligerar fácilmente a un cierto punto sólo para atascarse en un naranja muy caliente o un base de oro, también conocido como WOO. Podemos convertirlo por sabiendo el pigmento Subyacente Natural y teniendo en cuento cómo afectará el resultado final.

Cómo Aligerar Morenas la Manera Correcta

De nuestro anterior artículo sobre la consulta, nos enteramos que Marta, nuestro modelo, quería simular consecuencia con su cabello. También hemos aprendido que ella es un natural nivel 4 con previamente aligerado medios y puntas y quería ser un nivel 9/10. Utilizamos una técnica de papel de aluminio para este proceso de aligeramiento, que también fue practicado en maniquíes por el resto de los asistentes presentes en la clase.

Formulación:
Longitudes-Medios— Light Master con 30 Vol. Universal Revelador de Matrix
Puntas- Light Master con 20 Vol. Universal Revelador de Matrix
Saber que la relación de Light Master y Revelador puede ser 1:1 o 1:1.5 o 1:2; dependiendo en preferencia.
Dejar por 55 minutos, squeegee y volver a procesar hasta 55 minutos si el color no está donde lo necesitas.
Enjuagando: Usar un champú aclarador, como Total Results Alternate Action, dos veces para enjugar el aligerador. Deje un tratamiento como Total Results Miracle Morpher Slim Down Lipid en el cabello por 3 minutos y enjuague.

Que debes de Hacer y Que no Debes de Aligeramiento

SI DEBES de saturar el cabello completamente cuando estás aligerando un cliente, prestando especial atención a las puntas.

SI DEBES de emplumar y descolora el aligerador para evitar líneas duras.
También puede combinar la parte superior de la sección con los dedos para mejor suavizar la línea.

SI DEBES de escoger una sección del cabello para comenzar. Santana dijo que siempre comienza en la parte inferior izquierda, se mueve a la parte inferior derecha, entonces va a la parte superior izquierda y termina con la parte superior derecha. Enjuague en el mismo orden, también.

NO DEBES de champú entre el primero y segundo aplicación para aclarar. Champú atrofiar el proceso y crear más desgaste en el cabello.

NO DEBES de usar una secadora para acelerar el proceso de aligeramiento. Siga las instrucciones del fabricante.

Todo lo que necesitas para comenzar y obtener confianza en aligeramiento es en nuestro Viaje a Ligereza serie. ¡Aprende a tonificar el cabello la próxima semana y estén atentos para el resultado final! ¡Sigue Estilo y Forma en Instagram y Facebook para mantenerte actualizado en todo cosas de cabello!
---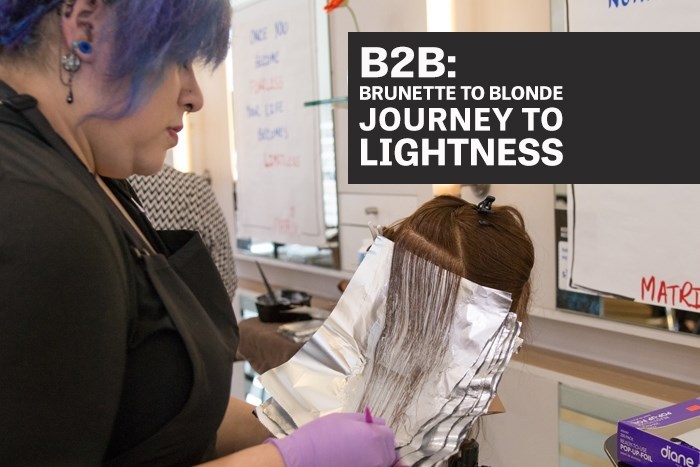 Matrix Global Artistic Director Robert Santana shows you how to lighten brunettes into blondes with his Journey to Lightness series on Estilo y Forma.
Stylists see this challenge every day: A person walking the streets with a very warm orange or gold hair color, also known as WOO (Warm Orange Orange)—not a very pleasant tone.

How do stylists turn it around?

Get back to the basics and learn how to lighten clients the right way in this Journey to Lightness series with Matrix Global Artistic Director Robert Santana, an online continuation and discussion of Santana's "B2B (Brunette to Blonde)- A Brunette's Journey to Lightness" that he hosted at Andreas Hogue Salon in Northbrook, Illinois.

In Part 3, we're walking through the exact lightening process and formulation used on class model, Marta, and also breaking down the science of hair's natural pigment.

How Natural Pigment Affects the Lightening Process

To find out how to best lift the natural pigment, it's helpful to determine the amount and particular type of melanin present in the hair and how that will affect the lightening process.

Melanin is created in melanosomes that are produced in melanocytes at the base of the hair follicle. Natural hair color is the result of one or two natural (melanin) pigments in varying amounts and proportions in the cortex and the way in which light reacts with the pigments.

The depth or level of the hair's natural color is the first indication of how much and, to a certain extent, what type of melanin is present. There are generally two types of natural melanin pigment recognized: pheomelanin (red and yellow pigment) and eumelanin (black pigment).
Black hair contains granules of eumelanin that are densely packed.
Brown hair contains granules of black pigment that are not as densely packed as in black hair. It also contains granules filled with a blend of melanin (eumelanin and pheomelanin).
Blonde hair has a low concentration of melanin. It consists of eumelanin or pheomelanin. The pigment is so sparse that the natural pale yellow color of the hair's keratin fiber creates "natural light blonde."
Red hair has granules filled with pheomelanin. Pheomelanin does not respond to lighteners. Attempts to bleach true red hair could result in breakage before blonding.

When pheomelanin is dominant, the hair may appear to lighten easily to a certain point only to get stuck at a very warm orange or gold stage, also known as WOO. We can turn it around by knowing the Natural Underlying Pigment and considering how it will affect the end result.


How to Lighten Brunettes the Right Way

From our previous article on the consultation, we learned that Marta, our model, wanted to simulate outgrowth with her hair. We also learned that she's a natural level 4 with previously lightened mid-lengths and ends and wanted to be a level 9/10. We used a foil technique for this lightening process, which was also practiced on mannequins by the rest of the attendees present at the class.

Formulation:
Mid-Lengths- Light Master with 30 vol. Matrix Universal Developer
Ends- Light Master with 20 vol. Matrix Universal Developer
Know that the ratio of Light Master and Developer can be 1:1 or 1:1.5 or 1:2, depending on preference.
Leave on for 55 minutes, squeegee and reapply and process for up to 55 minutes if the color isn't where you need it to be.
Rinsing: Use a clarifying shampoo, like Total Results Alternate Action, twice to rinse out lightener. Leave a treatment like Total Results Miracle Morphers Slim Down Lipid on the hair for 3 minutes and rinse.

Do's and Don'ts of Lightening

DO saturate the hair fully when you're lightening a client, paying special attention to the ends.

DO feather and fade the lightener to avoid harsh lines. You can also blend the top of the section with your finger to better soften the line.

DO pick a section of the hair to start. Santana said he always starts on the lower left, moves to the lower right, then goes to the top left and finishes with the top right. He rinses in the same order, too.

DO NOT shampoo between the first and second lightener application. Shampooing will stunt the process and create more wear and tear on the hair.

DO NOT use a dryer to speed the lightening process. Follow manufacturer directions.

Everything you need to get started and get confident about lightening is in our Journey to Lightness series. Learn how to tone the hair next week and stay tuned for the final result! Follow Estilo y Forma on Instagram and Facebook to stay updated on all things hair!
---
Be sure to stalk Estilo Y Forma on Bangstyle too see more style tips and check out their website EstiloYForma.com for even more education!