Un corte de cabello clásico con color moderno. Este estilo incorpora un look clásico con un toque vibrante.
Un corte tradicional con colores intensos para dar un elemento de sorpresa.

CONSEJO: Basado en la densidad del cabello, seccione horizontal y divida según sea necesario.

Para seccionar, divida atrás de la oreja a la parte superior de la cabeza y se dividen en secciones horizontales como sea necesario. Divida el cabello en 3 secciones para mantener el control.

1. En el centro de la nuca, corte recto en un ángulo de 45 grados para crear una guía estacionaria. Dirija el resto hacia el centro continuando el mismo ángulo y guía estacionaria.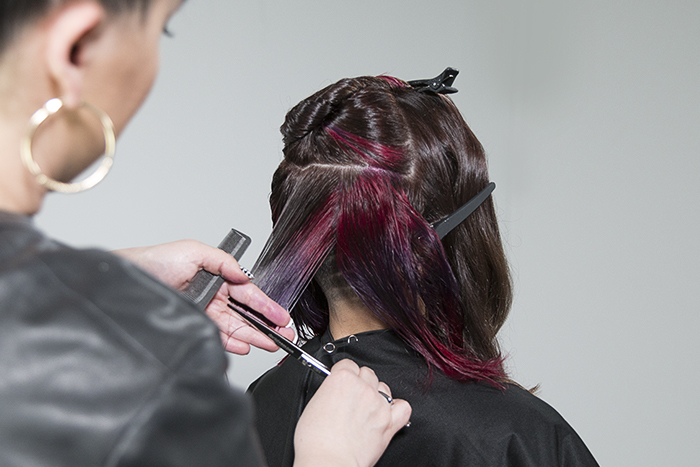 2. Suelta una capa y dividir por la mitad para control. Corte en el mismo ángulo.

3. Levemente eleve la última sección y corte de manera recta en ángulo de 90 grados.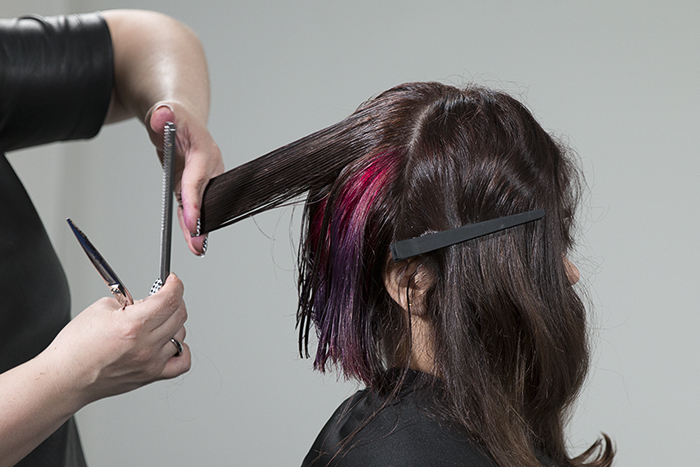 4. En las secciones del lado, corte el perímetro por conectando el ángulo posterior hacia el frente, laterales, corte en ángulo de 45 grados a el largo deseado.

5. Ya que corte el largo deseado, divida atrás de la oreja y siga a la guía estacionario en un ángulo de 45 grados con una elevación igual a la sección anterior, cortar en forma de punta para crear suavidad. Repita en el otro lado.

6. Encuentre la sección directamente sobre las luces escondidas, y corte tijera sobre peine sobre la superficie para dar textura. Continúe a través de la parte posterior. Esto va a crear suavidad y resalta las luces escondidas. Continúe a través de los lados y mantenga la elevación para dar textura y remover exceso de pelo.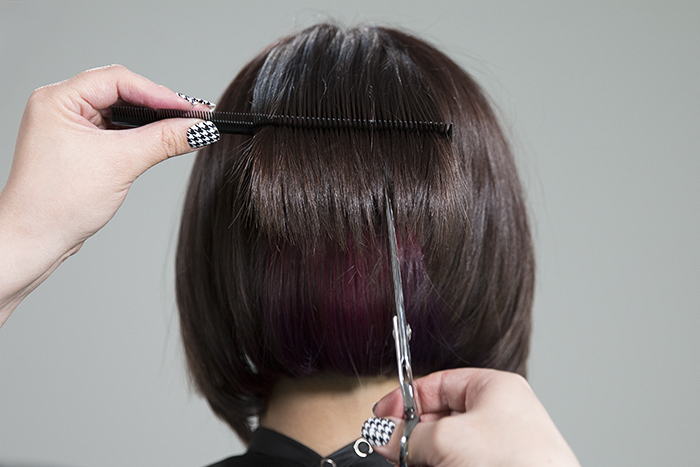 Color: ColorGraphics Lacquers de Matrix, Violeta con 5-pulgadas Magenta, Magenta con 2-pulgadas Azul Pastel.

---
INVERTED BOB WITH ON-TREND POP-LIGHTS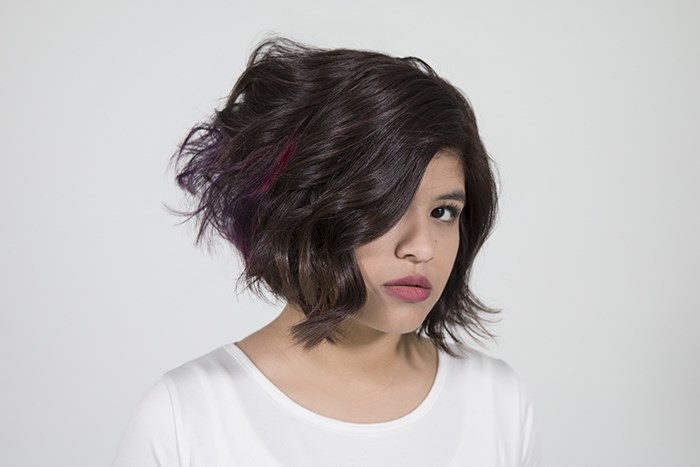 A classic haircut with on-trend color on-trend color. This style incorporates a classic look with a vibrant touch.
This is a traditional, graduated bob with vivid color underneath for an element of surprise.

TIP: Based on hair density, section horizontally and divide as needed.

To section, divide from the back of the ear to the top of the head and divide in horizontal sections as needed. Divide the hair in 3 sections to maintain control.

1. At the center nape, cut straight at a 45 degree angle to create a stationary guide. Pull everything to center guideline following the same angles and stationary placement.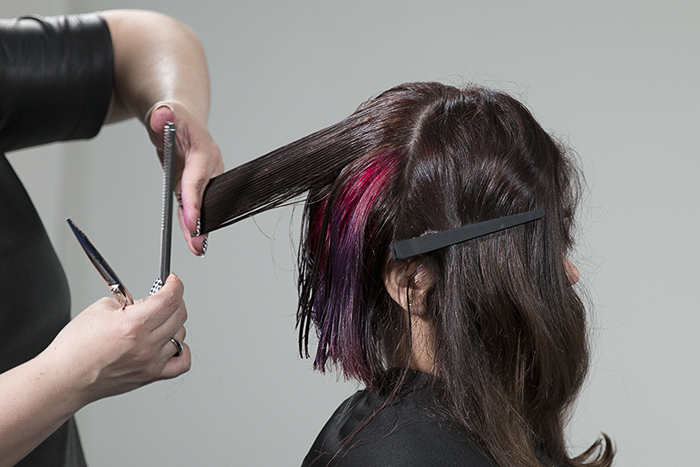 2. Drop a layer and divide in half for control. Cut at same angle.

3. Slightly elevate the last top section as you pull out straight from the head and cut straight at a 90 degree angle.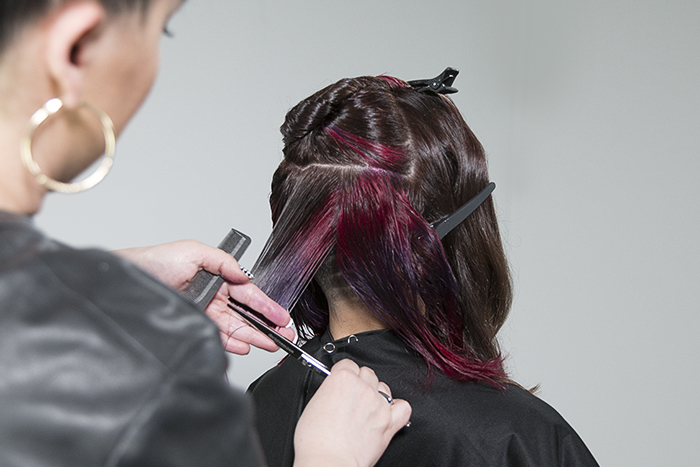 4. For side sections, cut the perimeter by connecting the back angle to the front, blunt cutting at a 45 degree angle to desired length.

5. Once you reach desired length, divide behind the ear and match to the stationary guide at a 45 degree angle with a slight elevation to mimic previous section, point cutting to create softness. Repeat on the other side.

6. Find the section directly above pop-lights, lay in comb and shallow point cut over the comb. Continue throughout the back. This will not only create softness but expose the pop-lights. Continue throughout the sides and keep slightly elevated to shatter any unwanted weight.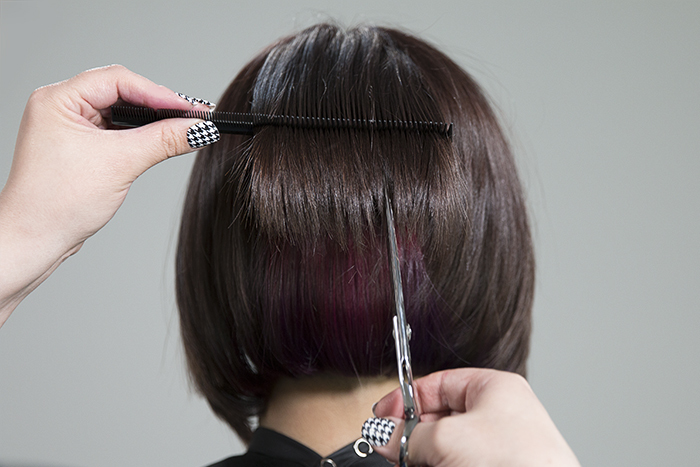 Color: ColorGraphics Lacquers de Matrix, Violeta con 5-pulgadas Magenta, Magenta con 2-pulgadas Azul Pastel.