Welcome to the new world of beauty, a world where color doesn't damage your strands. A world where hair color will only enhance your locks and products are beneficial for hair as well as your skin. "Luxury Beauty" is a small facet of the growing industry that intersects with the even smaller facet of technology, innovation, and proven results; this new world is called DS Laboratories.
Alongside innovation has come perfection with Continuum, a bond creator. Yes, creator. Continuum provides new science based options in the newest hair category, also known as bond builders, within the world of color; we investigate what these do for your hair, and why you need them. In every color service it is extremely important to keep the integrity of the hair in mind. We would go so far to say it's the most important element to consider in the color process. Making sure that alongside beautiful color, you are creating gorgeous, shiny and healthy strands. DS Laboratories has elevated the bar in the "Bond" category, developing a product for their clients that creates multiple types of bonds at a molecular level, without adding anything to the hair. Innovation.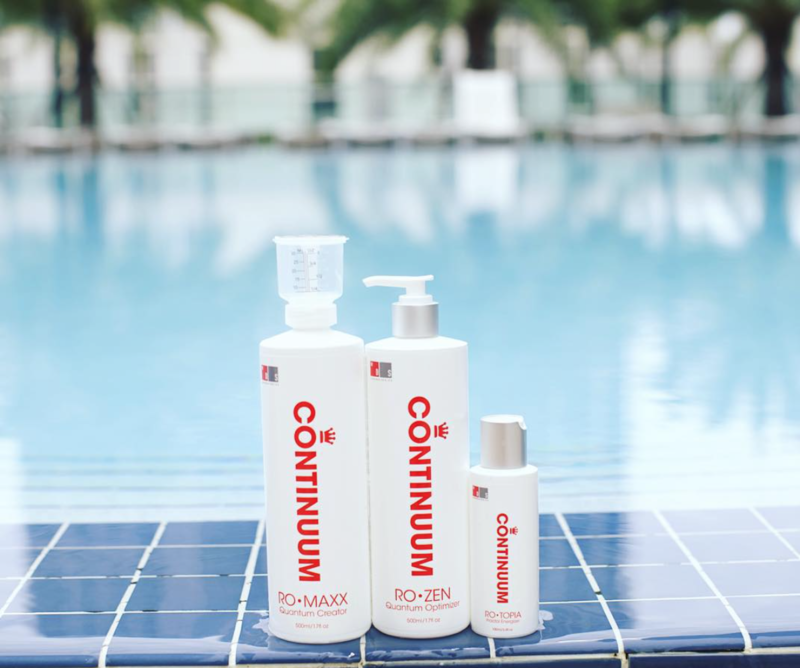 Generating new bonds is the key here. To give a bit of background about your hair; hair endures damage every day, through environmental exposure, color application, heat styling, and even sleeping. Through these experiences, internally, the bonds of your hair become brittle and broken, showing external signs through breakage, dullness, and fading color. Many products on the market try to solve this problem by temporarily patching the hair, linking, or building an artificial bond. Unfortunately, those methods require the use of harsh chemicals and can leave build-up that negatively affects the hair over time, leading to more breakage and dull color. The good news is that this isn't the case with Continuum; this new technology repairs bonds and builds new ones, fixing those internal structures that daily life can deteriorate, and works to restructure hair back to strong and healthy state without the use of harsh chemicals or additives. The results are longer, stronger, softer, and more beautiful hairstyles without any build-up or residue.
"Continuum will reverse the damage by strengthening the connections between the cortical fibers within the hair shaft in order to regain tremendous hair strength as well as rearrange cuticles to ensure their maximum protective efficacy and more importantly create incredible smoothness and shine."
Striving for excellence, the results of Continuum speak for themselves. As the leader in hair technology, DS Laboratories has once again created the ability for incredible transformations with proven products.
---
For even more info on the transformative abilities of Continuum and DS Laboratories be sure to follow Continuum on Instagram, Facebook, check out their website DSLaboratories.com, and stalk DS Labs on Bangstyle!