Photographer Gary Barragan brought together and all-star cast of stylists, hair artists, makeup artists and models to create a collaboration between Louisville's finest artists! With a militarized theme and high fashion finesse, this series of four takes on a life of its own. Tiffany Nelson was the designer the beautiful wardrobe and in the second installation of the series, Brooke Meadows (Hair Artist), Pam Butler (Makeup Artist), and Kaylynn Paulin (Talent) created an interpretation of the vision uniquely their own. Textured hair, envious skin and daring glances were behind the empowered feel of this shoot. Take a peek for yourself and be sure to check out the Valiant Pastiche I, here!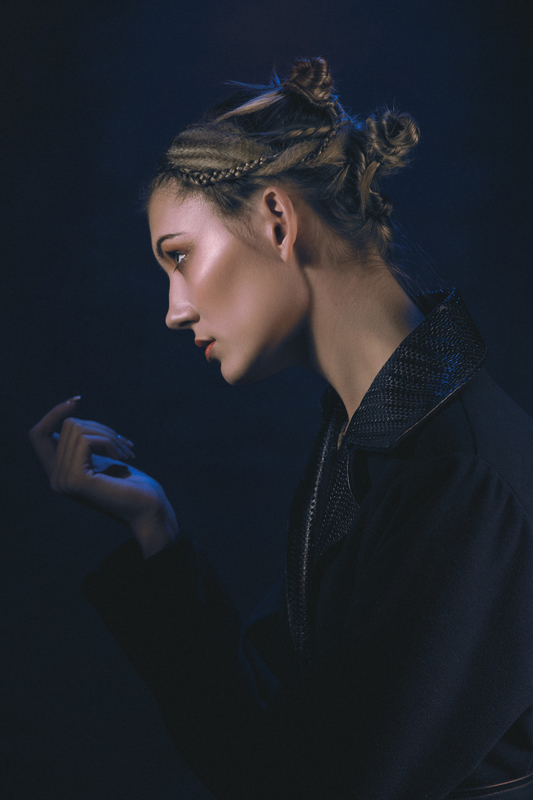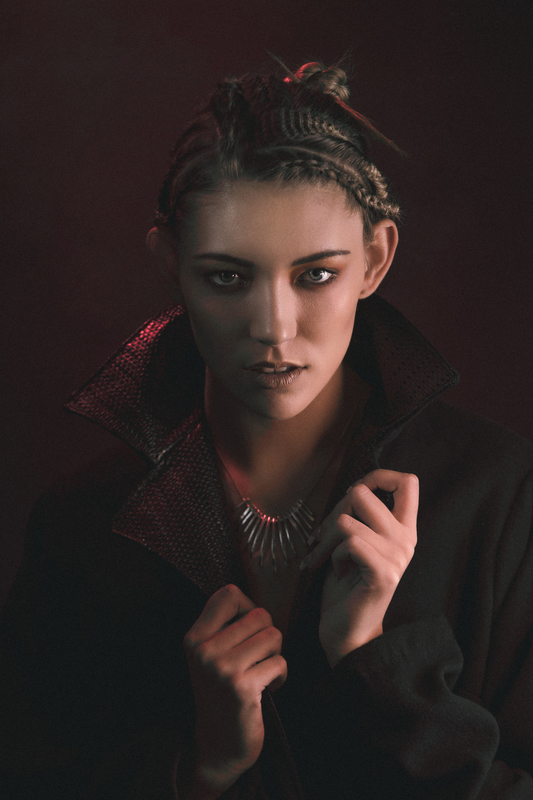 Brooke Meadows, Hair Stylist – "When I heard the concept for Gary's "Valiant Pastiche" shoot, I was immediately on-board. Strong, warrior-esque females, showcasing stoicism, depth, and fierce beauty. I used all of these as inspiration for our model's loo; incorporating intricate, multi-directional braids, sharp points, and crimped texture. I felt the juxtaposition of textures and shapes was the perfect physical interpretation of a woman's differing roles in our society, blending hard and soft elements into one cohesive style. Working with Pam and Kaylynn was amazing, we were all able to bounce ideas off of each other for our overall concept, and we were pleased with the results. None of us wanted a "literal" interpretation of the concept, and we ended up with a fierce and unique beauty look.
Pam Butler, Makeup Artist – "The colors orange, copper and bronze represent determination, creativity and balance. Those attributes are also the thriving force behind a successful collaboration with our shoot "Valiant Pastiche". As the makeup artist for the team I wanted our model to look courageous. Her strong brow was formed with Ben Nye Eyebrow Pencil. Complexion was polished using skin illuminator from Lush Cosmetics and RCMA foundations with organic Rosehip Oil. With Kaylynn's strong jawline and lion heart expression the work of a diverse team came to life."
Kaylynn Paulin, Talent - "When I was contacted about doing this project, I was immediately intrigued. Although this isn't my typical style, I was more than willing to give it a try! The team was awesome and everyone was very helpful! I loved all the dark colors and the intricate hairstyles. I tried to give off a fierce or serious expression to make it a powerful shoot. Everyone brought their talents together to create an awesome final piece."
Tiffany Nelson, Designer – "The second shoot in the Valiant Pastiche collection was inspired by military mystique for me. I wanted to have a hard edge, so I made the focal point the black leather collar against softer black wool. Gary's brilliant lighting drew out a more sensual atmosphere to this shoot. This was the right background for Kaylyn Paulin who was able to express equal parts powerful presence as well as alluring unknown. Brooke Meadows on hair and Pam Jean on makeup made for a great pair to work alongside with, as my coat on Kaylyn would not have had the impact it does without their expertise to enhance it."
Check out even more images from behind the scenes below and be sure to stalk Gary Barragan on Bangstyle for the latest inspiration!