Photographer Gary Barragan brought together and all-star cast of stylists, hair artists, makeup artists and models to create a collaboration between Louisville's finest artists! With a militarized theme and high fashion finesse, this series of four takes on a life of its own. Tiffany Nelson was the designer behind all of the wardrobe and in the first sequence, Ana Perez (Hair), Isidro Valencia (Makeup Artist), and Stephanie Lynn Johnson (Talent), brought the vision to life. With embellished hair, bronzy beautiful makeup and a face as fierce as the style the team knocked it out of the park.
---
Gary Barragan, Photographer – "Upon the reception of last year's overwhelming reception of Eros, I always had the uncertain feeling of how I could take the follow up project to the next level. Then it dawned on me; take it to a more modern era. Enter Valiant Pastiche, a military inspired take on the strength of femininity, as visualized through a regiment of artistry belonging to some of Louisville's leading creative talents. As with any collection there needs to be a cohesive foundation; enter Tiffany Nelson, an emerging designer whom I met earlier in the year, while I was covering the KMAC Couture fashion show. I was highly impressed with the work I had already seen from her and felt she would be perfect for the collection. I explained to her what I envisioned and within in a short time she was sending me samples of the designs… I immediately fell in love with what I saw. This ensured a perfect blend across the teams while still lending creative freedom for each makeup artist, hair stylist and talent to explore their own interpretation of Valiant Pastiche. Although I knew I would go moody with the lighting and final treatments of the imagery, I did not put much thought and effort into building each set until I saw how the styling and color pallets were coming into place. The only two requests I had were for the hair stylists to use braids and corn rolls, giving homage to what is permissible in today's U.S. military, and for the makeup artists to drive the looks further with an "aggressive editorial" finish. Team after team, as the looks came together, I began to witness the camaraderie of talents blending to form something bigger than any one of us… the interpretation of women in the most valiant demeanors. Through and throughout the years, women have always had militant roles in history, whether it's Greek mythology or battling the front lines in a war-torn nation, they have always and will continue to shape the dynamics of the world as we know it."
Valiant Pastiche I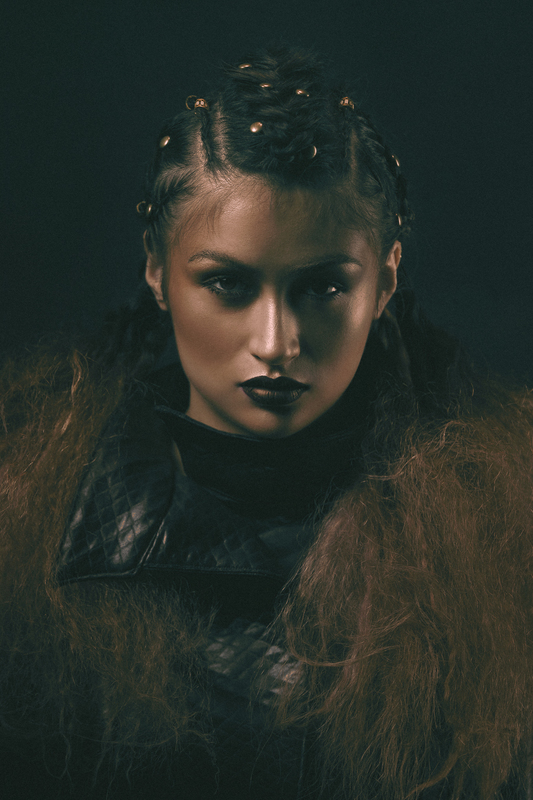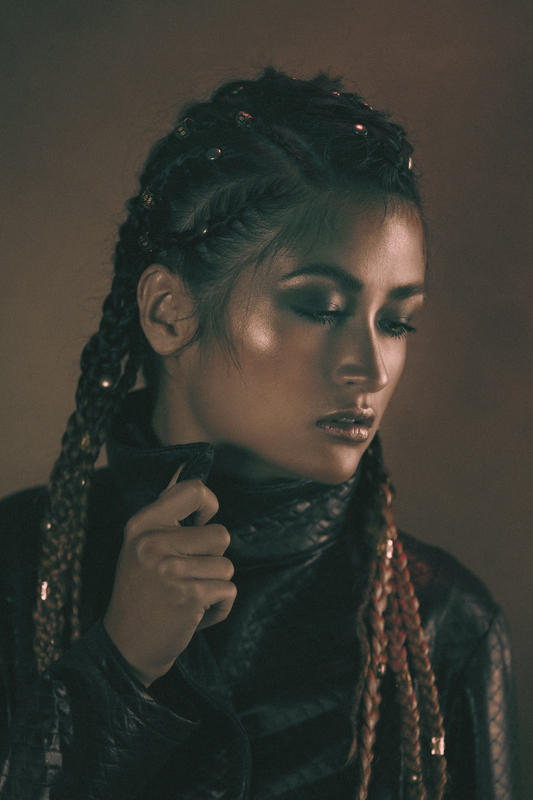 Ana Perez, Hair Stylist – "Personally, when I think of the meaning of the words "Valiant Pastiche" I think of bravery, warriors and art. I wanted to incorporate those elements into my work and at the same time keep the hair beautiful and strong yet simple. As crazy as it sounds no heat tools were used, only a comb, some of Redken's Frizz Dismiss Instant Deflate Oil, my hands and some elastics. I wanted the hair to dance and look gracious with the makeup and empowering elements, and it worked! For inspiration, honestly I just let the hair texture and the shape for of our gorgeous model's hair speak to me and it worked."
Isidro Valencia, Makeup Artist – "When Gary asked me to do makeup for this series I wanted to create something simple and easy by simply enhance the natural beauty of my model! I believe that the makeup goes very well with the theme and concept. I always listen to the ideas and I believe communication is the key for a great project. If we don't understand the concept it could turn out to be a disaster."
Stephanie Lynn Johnson, Talent – "The entire time we were shooting, I was envisioning myself as a mama cougar stalking something to keep that militaristic, slightly malevolent look in my eye"
Tiffany Nelson, Designer – "When Gary Barragan first approached me about designing wardrobe and styling for the Valiant Pastiche collection, he gave me the theme of military and empowered. I ran with that and decided to create a series of jackets. For the first shoot I wanted drama, so I chose to design a jacket with an oversized collar and use textured leather-esque fabric. This paired well with the intensity that Isidro Valencia was able to bring through make-up and through the hairstyling by Ana Perez."
Check out even more images from behind the scenes below and be sure to stalk Gary Barragan on Bangstyle for the latest inspiration!