If you know Lauren Moser, you know that she is a master when it comes to textured hair. She has been behind some of our favorite everyday curly looks of the season and continues to push the envelope when it comes to creating art from this form. With her latest collection, Tapestry, she integrates a woven look to accentuate a textured look. Take a peek at her gorgeous looks and learn about the inspiration behind the collection!
---
What was the inspiration behind this collection?
For this collection I was inspired by cozy, luxury knits that comfort us throughout the cold winter months. I wanted to recreate that feeling of comfort you get being enveloped in your favorite knit sweater while the snow falls outside.
How did you bridge the gap from concept to completion?
Well the first step was to teach myself how to knit! I spent a month finding the perfect size needles and practicing on yarn before I even began to think of using hair. Once I felt confident, I started to try my new techniques on different hair textures until I found one that worked with my concept. I still can't make anything with my new skills but if you need a patch of knitted hair, I'm your girl!
What is the one product/tool that you can't live without?
I can't live without my giant metal pik comb! 90% of the hair I work on is curly so it is must have!
How do you use styling to enhance your images?
For me, I always like to keep the clothing and accessories to a minimum. If it is a hair shoot, the hair should be the focus. If it's a fashion shoot the clothing and accessories should be the focus. Most of my collections we "dress" the models in draping fabric. For this collection, I collaborated with a local designer to showcase both of our work.
How did you work with your makeup/styling team to craft the final image?
I work closely with my team and rely on their expertise. I explain the vision I have for the hair and let them get creative. I've learned to stay in my lane and trust the professionals. I chose my team because we are creatively in sync and share a common vision, and I can rely on them to do what's right for the shot.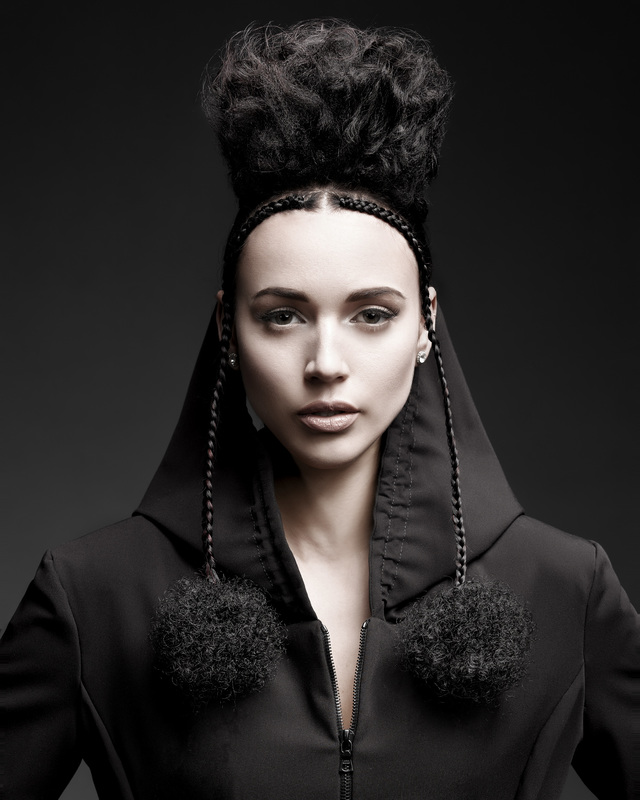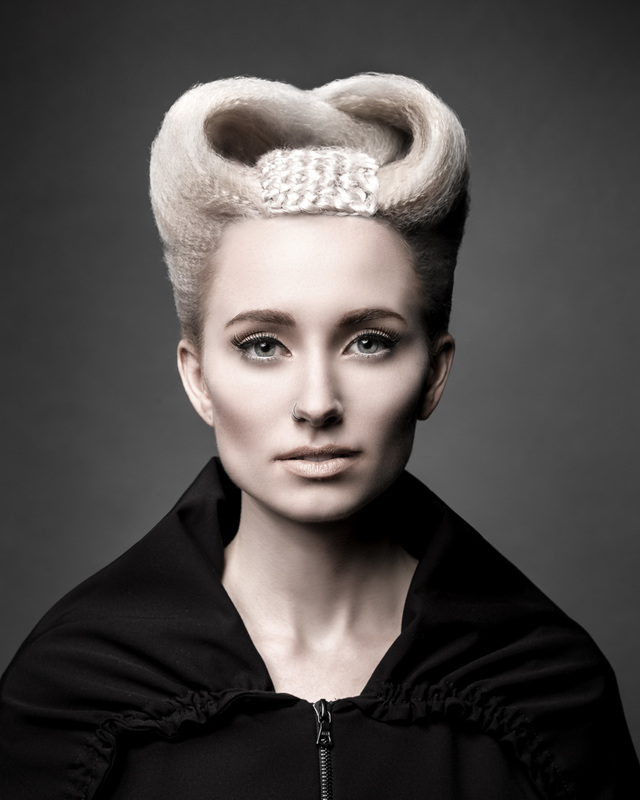 What is this collection saying about hair trends?
While this collection isn't trend focused, I think we will be seeing new and interesting shapes in terms of trends in the next few years. Curls are in the forefront of hair fashion and that trend is just beginning to pick up steam. When you're cutting and styling textured hair your canvas is moldable and defies gravity allowing you to create modern shapes that embrace this newfound curl liberation.
How is texture currently playing a role in the hair industry?
The curl trend has taken a few years to take hold. With whispers of a new beach wave perm hitting the scenes nearly a decade ago, people started to talk texture. Since then, women have locked up their relaxers and retired their flat irons and started to embrace the beauty of their natural curls. Today we are seeing a range of unique curls everywhere. From loose waves to kinky curls this trend is only getting more popular. For stylists, it's a great time to be behind the chair. Clients with curly hair are coming in for a revamp on their haircuts and product regiment so that they maximize curl potential, and the straight hair clients are looking for perms so that they can join in on the fun. If your curly hair skills aren't up to par now is a great time to invest in some curly cutting and perming classes so that you can be ready to keep your client's looks up to date.
Where do you think we will see texture go from here?
From this point forward curly styles will continue to grow in volume and embrace natural texture. Hair will be well maintained with a healthy finish but natural frizz will not be considered "undone". New trends will help women embrace the unpredictability of their curl types and fall in love with its playfulness.
What was your favorite aspect of this collection?
My favorite aspect was that I learned something new. These looks aren't mainstream or trend focused, but they pushed my personal limits and were an artistic expression. Some people will love them, and some won't, but I grew as an artist so I'm happy!
If you had a superpower, what would it be?
I would love to be able to clone myself, there's so much I want to do, and so little time!
What hair/color trends can we look forward to this season?
This season texture is driving the trends. Soft highlights for depth and dimension will enhance a textured finish. Haircuts and styles will see shorter layers and strong fringes that frame the face.
CREDITS:
Hair: Lauren Moser
Photographer: Travis Teate
Makeup: Leila D'Amato Blonde
Model: Brittany McPherson
For even more inspiration, be sure to stalk Lauren Moser on Bangstyle and see all of our latest texture tips, here!