You may have spotted some of Caitlin Ford's images around the site and if you're anything like us, wanted to know more. We chatted with Caitlin to find out more about her creative process how she crafts her dreamy colors and her favorite new trends. Take a peek at her interview and see her amazing colors below.
---
Can you tell us a little more about you and your styling background? What drew you to hair styling?
I was into art from a young age, I loved to draw and paint all growing up. I wasn't sure if traditional art was something I wanted to pursue though, and I knew I did not want to be stuck behind a desk all day. I suffer from chronic depression and work that is extremely repetitious just eats away at me. I feel happiest doing different things all of the time, which makes hair a fantastic industry for me because things are always changing.
​What is your favorite technique to use?
It changes all of the time so this is a very tough question! I would say any technique that gives the appearance of movement in the hair is my favorite. I love when your eye is drawn all over with a look.
​What has been the biggest defining moment in your career?
Last October the owner of our salon asked me to do a color look to be shot for an ad in a local publication. It was the very first time my work would be professionally photographed and I was extremely excited. I created this diagonal splash lights look with cool toned pastels, I wanted the color to look like light was bouncing off of it in waves, like ripples in water. I was, and still am, extremely proud of it. Since then I have seen the photos spread far and wide over the Internet, it's really crazy.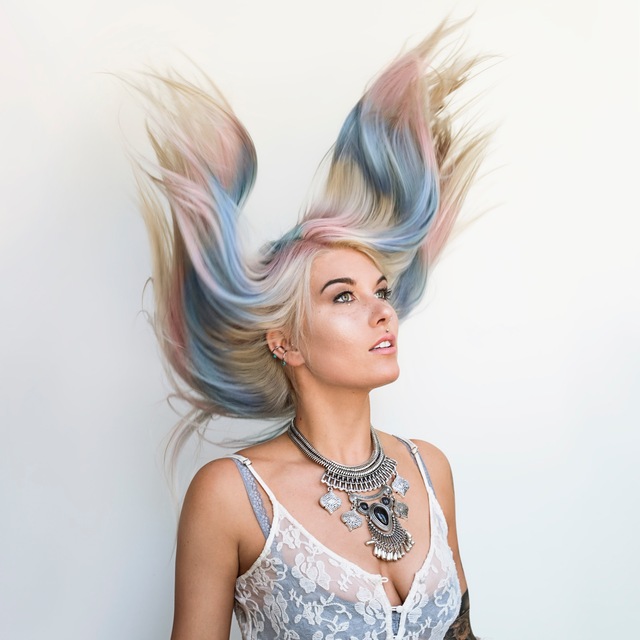 Can you give us a bit of insight into what the typical creative process behind creating a style?
When I am creating a new style at first it just starts out as an idea in my head, usually in bits and pieces. There might be a specific technique I know I want to incorporate, and then I try to figure out a way to style around that. With my art background, often times I will draw pictures to get a better idea of what is in my head, and then I begin dissecting those drawings and try to figure out how to make them real.
Is there a specific area you often find yourself looking to for inspiration?
I am often inspired by youthful fashion. I love that 90's grunge is back; I love the aesthetic of the hippy movement revival, music festivals, etc. I want my work to reflect an airy sort of freedom, from that age when you don't have a job and the summer is just sort of at your disposal. I also draw inspiration from a lot of the natural elements of current fashions, lots of texture, soft colors, and mineral stones.
Do you have any rituals to ensure a successful shoot?
I think the biggest thing is to make sure when you pick your team; you surround yourself with the kind of people you would want to go have a beer with. Don't let yourself be intimidated by the situation, just try to relax and embrace it.
Where do you find your inspirations?
Inspiration is everywhere! I am very lucky to work at a really cool salon in a really artsy area. There are so many creative people where I live, and it's great to be able to be inspired by that. The Internet is also a great resource, stylists these days share so much on social media and it's cool to be able to see what everyone else is coming up with and to be inspired by bits and pieces here and there. All art is derivative of something else, so I believe the more we share, the more we all have the opportunity to grow.
What is the one product/tool that you can't live without?
I live for my Hot Tool 1' 1/2" marcel. It's just a great, classic tool that has a lot of versatility.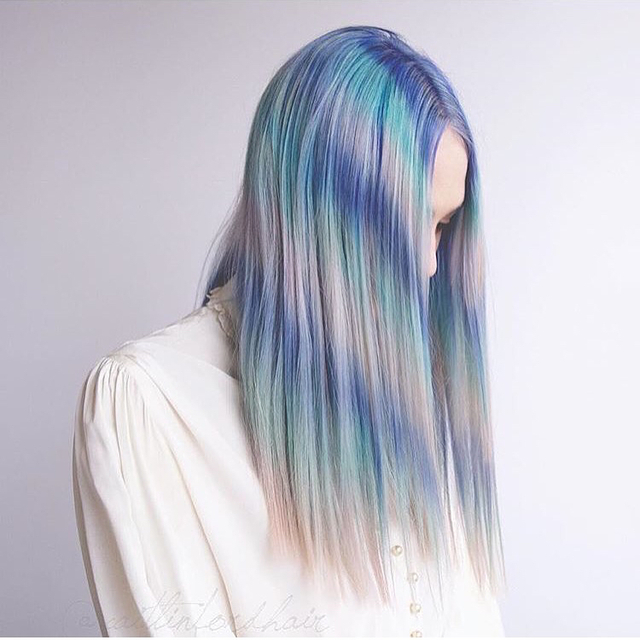 How did you create your style of color?
One of the most aesthetically pleasing things about hair to me is the way it looks when light hits it. My favorite way to do a color is to create something that mimics that light play. I love when color looks like it has movement, even when it is still. Hair is a moving object so I think it's natural to be inspired by that.
If you had a superpower, what would it be?
I would love to fly! That seems like an obvious answer, but I would love to have the ability to do hair all over the globe whenever I wanted!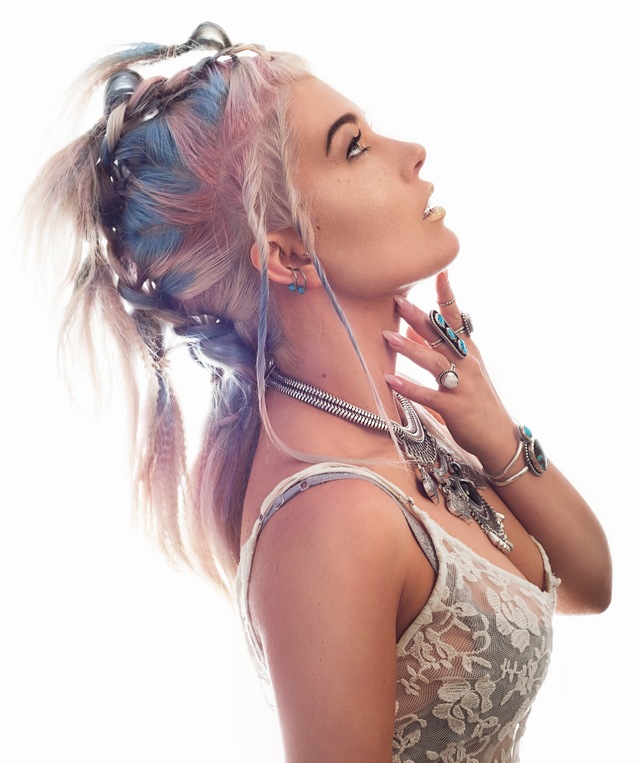 Who were your mentors along the way?
The man who owns the salon I work at, Josh Nichols, has been a great inspiration for me. I always wanted to get deeper into the artistic side of hair, but before I worked where I am now I didn't have the resources to make that happen. Living in the Midwest can feel very limiting at times. He gave me my first opportunity to have my work be printed. Josh loves editorial styling as well and really encouraged me. He was also the first person to suggest I use social media as a platform to showcase my art. If you want to be creative you need to be around people who let you put creativity first. Don't surround yourself with naysayers; those people just don't want to see you be more successful than them.
---
Be sure to stalk Caitlin Ford on Bangstyle to see her latest uploads and hair inspiration!