Living in Los Angeles, we are privy to the ultimate beauty hub. We see all types trends created here. From "ombre's" to "non-touring" and everything in between, we spoke to one of LA's top colorists, Christine Silverman from Ramirez Tran Salon, about current color trends, how she creates them with B3, and what we should be looking forward to in the next few seasons.
---
As a colorist, how do you stay on top of the trends and create new color schemes?
I stay on top of trends by keeping my eyes open to my fellow colorist's work and changing and perfecting my own special balayage technique to create new and current individualized looks for each client. I am consistently morphing my "signature blonde" to tones that are perfect for each season.
What shades and hues are you predicting for the summer months?
During the summer months I predict that there will be more "power pops" of blonde blended into pretty, sun kissed, buttery hues. Blonde is always in season in Los Angeles, and during the summer I like to amp it up a bit, to emulate the look of spending the summer at the beach surfing and working on a perfect tan.
What is your favorite application method for achieving various styles?
I love utilizing the technique of balayage to create my colors. It works with each client's natural tones, that they possess in their own hair color and allows me to create specific looks that are always catered to each client's skin tone, style and desired level of lightness. Because each highlight is hand painted and placed exactly where I want it, the look is always natural and provides an incredibly easy grow-out process.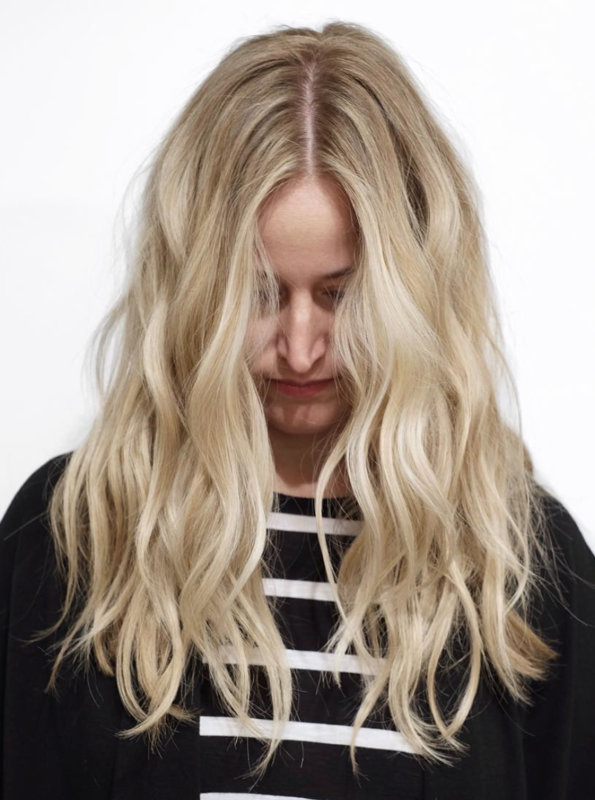 With balayage being so trendy at the moment, what do you think will be next?
I think the balayage technique is trendy at the moment because people are only now just learning what it actually means. The technique itself has been around a very long time and only continues to grow in popularity. I find it to be timeless in its ability to create a custom hue for each client, and the technique itself can be utilized to create whatever look happens to be "on trend" at the moment. Even when creating all over color I like to paint in some highlights for dimension to break up a solid hue. Dimension is important for adding that subtle shimmer to a single process color.
Can you tell us a bit more about how working with B3 changed your color application and lifting abilities?
Working with B3 allows me to be able to push hair as blonde as a client would like it to be without the fear of breakage or unpredictable results due to the hair being previously over-processed. Adding it to my glosses also really adds another layer of shine and protection to the hair which is important, as it extends the life of my color.
How will B3 change the world of color?
Stylists are now able to do colors and techniques they were potentially afraid of previously because B3 gives them the confidence to do more. Coloring without B3 or bond builders will be a thing of the past, because now we are able to give clients more gorgeous healthy hair AFTER their color service than before. Nobody wants damage, and now we can help prevent it!
---
To learn more about B3 be sure to stalk them on Bangstyle and stay tuned for even more tips and tutorials, and check out Christine's Instagram for all her latest uploads!