Overview & Introduction
The Matrix philosophy is to inspire all salon professionals to transform a passion for beauty into personal success. By sustaining one of the industry's largest teams of educators including colorists and salon owners – Matrix artists remain dedicated to crafting style and motivating others to express personal creativity. Through innovation, education and inspiration, Matrix encourages hairdressers across the globe to share the American dream and imagine all they can be!
In this Digital Photo Journal series, Matrix Artistic Director Daniel Roldan shares his personal views and storied photos as he travels across world educating artists on his craft, sharing tips, tools and techniques to creating inspired hairstyles – all while documenting via Instagram.
The Inspiration… Niagara Falls, New York
"One of the benefits of traveling is that you're always experiencing new sites and sensations, which can be very inspirational. As a photographer, I capture these scenes and moments; but as a hairstylist, I strive to create looks that show my inspirations that can transcend beyond a photograph. For me, hair and photography go hand-in-hand as forms of expression that complement each other, telling stories about my travels. When I'm out and about, I'm always looking for different shapes, colors and infrastructures that serve as inspirations which are then reflected in my work."

The Looks… Rolling Waters
"It's hard to believe that the beautiful, breathtaking Niagara Falls is just a couple hours away from the busy center of New York City. It's so refreshing to see (and feel!) the surging waters cascading down so powerfully, yet gracefully. I was so fascinated by this amazing natural force and was really taken away by how the waters would tumble and roll as they reached the bottom of the falls, creating a shroud of cloud-like mist. This imagery resonated with me so much that I created the following looks back at my apartment in Astoria! I wanted to mimic the softness of waves, yet convey a powerful message – so it seemed fit to separate the hair into uniformed rows that are teased up to portray rolling waters."

About
Matrix, the number one American professional hair care company in the world, is at the forefront of salon education and innovation, helping professionals build on and improve their skills while creating cutting edge, first-to-market products. Daniel used the new Matrix Style Link line to create these inspired looks – Style Link allows for total styling freedom and makes it easy for anyone to prep, play and perfect!
To create Look 1:
1. On damp hair, apply Style Link Volume Builder and blow dry with a round brush.
2. Spray Style Link Heat Buffer on each subsection and micro-crimp.
3. Divide 6 subsections from the front of the hairline following the head to back of nape. Starting above the left ear, back-brush each section and twist counter clockwise. Spray each section with Style Link Style Fixer to secure.
MASTERY POINT:Twist tight on the side counter clockwise, alternating the twisting technique and keeping the top of the head higher than the sides.
Products used…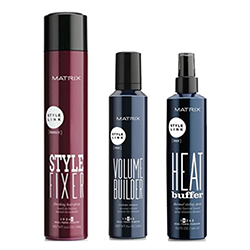 Be sure to Stalk Daniel Roldan on Bangstyle to keep up on all his hair art!