Lady Gaga broke the Internet with her Super Bowl Halftime performance and is still causing a stir among fans everywhere, there's no denying that. With high-flying stunts, drones, and an outfit that shined brighter than a diamond the only other thing we couldn't get enough of was her hair, and the hair of her fabulous dancers. We can't even begin to imagine the time, work, and energy that goes into planning and executing the styling for a show like this, but lucky for us Danielle Keasling gives us an inside look at the process and a peek behind-the-scenes at the show!
---
What was your role in styling for the big day at the Super Bowl?
I was contacted by Matrix to help create and execute the dancers' looks for Super Bowl LI. The entire project was led by Lady Gaga's exclusive hairstylist, Frederic Aspiras. He and Gaga worked on this project for months and we were there to bring their vision to life.
As a good friend and coworker to Nick Stenson, Nick specifically requested I be there as his eyes, ears, and voice as he was supervising another project in Los Angeles and couldn't be in two places. Nick flew in for day one to make sure everything was on point and he flew back the night before the show. I basically was there to oversee our Matrix team, work hand in hand with Haus of Gaga and communicate with the key stylist, Darlene Brumfield.
One of the biggest perks for working with Matrix is the relationships you establish not only with educators and leaders but the support of marketing, PR, and outside sources is incredible. It takes a VILLAGE!!!! (I truly am blessed to be working with such an amazing company and this is event and remarkable moments made that very apparent) It did take a village…and then some!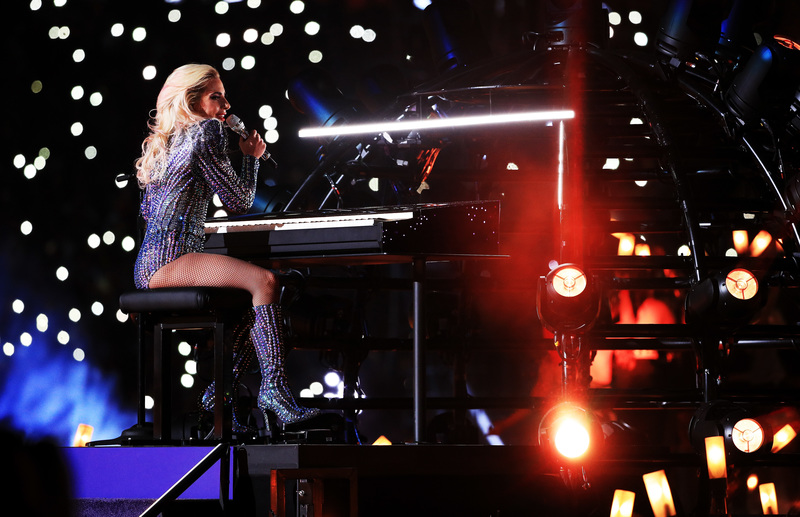 How early did you get the looks? Did you have time to prepare? Or did the team style on the fly?
Because of the importance and legality issues of Haus of Gaga and the NFL, most of the team details were very confidential. Upon receiving our credentials and passing through security, we were shown the inspiration boards and briefed on the vision of Lady Gaga by Key hairstylist, Darlene Brumfield. She was taking direction from Frederic Aspiras, Lady Gaga's personal stylist. After we went through the half time show minute to minute, we were introduced to the models and assessed their texture, density and what items we had to work with as far as wefts, clip ins, and braiding hair.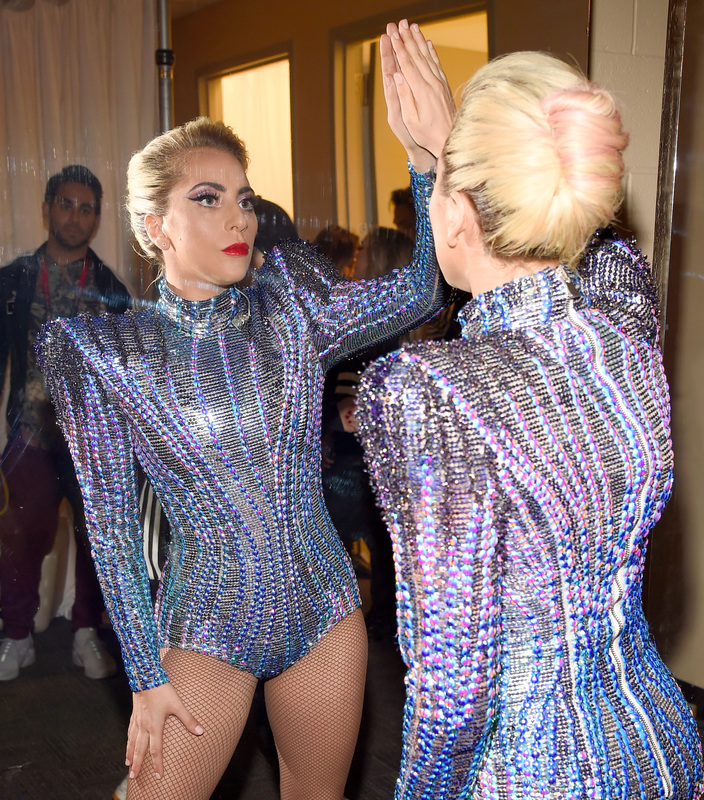 How early did prep start?
We were on call at any given moment from the moment we arrived in Houston. The night before we were given detailed daily agendas for the next day via email. The days were long (sometimes 10:00pm end times) as we did full hair and makeup rehearsals in order to make sure Gaga's vision was turning into reality. The Super bowl is the largest watched event of the year and she had so much pressure! With the help of Matrix and Ulta we were well equipped with talent and ready to take on anything.
How did the team collaborate on the hair prior to arriving in Houston?
Because of the nature of the event, most details were under wraps. Matrix provided the color to Frederic along with the product we used to style and color the dancers. As a colorist and director for the company, I did a lot of text consulting with Frederic and made sure he had the colors he needed from our portfolios to create her look. Prior to arrival, we received the vision board from Frederic and some snaps of the female dancers.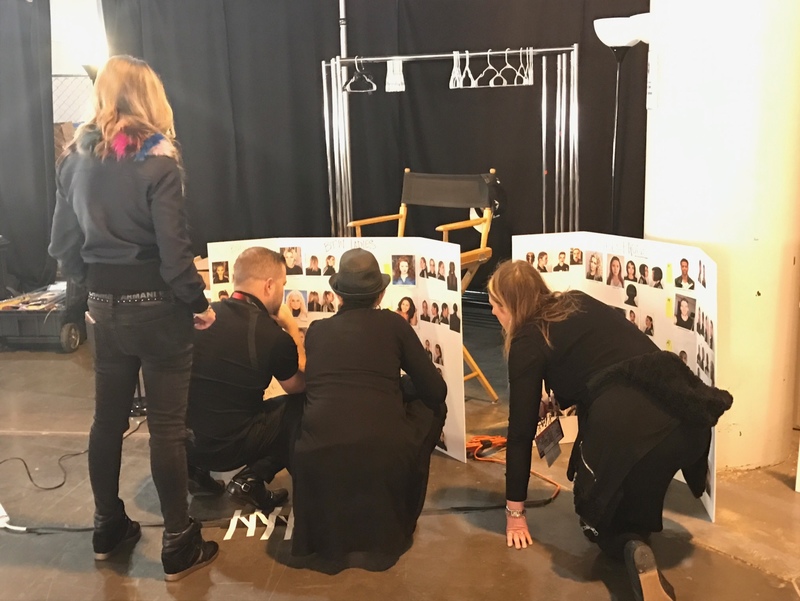 Can you tell us about Frederic's vision board? The mood it created?
Frederic's vision board was a great display of braids, texture and urban hairstyles. We were consulting on key songs, "Born This Way" and "Telephone" for the main looks. "Born This Way" had a lot of braiding looks and tight haircuts, while "Telephone" was urban, modern and edgy. In the video of "Telephone," they are dancing their way out of jail so we needed hard lines, geometric shapes and an urban edge.
How was the vibe backstage?
The vibe was incredible. The dancers were SOOOOOO excited and humbled and everyone was there to help produce the best result for the show. The energy on the field was out of this world. It's one thing to watch the Super Bowl on T.V. but another to stand on the field with the fans cheering, and the fireworks screaming by, it was a whole different level of excitement.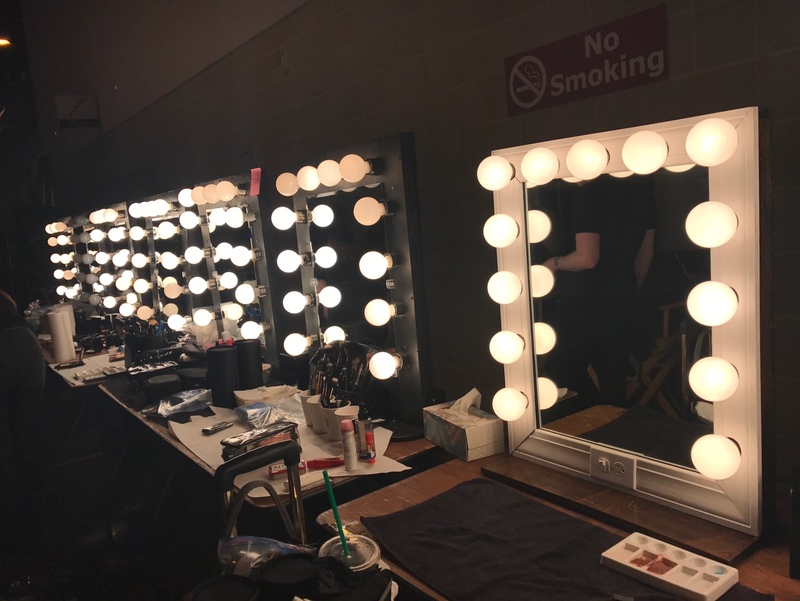 When creating a vision board for an artist, how closely do you relate their music to your inspiration for the looks?
We referenced the videos many times! It creates the mood of the performance. Artists write music and the bigger picture is usually interpreted through their video and/or body language live at their performance.
How did the Matrix products bring these looks to life? What was the hero product backstage?
All of Style Link was used and especially Style Link Super Fixer Strong Hold Gel. These styles HAD to hold when the dancers shook their heads. To create a frizz free look we braided with gel picking up gel on our fingertips for each subsection. This insured the braid was smooth, tight and frizz free, which meant no need for final hairspray on these looks.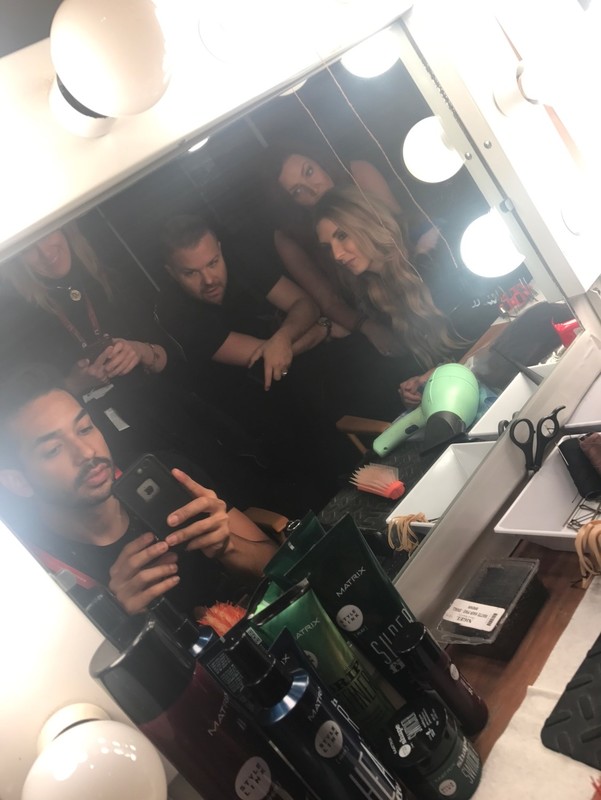 What was your favorite look from the Super Bowl Halftime Show?
All around I LOVED the dancers from the Telephone performance. Urban, modern and edgy! We used clean sectioning and loads of gel. I also loved the slick ponytails with braided accents. The looks were on trend and beautiful. It had a high fashion feel similar to Alexander McQueen's past runway inspirations.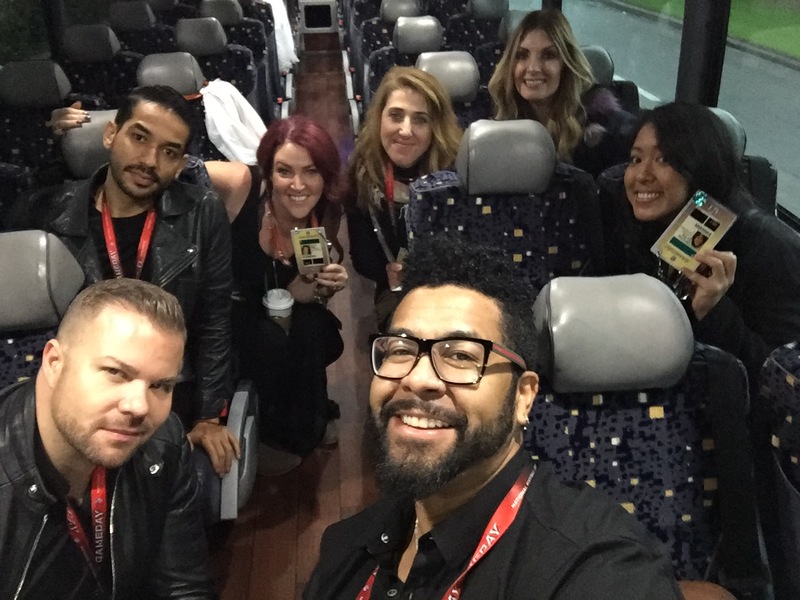 What is your favorite Lady Gaga Song?
A million reasons (and we had a million reasons to do great hair!)
For even more hair inspiration, be sure to check out the step-by-step to getting Gaga's Superbowl style, HERE!