We are thrilled to partner with the Professional Beauty Association (PBA) to promote all the talented artists who are finalists for the 2015 NAHAs (North American Hairstyling Awards), the most prestigious hair and beauty award in the country. We had the honor of interviewing friend and long time Bangstyle Artist, one of this year's finalists in the "Texture" category, Lauren Moser . Check out our exclusive interview with Lauren to learn why she's one of our favorite artists.
Tell us a bit about your nominated collection this year. What was the inspiration behind the looks? How did the creative process unfold?
The NAHA collections that make it to the finals are the ones that stand off the page and grab you. How do you create a 3D concept that can be just as powerful flattened down into a 2 dimensional image? It is all in the shape, so that is where I begin. I research and find shapes that pull me in and inspire me. From there, I decide what texture I want to use to create that shape. Once I have my concepts in place, I meet with my photographer to develop the overall Look. From make up, to lighting, to wardrobe. For this collection, my concepts were futuristic so we put everyone in the same catsuit, and adjusted it to fit their individual style. We worked together as a team to change things up as we went along, and I could not be happier with the results.
Where there collections in other categories that you found inspiring or particularly appealing?
They are all inspiring!! I am always beyond impressed with the Student and Newcomer categories. To be so young in the industry and already portray such talent and control is beyond impressive, and to have the courage to enter is commendable.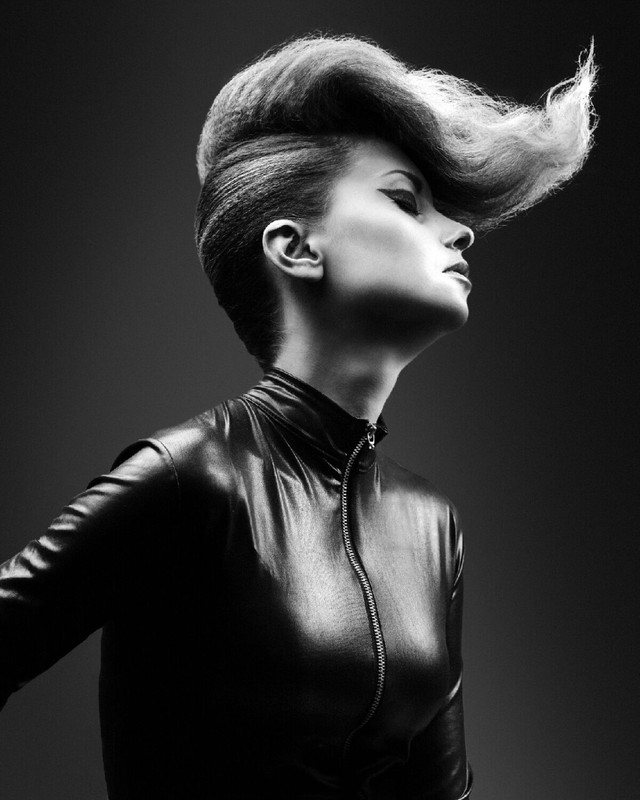 What is your recipe for a successful shoot?
For a successful shoot you must plan your work, and work your plan. You MUST also find a photographer that shares your creative vision and process. This is one of the most important parts. I can give my photographer half thoughts and he can refine these visions with me, and help me create a collection that pushes boundaries and hold the attention of its viewers. Model choices are also important. Your models should be striking, with powerful bone structure and on camera presence.
Do you have a ritual or lucky item you'll be bringing to the awards?
My partner in life and business Rodrick Samuels is my lucky item! He pushed me to enter in 2013 for the first time, where I was named finalist, and continues to push me to be the best I can be.
How will you celebrate a win in your category?
Rodrick and I love that the NAHA awards ceremony always falls on our anniversary weekend, and I cannot think of a better way to celebrate each other and a win!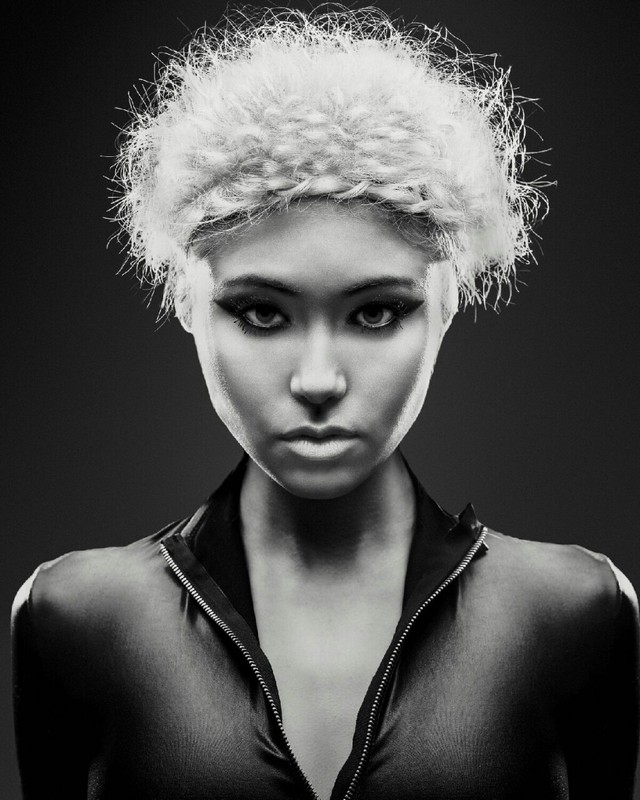 How do you think we as a community can do better at bringing consumer attention to all of the artistry that is NAHA?
Talk to your clients!! Every consumer in America spends time in a salon, or barbershop. Talk to them about what we do outside of the salon. My clients love it, and they know more about NAHA, and its process than most hairstylists! It would also help drum up excitement if it was carried in the mainstream media. Pop culture is everywhere, and we are the behind the scenes drivers in hair and fashion trends, our industry awards should be news!
What is the most valuable thing you take away from the artists you look up to? What do you hope to pass on to the artists looking up to you?
The most valuable advice I have gotten over the years is to never stop learning, never play it safe, and to always create what's beautiful to you. The most important person you need to impress is you, and you are also your harshest critic! What I hope to pass on is that there is no wrong way to achieve a look. Hairdressing is an art, and while there are ways to create that have worked for some, it may not work for others, and that's ok! Find your niche, and train yourself to be great! You will be amazed at how "right" you can be when you stop worrying about doing things wrong.
What role does digital play in your success as an artist, and also as an education brand?
Digital media is taking over, and I'm still catching up! Lol. As an artist, it is a great way to share my work with the world. In doing so I am able to receive constructive criticism to help me improve, as well as encouragement from my peers to keep up the good work. Through others sharing their work, inspiration is never more than a click away, which is a gift in itself. As an education brand it allows me to keep in contact with those who I have taught, and mentored, to continue to offer advice and learning long after my class has ended. As an educator I love the continued contact, so that I am able to watch them grow. Being digital also allows us to stream classes online so that stylists don't have to wait for a class or hair show to learn from us. We can be in your living room at midnight instructing you on how to create the perfect "lob"! How awesome is that?!
If you became Queen of the entire Hair Industry tomorrow, what is a new change you would bring, or initiative you would start?
I would make continued education mandatory. Without it you cannot grow. Uneducated stylists hurt our industry by providing service that is not up to par, which makes us all look bad!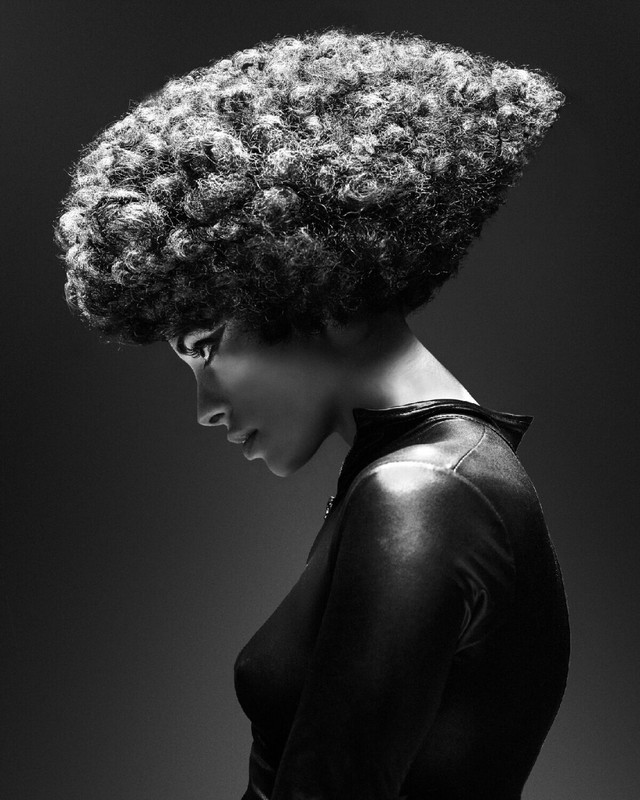 What's your guilty pleasure?
Coffee and cigarettes ;-)
Be sure to Stalk Lauren Moser to see the rest of her inspiring hair art, and wish her luck at the upcoming awards!