In woodworking, a great stain highlights the wood grain, but the sealant is the durable hero that preserves the integrity of the finish. Keeping your hair on point for those long summer days requires a similar approach. 
Use your 18.21 Man Made Clay, Paste or Pomade to craft your individual style and make sure to seal the deal with 18.21 Premium Hair Spray to preserve the durability of the finish.
You may have secretly reached for your dame's hair spray from time to time but, finally there's a brew for you. Premium Hair Spray from the 18.21 Man Made barrel house has a strong yet flexible hold, features the aroma of Sweet Tobacco and was inspired by beer cans of the early 1900's.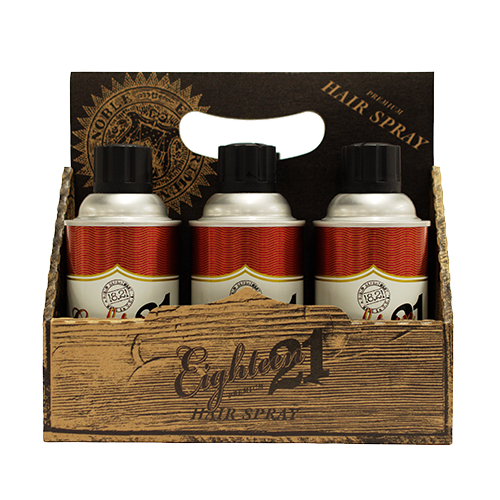 If you could bottle masculinity, it would look like exactly like Premium Hair Spray. And Gent's, keep this one close to the chest because, now it's the ladies turn to steal your hair spray! 
When the sun drops and you gear up for a wild summer night, make sure to seal the deal with Premium Hair Spray to keep your style crisp until the last call.   
Oh and we almost forgot to mention the best part! This brew will never leave you looking through beer goggles so, rest assured that you can maintain complete clarity as your out rescuing that damsel in distress. 
But, again make sure to seal the deal. Maybe this time with a kiss.
---
Be sure to stalk 18.21 on Bangstyle for the latest styling tips and get your 6-pack now! Purchase five 18.21 Man Made Premium Hairsprays and you'll get the last brew on us.