Perfectly, imperfect - is there any other way to make a romantic braid? In his first look, Martin Emmenegger creates the most beautiful undone braid look in this tutorial. See his streps below and follow along in the video below to see him move through the steps. This effortless braid is one to add to your aresenal.
---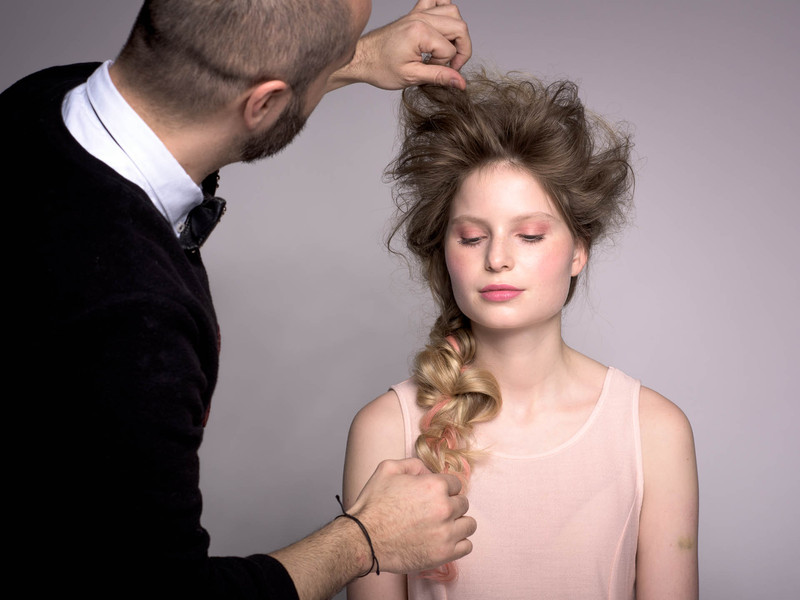 Step 1 For maximum shine and grip prepare the hair with PAUL MITCHELL Sculpting Foam und and blow dry it with PAUL MITCHELL Express Ion Round L.
Step 2 Set the hair starting in the front using the PAUL MITCHELL Neuro Unclipped Rod. Before you set the hair give it a little tease at the roots for more texture. Clip each strand for cooling down. – Important: for heat protection use PAUL MITCHELL Hot Off The Press.
Step 3 Open the back and polish the ends by using some drops of PAUL MITCHELL Awapuhi Wild Ginger Styling Treatment Oil, bring the hair to the left or right side and start with a 2 strand rope braid. In the middle of the strand switch to a classic 3 strand braid. Fix the ends with an elastic.
Step 4 Lose the braid and give it an voluminous, undone look.
Step 5 Open the rest of the hair give a little backcomb with your PAUL MITCHELL 413 Sculpting Brush bring all the hair back away from the face and fix it with bobbypins into the braid.
Step 6 For the perfect hold finish your look with PAUL MITCHELL Extra Body Finishing Spray.
Be sure to stalk Martin on Bangstyle and stay tuned for Part 2, to see how he turns this braid into a more polished look.
---
Credits:
Hair: Martin Emmenegger
Make-up: Jana Mueller
Photos: Beat Steffen
Model: Billie-Jean Harper