It all begins with a dream. Stylists from all over the globe come to NYC are greeted by dazzling lights, haute couture, and a tangible energy that is the Big Apple.

In 2006, Giovanni Giuntoli founded Tearsheet, an immersion editorial education company. He saw a void in the industry for the editorial stylist to learn and grow and created a space where the mystery behind the photograph is revealed. In three days of hands-on education, photoshoots, and team building, artists cultivate the skills to expand their editorial career from dream to reality. Graduation from a workshop offers opportunity to join the Tearsheet Artist Team and work backstage at NYFW and beyond.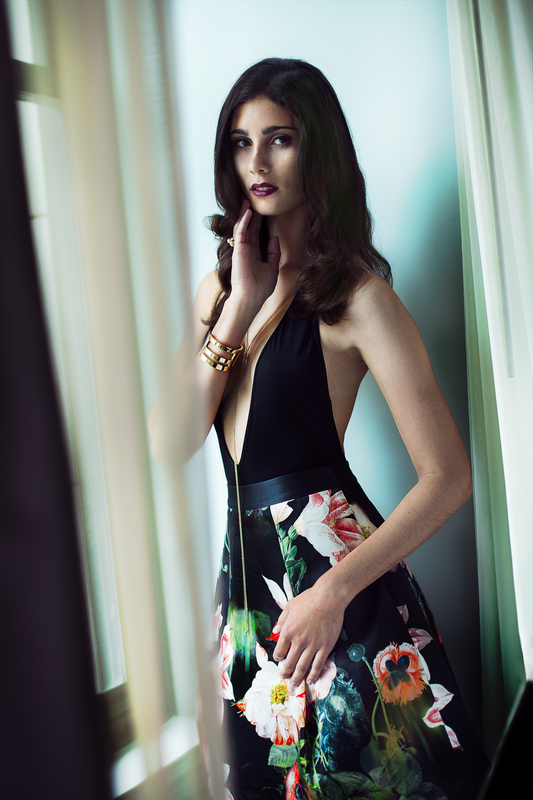 If you're anything like me, working backstage at Fashion Week is on your bucket list. I took my first workshop in Chicago in 2014 armed with what I hoped would be enough bobby pins to carry out my look. Turns out I had about six pounds more than I needed...I even paid for overweight luggage!

During that first workshop, I walked away with skills that helped me refine my editorial styling kit (a one pound pin kit!) and showed me better uses for the tools I had, along with some new things I can't live without! Ask me about my carbon comb addiction…I mean collection.

Fast forward two years from Chicago, I took two more workshops that year, one in Miami and the other in NYC. I worked fashion week in both NYC and Philadelphia and built a portfolio of work I didn't know I was capable of creating. The networking within the Tearsheet team provided me opportunity to lead a hair team at LAFW in 2015 working with HotRollerGirl Productions in Los Angeles. So many checks off my bucket list! These experiences were preparing me for my next step, education.


In 2015, I joined the Tearsheet Core Team of educators and spend my free time, when I'm not on the road with Redken or behind the chair, paying it forward to the next generation. It's my passion to educate others and I love sharing this message on the road in salons, at shows and with workshop attendees alike.

This past June, we hosted Luxury Finishing NYC at the John Curry Studio in Manhattan.
12 stylists met early on a Sunday morning, ready to meet the team and start their journey to becoming Tearsheet Artists. Here's a peek into their experience....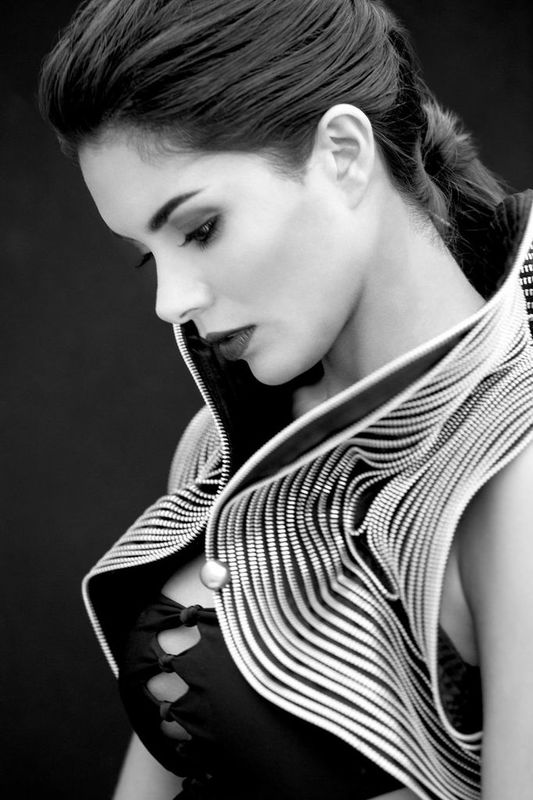 The first day is all about letting go of expectation and freeing the creative mind. After lots of coffee and meeting the team, the stylists were introduced to their first models! Welcome the girls from Pivot Point agency....Diane and Erica!

Giovanni, myself and Ariella Mendez took the team through several different trial looks; application of extensions, form use and pinning, mood boards, and everything needed to prepare them for Monday morning on set. It's a great time to break down looks and roadmap the ideas, setting up a flow for the shoot. Jesus Baez, our team photographer, spends time with the stylists planning concepts and working out logistics with sets.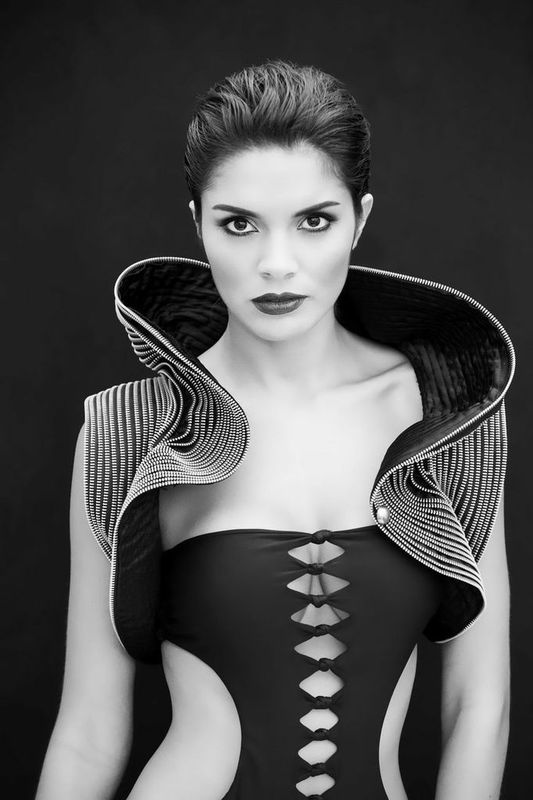 Shoot Day!
It starts with a 9 AM model call and stylists fueled with coffee and anticipation! Each stylist is assigned a model as they arrive and the prep begins. There is a great deal of blow-drying and curling, scouring portfolios, makeup and wardrobe consults, and lighting tests going on at the same time, the energy picks up very quickly. As the first looks start to roll out and images start appearing on screens, it gets even more exciting. To see the result of that effort come to life and then capture the moment is what editorial hairdressing is all about!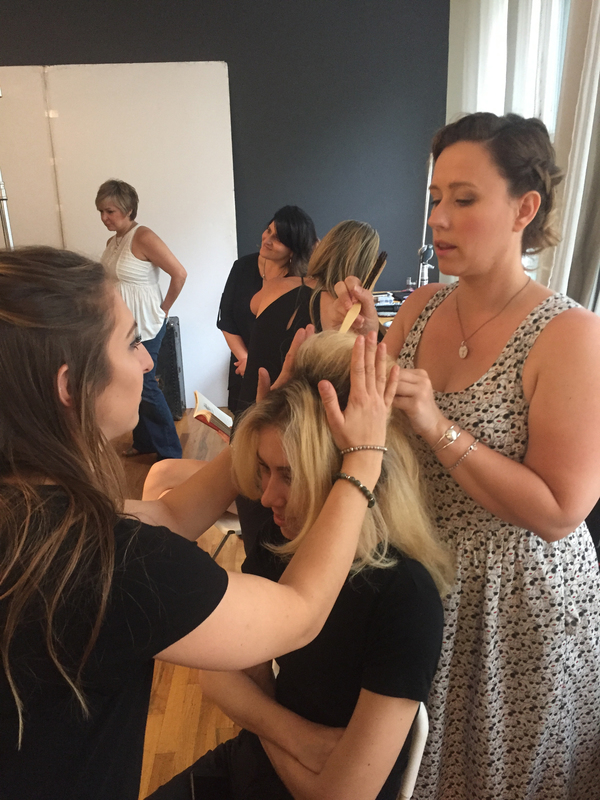 For this shoot, we were blessed with the incomparable Colleen McCann for wardrobe, bringing positive energy and stunning gowns, along with beautiful jewels and coats. Her sense of style and keen eye brought many images to life with just the right accessory. On makeup we had the lovely Mary Davana, a henna artist and makeup diva in NYC! She provided the girls with flawless, dewy skin and big bold lips and kept up with changes on a dozen models.
Photographers Chris Grosser and Jesus Baez, responsible for capturing the magical moments, did just that. Working on different sets, they collaborated with each stylist to get "the shot". From moody romance to tropical getaways, the moods were set and each model played her role perfectly.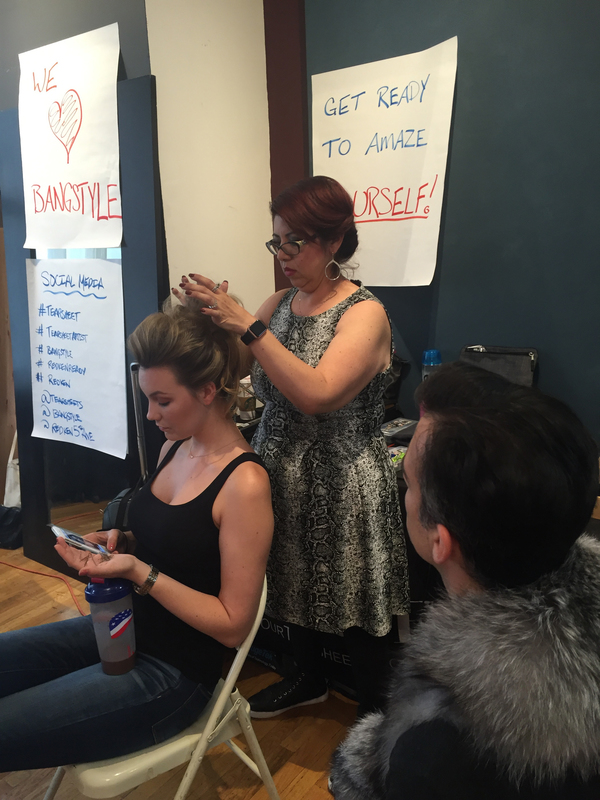 The stylists create two looks per day on each model, watching the transitions from look to look is one of my favorite parts; the leftover texture of the mornings braids can create a new shape with forms, adding extensions or clip in fringes can change face shape or working in layers of product can re-sculpt and restructure. Individual style and personality come through as the stylists are given freedom to explore their creativity in a community environment. The only limit is your imagination. Redken provides styling products for our attendees and there are resources available for tools and kits, as well as extensions.

Day 2 is a little more relaxed but even at 9 am, the buzz is transcending through the studio. The stylists are more confident on the second day and when models arrive, the first looks seem to happen in the blink of an eye. Seeing what worked and what didn't the day before also allows for additional freedom to create and we see personal styles come out even more. It's a lovely thing to see artists working together, helping each other out, using the resources provided and pushing their limits! Imagine giving Van Gogh or Michelangelo unlimited paint colors and brushes and assistants. When an artist is free to create from the heart, they will produce beautiful work.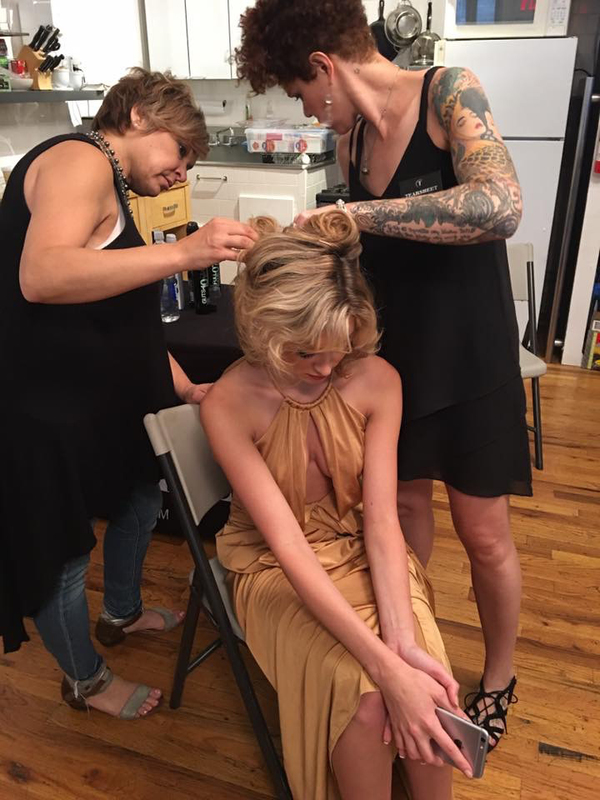 Somehow, this day always goes too quickly and before we know it, the last photos have been taken, the models have gone home and it's time to decompress. We come together as a group to share our perspectives of the experience, prepare for what's next and then we celebrate! A graduation party complete with diplomas, happy dances and new friends is the perfect ending to the three days. It's not good bye...its "until New York Fashion Week!"
---

For more behind the scenes with Tearsheet and Redken Artist Eyliana Gibson, stalk her on Bangstyle or @curlygirlontheroad on Instagram!