Instagram is one of the easiest and fastest ways to showcase your style in a visual setting. Although it was intended to be a personal social platform, like others it has become business focused. We wanted to give you the best tips and tricks for learning how to utilize your feed, style, format, and posting schedule to build your Instagram following.
In a previous post, we tackled the topic of Taking Pictures of Clients? Here's How to get the Best Photo Every Time , we taught you how to take professional photos using only your phone, but now you may be wondering how to grow your audience.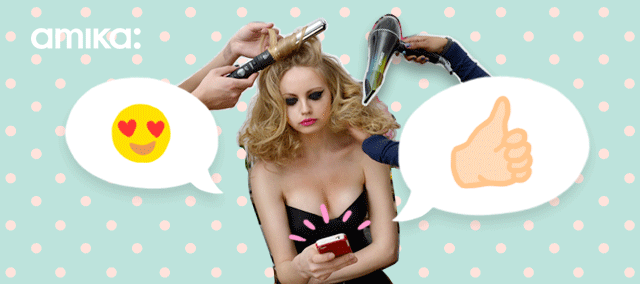 Whether you're a platform stylist in NYC, freelancing on Hollywood sets, or a junior stylist in a small town, here's how to get more popular on Instagram:
1. Post Multiple Times a Day
Not everyone who follows you is going to see what you post. Some people use IG more in the morning, while others might not go on until the evening. You also need to consider how many people they might follow. You might only follow 40 people, but some IG users like to follow 100's of different accounts. Below are a few different post ideas:
• Show the color process
• Show a before image and post the after a few hours later
• Post a video shot in slow-mo with your client spinning or shaking their hair
• Share an image of your favorite products
Aim for three posts a day, but strive for more.
2. Be A Part Of The Community
In order to grow, you need to be active in the Instagram community. Start by devoting 30 minutes a day liking and commenting on the photos of other users, and of course, follow the accounts you find most intriguing.
In order to get high-quality followers, interact with accounts that already follow popular stylists on IG. If someone liked or commented on a photo that's similar to yours, like some of their photos and leave a comment or two.
You can also go to the account of a popular stylist and go through their follower list. That's a good starting point for finding new followers for your own account.
3. Be Strategic With Your Hashtags
Hashtags can be a great way to get more likes and followers, but they can make your posts look messy. Rather than including your favorite hashtags in the actual image caption, post a comment with the hashtags under your caption. Then delete the hashtags later. Here's why:
A few Instagram updates ago, brands and individuals were able to be extremely strategic (and sneaky) with their hashtags. You were able reuse a hashtag over and over on the same image, bumping your image to the top of the feed every time. This brought new eyes and new followers. Now, you really only have one shot to get your photo noticed in the grid before it quickly gets lost.
That means the first few minutes after the hashtag is posted are the most important, otherwise your photo will just get lost in the feed.
If you want to use hashtags, stick to the popular ones. There are many websites sharing the most used hashtags -- just take the time to do a quick search. Iconosquare (which is free) also shares the most popular hashtags. Find the ones in the top 100 that are relevant to you and go for it. Here are a few in the top 50:
#love #instagood, #me, #tbt, #beautiful, #summer, #fashion, #smile, #amazing, #swag, #style, #pretty, #hair, #life, #sun #instamood
Using the most popular hashtags will give you the best chance at getting more likes and follows. If you use an unpopular hashtag, you won't get the results you're looking for. #hair currently has over 15 million images, while #summerhair only has 349,000.
If you want to build a community around a certain hashtag you created, totally do it. But know it's a lot of work.
Tip: Timing is everything! The best time to post your hashtags (if you're on the East Coast) is between 11 P.M., and 1 A.M…Here's why:
It's the time frame when Instagram has the most people using the app. People on the East Coast are in bed on their phones, people on the West Coast are out of work and lounging at home, people in Europe are waking up with their phones, and those in Asia are enjoying their mid-morning.
4. Share Your Favorite Brands
Many brands like to "regram" images of people using their products. It's free content for them, and it's great exposure for you. Just make sure you tag the brand so they can find it!
5. Regram
Regramming isn't just for big brands! If there's an influencer you admire, and their personal brand aligns well with yours, regram them. They might see it, like it, and then follow you! Just make sure you regram an influencer that is known for regramming their fans already.
6. Use Data
You have to post content that people want to see, and using a tool like Iconosquare is a great way to find out what, and when to post — with data.
Iconosquare will show you what times you get the most interaction, which types of images do the best, and it can even tell you which hashtags you should use to increase your likes and follows.
For even more tips, be sure to check out this article about How To Get More Followers On Instagram!
We hope these six tips help you increase your following so you can build and improve your personal brand. Did we miss a growth tip? Share it in the comments below!
---
Before you post, check out How to Take the Best Photos on your Phone and be sure to stalk amika on Bangstyle to keep up on our latest styling tips and tricks!