2016 was a year full of fabulous styles. The color, the cuts, and the styling all set precedents for the seasons of ever-changing fashion to come. As style trends tend to be cyclical, we've rounded up the top trends seen in 2016, and with splendor such as these, we're sure to see these beauties again!
---
January 2016: Navy Hue
Celebrity Style:
Rihanna, Demi Lovato and trendsetter Nicole Richie have all donned a new demin colored hue on their well known locks. Ditching lavender and pastel hues for a nearly iridescent deep Navy Blue is all the rage!

From the Pro's:
It's an easy service to change any existing bronde, balayage or adventurous colour into a high fashion look by quick toning. It can change your image for spring summer and revamp your haircut. It works to change instantly from caramel and blonde to a more mysterious tonal palette. It can be temporary with a navy blue/denim, which would fade up to a greeny blue then pale greens and lighter on a pre-lightened blonde, so the journey out is really interesting too. You'd need to pre lighten to get a really blue base. It's an ageless colour, I have clients in their 60s wearing denim blue in small fashion placements of hidden colour so it just peeks through, while teens and twenties/thirties can wear a more vibrant version. If it suits your character and make-up you can wear it. You'll see a movement on the street to people wearing as a fashion statement. Make-up wise, it can be nice to leave it fresh and nude on the face with a strong look like this.
- Darren Ambrose, British Hairdresser of the Year

Get The Look:
Go to the salon! This is not even for the brave of heart to do themselves. Talk to your stylist about the shade of Blue you want to take home on your tresses and they will be sure to pick the right color for your hair. Home-care is really important when choosing a fantasy color. Dry shampoo will be your new best friend. Easing off the daily shampoo routine will help extend your color. Expect your new hue to fade a bit...but don't worry, it looks better and better. Faded denim is always cooler than fresh denim!
---
February 2016: Styling
Celebrity Style:
Long or short, STYLING your hair is back in style. Excuse the pun.... well kind of. From sleek to curled, to perfectly coiffed beach waves that took hours and look effortless. Taking a little extra time on your tresses is back in season and donning the Red Carpets this award season!

From The Pro's:
From modern to a bohemian glamorous 70s style, playing with your style will give you a lovely contrast. Heavy waves move in the soft breeze and curls give a note of chic easy styling; a great combination of flat and volume. Styling your hair is good for the evening, and with a little less overall volume for every day.
- Svetlana Jouini
Get The Look:
Long or short, you don't have to take hours to style your hair. Investing a few minutes and using the right products will leave your style going strong all day. Start with a great foundation, like make up..hair needs a little help to stay all day. Try a volumizer before blow drying and always use a thermal protectant before styling with hot tools. Ask you stylist to show you a few styles that will save you time, while looking amazing until Happy Hour rolls around!
---
March 2016: Ginger

Celebrity Style:
Celebrity starlets are taking the plunge and ditching their cliché blonde Hollywood Glam for a range of intoxicating shades of Red. From Lauren Conrad to Blake Lively to Bryce Dallas Howard the shades cross the colour spectrum, but the end result is the same...traffic stopping Red Carpet beauty, with a little bit of spicy sex appeal!

From The Pro's:
Gone are the strict seasonal rules of color. If you feel like changing up your color as Spring arrives, consider a Red before the Summer rush of Blondes. Whether you're naturally red, or going for the plunge, try a glaze that will give you a shiny effect with a hint of a hue without the permanent commitment. Add to the fiery look by trying out a beachy style that will break the cliche of Jessica Rabbit's overly perfected waves. Mess it up a bit and hit the beach. - Sylvia Stankowski
Get The Look:
Long gone are the days of teasing Red Heads, calling them "GINGERS" as though we didn't envy their locks. We admit, now we just wish we could BE one of them! Whether you choose a softer Strawberry or a darker hue. This is one for the pros. Going from Brunette to Red, or taking your Blonde to a Scarlett, book your appointment and ask your stylist to do what they do best!
---
April 2016: Twisted Bangs

Celebrity Style:
Smoking hot starlets like Rihanna, AnnaLynn McCord, Victoria LeGrand, Minnie Driver and nearly all the stars lucky enough to have gorgeous curls are rocking the hottest trend for curly girls...BANGS! Yes, BANGS! No longer is the sexy, stylish way to frame your face reserved for straight hair. Whether you wear them down front of side swept, give your curly haircut a facelift by adding in a little fringe.
From The Pro's:
It's the curly girls season and this time around, it's all about the curly bangs! They are hot and they are everywhere! The trick to wearing them is to not think of them as a separate entity from the rest of the hair. Bangs are a flexible addition to your style, curly hair allows you to hide them in with the rest of your curls if you don't want to wear them. But, with curly bangs all over the runways, I say wear them! - Jacqui Davis

Get The Look:
Summer is here and it's a curly girls season. Toying with donning curly bangs but don't quite know how to make it work without looking like a French poodle? First things first, go to a stylist that gets curly hair. Bangs should be cut with a " tapered" not blunt end so that they fall into a soft beautiful "s" pattern. This is not something to be done at home, see a professional. Use sulphate free shampoo for coarser curls, you may consider using a cleansing conditioner. Detangle your hair with a wide tooth comb while in the shower and remove moisture by squeezing, not rubbing, with a microfiber towel (TIP: an old tee shirt works great too!). Add a frizz control serum, mousse for fine hair types or curl cream for coarse curls scrunching the product thoroughly through the hair. Pluck and shake out when dry. Don't think about your hair again 'till someone stops you to tell you they have major hair envy...
---
May 2016: Non-Touring Haircolor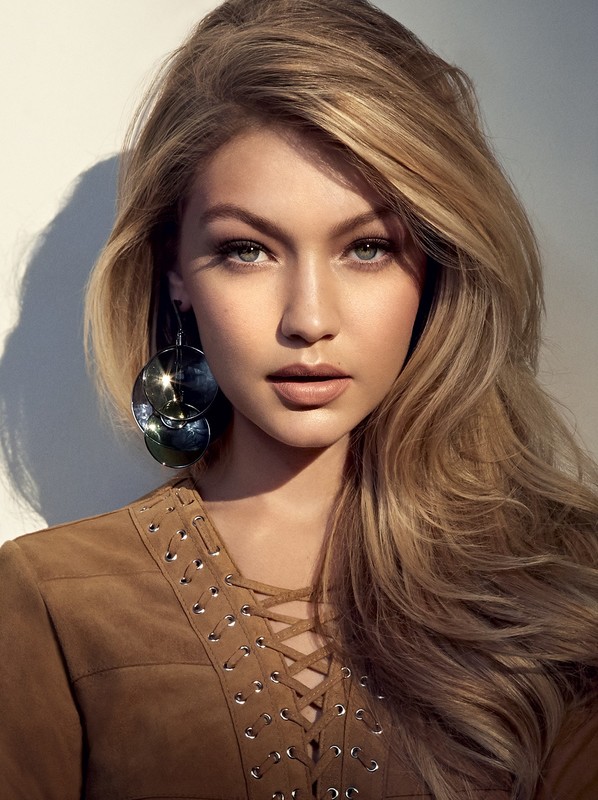 Celebrity Style:
Starlets like Kendall, Ashanti and Gigi are again setting trends with their perfectly dewy new hues. "Non-Touring" for your Hair, yes HAIR (not make up), is all the rage with young celebs strutting the red carpet. The process includes Color Aprés Cut. Once your hair has been cut and dried, stylists can strategically apply color, highlights or low-lights to "contour" your shape. Only the best for the young Hollywood stars...and their hair color regimen is no exception!

From The Pro's:
The benefit of coloring your hair after cutting is to get more movement in your cut and volume by strategically placing highlights & lowlights. It will help guide placement of color to enhance the client's haircut and compliment their face shape.
- Eduardo Ponce
Get The Look:
Talk to your stylist! Tell them you want to explore the world of specialized color for your face shape. It may take a bit longer to get your hair cut and styled, just to apply hair color, but the results are so worth it! If you aren't ready for the full commitment, and cost of this process, ask for a Shine or Gloss. You can even book an appointment in between regular salon visits just for a "Gloss". It will give your hair that gorgeous dewey looks the stars flaunt!
---
June 2016: Perms
Celebrity Style:
Jenna Dewan Tatum is not only married to one of the hottest actors in Hollywood, but she happens to be making some serious waves herself; on and off the screen. Or should we say "CURLS", not waves! The stylish, trendsetting A-lister just releases her latest "do", a Spiral Perm, on her Instagram asking her fans to help her "Bring the Perm back". Count us in Jenna!
From The Pro's:
2016 Is the year of the curl! For those of us suffering from texture envy, Perms are back and better than ever. Modern perm solutions are nothing like their 80s counterparts, and will offer natural looking curls and waves without all the harsh frizz and damage that we associate with the word perm. With out-of-the-box perm sets and roller options, you can now join the curl movement with modern texture and curl confidence! Live a little, try something new, and get that perm! -Lauren Moser
Get The Look:
If you too want to join the curl revolution.... book an appointment and talk to your stylist. Perms can range in results from added texture to limp skinny hair giving you a little more volume all the way to rocking gorgeous enviable spirals that your friends will swoon over. Loose the worry that you'll look like your mom did back in 1983 and go get the curls you have always wanted!
---
July 2016: Heavy Fringe
Celebrity Style:
Celebs are framing their faces with classic heavy fringe. Ariana Grande, Taylor Swift and Selena Gomez have all opted for a chunky, wide set bang gracing the tops of their perfect eyebrows. Have you been looking for a change? Give this always-chic look a go... and hey, it could even save you a few bucks on Botox!

From The Pro's:
I just love a heavy fringe! It's an instant style statement. A great fringe can instantly accessorize a hairstyle. If you want to switch things up but love your haircut, a heavy fringe is a perfect way to refresh your look. -Ashley Lynn Hall
Get The Look:
Bangs....we all ponder them holding off because of the dreaded "grow out" process when we are over it. But, the transition doesn't have to be painful! Heavy fringe can turn into a graceful side swept bang in a matter of a month or two. See a professional hair stylist to get your fringe trimmed. A lot of salons offer free fringe trims for clients. To perfectly style your fringe there are a couple of key methods to try. If you love a sleek and straight fringe, use a flat iron to smooth out your fringe section by section. If you prefer a little bend and movement we suggest using a round brush. Take the leap and book your salon appointment to get this fast update to your haircut just in time for the new season to arrive!
---
August 2016: Under-Lights

Celebrity Style:
Under Lights" are the latest trend passed down from the fashion gods, forever in our favor. They are a combination of the ombre and peek-a-boo lights that graciously highlight our best feature, the face. Concentrated on the inside layers of our locks, with extra attention to our ends, the placement is suitable for any cut or style. This trend is so fresh; many of the celebrities haven't even caught on yet… except Romee Stijd. She's breaking the trend hard-core with her gorgeous new hair color!

From The Pro's:
Under Lights are a low maintenance, high impact hair color application allowing you to have fresh looking hair without the high maintenance of constant salon visits. This new trend is an evolution of Balayage. The quickly emerging trend is lighter from underneath creating a fresh look and feel to lift any long look. - Kate Reid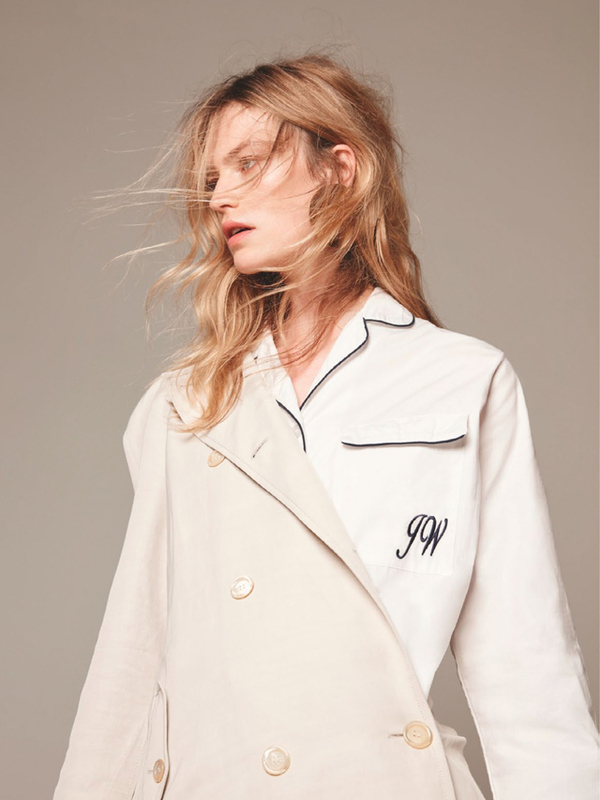 Get The Look:
It's all about location, location, location in this month's hottest trend! We are loving the "inside highlight" almost as much as we love a little side boob! The look is achieved by highlighting the inside sections of the hair to almost create a halo effect around the face frame. This lit from within look can vary in lightness according to your base and skin tone. With no roots to worry about it offers the perfect low-maintenance look for anyone.
---
September 2016: Apricot

Celebrity Style:
Although this year has brought a new buzz back to last years Pumpkin Spice hair color trend, we think the shade taking center stage is Apricot color, or Pumpkin Spice Lite, if you must. Adding lighter elements, pastel notes, and a washed out effect, the shade of the season is not deep in hue it is light with softness. Celebs like Blake Lively, Isla Fischer, Jessica Chastain, and Kylie Jenner are all experimenting with shades that range from a stronger red, to Rose Gold all the way to our new multidimensional favorite… APRICOT!

From The Pro's:
As we switch out our Summer bold pops of color and lean on the notion of subtlety, Apricot is the perfect shade to warm you up for fall without going overboard. Adding to new range of hot colors, the trends will go wide and be exciting this fall. From Apricot to rich Wine-Ripe tones, Pastel Nordic Blues and Moody Neutrals with touches of Mustard, Golden Yellows. - Daniel Roldan
Get The Look:
This is another one best left to the pros! There is great amount of technique that goes into the subtly of multidimensional color, and not one you can find in a box off the shelf. The key to getting what you want is first knowing what you want! Is drama what you are after? Then ask for a darker spicier shade. Want classic beauty? Then a lighter Apricot red, with soft tones in a range of highlights (of course), is the perfect haircolor for you this season!
---
October 2016: Shag + Fringe

Celebrity Style:
The 70's are BACK! The Shag made a strong appearance last year on runways and in magazines, but this year... celebs like Mandy Moore are pairing the shag with a heavy (center parted) fringe for a relaxed chic look. This hot emerging style works perfectly in a lose topknot or air dried embracing your naturally loose waves. Either way you wear it, you're sure to set off a new hair trend in your circle of friends!
From The Pro's:
Ask your hairdresser for a long layered lob with a heavy fringe. Let them know that you wanting a cut that exaggerates your hair's natural texture. Also, never be afraid to show your hairdresser an image of what you're after. A visual reference makes our job easier.
- Joey Scandizzo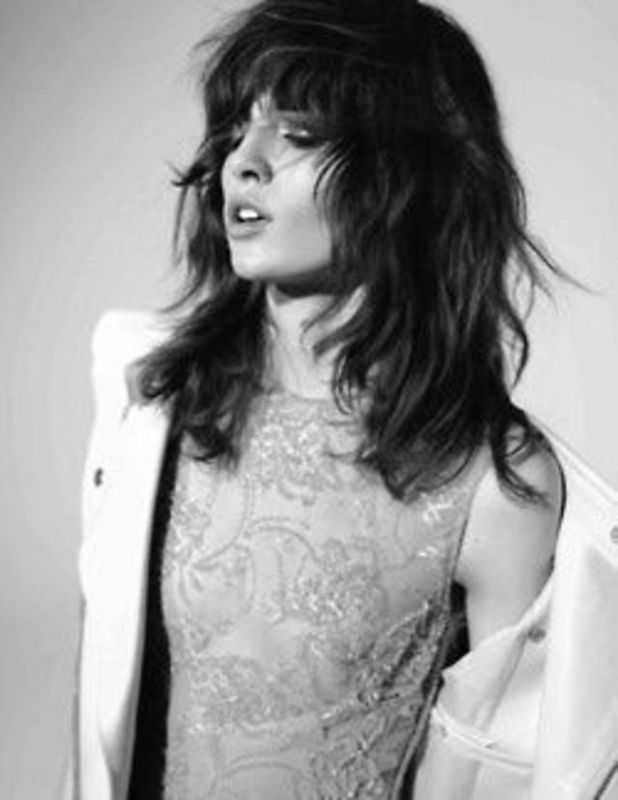 Get The Look:
For this style, it's vital that hair is in a good condition. Using a good quality moisture shampoo, conditioner and a leave in treatment keeps unwanted flyaways in check and prevents split ends. When styling, use products that work with your natural texture and add movement like Sea Salt Texture Spray and I Want Body Volume Spray. Try these quick tips to get the look: 1. Start by prepping damp hair with Miracle Hair Treatment and comb through. 2. Apply I Want Body Volume Spray through roots to ends. 3. Blowdry until hair is 80% dry. Use a medium size round brush to smooth out fringe and create a soft wave through mid-lengths and ends. Once hair is dry, apply I Want Body Volume Powder wherever extra texture is needed.
---
November 2016: Structured Haircut

Celebrity Style:
Celebs like Michelle Williams, Selma Blaire, Bella Hadid, and other red carpet starlets are losing the long carefree layers and opting for a more structured haircut. Structured cuts can vary in length and shape, but will give you a gorgeous style that will turn heads on and off the big screen.

From The Pro's:
I am excited to welcome the return of the Structured Haircut. Cutting techniques shine in these classic shapes that can be worn long or short. The softness and movement comes in the way you style the hair.
- Robert Lobetta

Get The Look:
Pictures, pictures, pictures! The key to getting the haircut of your dreams from your stylist is all in the communication of what you want. Sometimes words aren't enough as our interpretations can vary. Whether you grab a pic on Bangstyle or from Vogue, do a little show and tell to get the saucy new cut you are after this season.
---
Decemeber 2016: Center-Part Fringe

Celebrity Style:
Felicity Jones, Chloë Grace Moretz and Stacy Martin are just a few of the starlets growing out their fringe just enough to rock the hot new version of the always controversial fringe. Our celebrity crushes are looking towards relaxed cuts, like the shag, with longer bangs as a versatile and fashion forward option without the commitment of a full heavy forward bang. Center-Part Fringe offers a softness to any style, they can dress up a pony and work wonders with a topknot whether you are strutting down the red carpet or in line at the grocery store!

From The Pro's:
Longer fringe is trending for 2017. We love asymmetrical fringe. Start at the corner of the eyes, over direct forward, starting cutting at the chin. Asymmetrical Fringe works well with most face shapes and adds interest to the face. It's a very sexy look with the slightest Peek-A-Book look over one eye. - Donald Scott

Get The Look:
Professional stylist Sarah Adams recommends you express to your stylist that you want a length that suits your face without being overly high maintenance. Center part bangs are naturally shorter in the center and longer as they progress to the sides. If this is your first time getting bangs, ask your stylist to start out on the longer side and make your way shorter.
---
To stay up-to-date with the latest trends, be sure to check out the Trend Report and style tips and tricks here, throughout the year!