Hair care shouldn't stop when a client walks out of the salon. To make the most out of any style, a proper after care routine should be put into place.  Learn more about how to educate your clients on the Cezanne Professional Products After Care line, and show them how to extend the life of their service.
---
Teach your clients to protect and prolong their Cezanne treatment with our After Care to keep hair healthy, shiny and frizz-free. Cezanne After Care is formulated with keratin proteins and light, nourishing ingredients to add weightless volume without stripping the hair or leaving residue.
Our products, free from sulfates, parabens and gluten, are mostly used on wet or damp hair, but the Thermal Protectant Spray and Argan Styling Serum can also be used on dry hair.
Clients who blow-dry and style their hair every day should go home with Perfect Finish Thermal Protectant Spray. Those who air-dry and want to keep down frizz should go home with the Leave-in Crème Conditioner if they have coarse, thick hair. Those with finer hair will need the Leave-in Spray Conditioner.
Learn more about our line to be confident with your product recommendations. If a client is hesitant, allow them to try out the product first and return it free of charge if it doesn't meet their needs.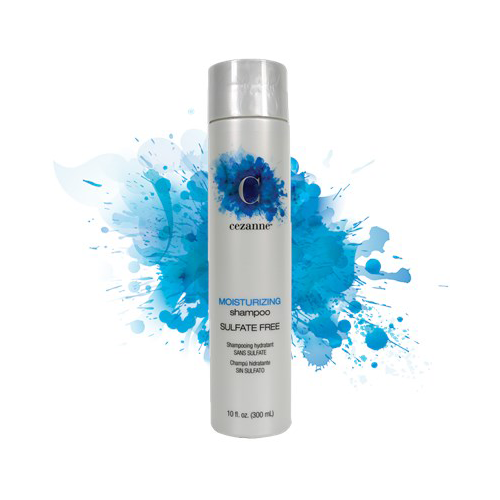 Our sulfate-free formula gently removes dirt and product buildup while extending the life of color-treated hair. The signature blend of oils and premium keratin proteins deliver increased strength and a lustrous shine while improving manageability.
This hydrating conditioner nourishes hair while providing lasting protection during thermal styling, leaving hair smooth and shiny.
This Leave-In Crème Conditioner is developed to revitalize hair from root to ends with the same proprietary blend of keratin, premium oils and proteins as our Moisturizing Shampoo.
Our Leave-In Spray Conditioner is an instant detangler that fortifies and nourishes hair with a supple blend of keratin protein.
Luxury in disguise. Cezanne's Argan Styling Serum delivers instant moisture to dry hair, transforming your locks with light, rich oils and creating softer, long-lasting beautiful results.
Perfect Finish Thermal Protectant Spray
This heat protectant styling spray is designed to be used anytime before blow-drying or flat ironing. It will protect your beautiful locks from the heat of your tools, soften the hair and add luxurious shine.
End bad hair days for good with Cezanne After Care! No Cezanne treatment is complete without a quick trim after the service. Make sure to clean up the perimeter and blend any layers before sending your client on their way with After Care products. Watch a step-by-step of the Cezanne treatment application and follow us on Instagram and CezanneHair.com for more helpful tips.