The sound of birds chirping and rain droplets filled the runway as models began to saunter down Sarah Burton's garden-themed catwalk for Alexander McQueen SS18. Styles started off with ruffled dresses and layered trenches, taking inspiration from the English countryside and took a dichotomous turn with form fitted leather dresses equipped with metal buckles and embellishments – all the while the utility patent leather boots tie the two together. As the ebb and flow of the show went on, it gave off the appearance that new life was literally breathed into new shapes of clothing, with an undertone of sustainability – dresses took on corset-like construction full of frill and garments looked as though they had been pieced together from past vintages. Burton leaves us with a bit of hope for spring and a long lasting message about re-construction, cutting down on waste and inevitably re-birth for spring.
To complement these styles, the hair – as some interpret it – looks as though the water from the garden misted the models. As Guido Palau, Redken Global Creative Director created it, "The hair at McQueen was inspired by a girl coming out of the water. The hair is drenched in Redken Hardwear 16 Super- Strong Sculpting Hair Gel and left to set dry. It's like she's coming out of a sea, or a pond, with her hair all over her face and close to her neck. It's a little dark, a little romantic, and a little strange. I've added some Redken Shine Flash 02 so it really looks like she's come out of a body of water, or a dark, strange underworld. We've finished off the look with an elaborate choker necklace to help keep the hair down."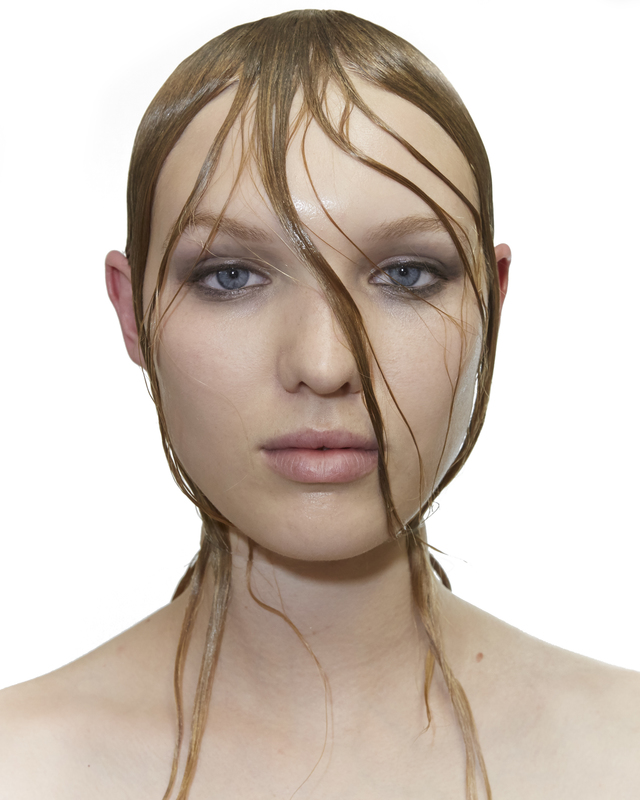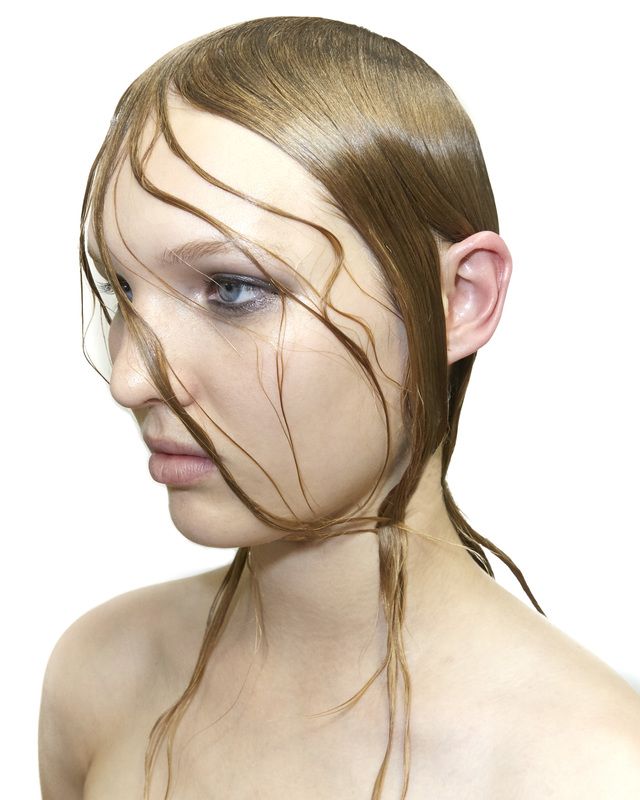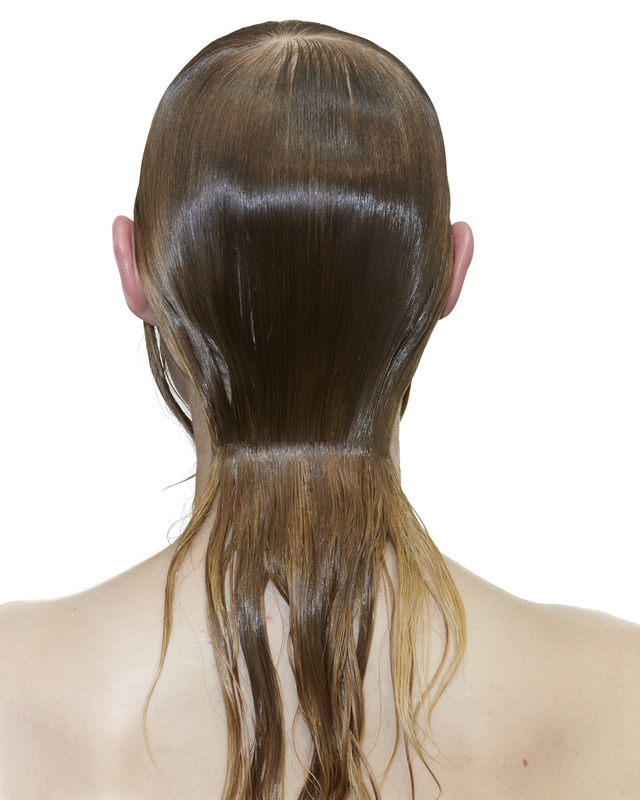 GET THE LOOK:
 Start with clean, center-parted dry hair.
 Using a fine-tooth comb, section out the bottom 1" of your hair. Clip the rest of your hair up.
 Apply Redken Hardwear 16 Super-Strong Sculpting Hair Gel using a fine-tooth comb to the bottom layer of hair, 1" section by 1" section, by applying the gel directly to the comb and running it through the scalp to ends.
 Once the bottom layer is fully saturated, bring down the next 1" section of hair all around your head and apply gel the same way.
 Continue until all of your hair is fully saturated in gel.
 Allow your ears to show on either side by separating out your hair with a tail comb.
 Using a fine-tooth comb, comb out a 1" wide triangle-section of hair at the hairline and comb it down onto your forehead. Comb out 3-4 1⁄4" sections and allow them to hang over the face in different areas.
 Set hair in clips, close to your neck, to hold the close shape until the hair fully dries.
 Remove the clips once your hair is dry, then spray a combination of Redken Forceful 23 Super Strength Hairspray and Redken Shine Flash 02 to set the look and add a wet shine.
 Finish the look off with a statement necklace over the hair to hold the shape and for added glamour.
Check out all of the Fashion Week hair inspiration here and be sure to stalk Redken on Bangstyle and stay tuned for more looks from the runway and must-have product picks!