From shave and shower to care and style, American Crew Acumen covers all the bases. Aimed at giving men more confidence when styling, this line will inspire men to elevate their self-care routines. The Acumen line utilizes high-quality ingredients specifically tailored for a high-performance finish. Formulated with ingredients such as Hyaluronic Acid, Ginger Root Extract, Vitamin B5 and Vitamin E - this new line will help increase the ability for hair and skin to retain moisture and fight against environmental damage.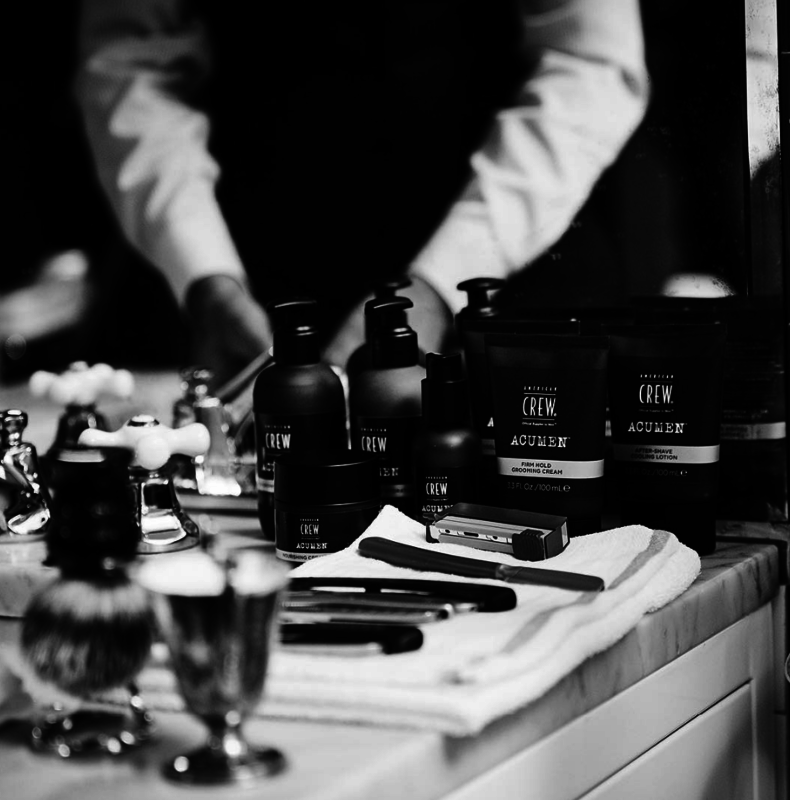 What Does It Include?
The line of 15 new products includes:
Invigorating Body Wash – An invigorating body wash with a blend of Vitamins tailored to moisture and condition skin as it cleans.
Daily Thickening Shampoo – Cleanses hair and increases volume while reducing breakage.
Clay Exfoliating Cleanser – Formulated with polishing beads to remove impurities and reveal smoother skin.
Eye Energizing Hydrating Gel – Hyaluronic acid and ginger root extracts work to reduce puffiness and boost radiance.
Classic Pomade – A water-based pomade that will create classic slicked-back looks with added shine and texture.
Nourishing Cream Pomade – For a natural feel with a frizz-free finish, this pomade adds condition and textured definition.
Scalp Revitalizer – Aid thinning hair by cutting down on breakage and creating a stronger, voluminous finish.
In-Shower Face Wash – An oil-free cleanser that removes excess oil and debris, leaving skin awakened.
Energizing Hydrating Gel – Improves the overall appearance and restore hydration with this non-comedogenic daily moisturizing gel.
Firm Hold Grooming Cream – Formulated with Acumen AC Complex and Cranberry, this grooming cream will protect hair and infuse it with vitamins for a well-defined look.
Soothing Shave Cream – Accelerate healing and get the closest shave possible while leaving skin smooth and nourished.
After-Shave Cooling Lotion – This calming cologne and moisturizer work to restore the balance of your skin.
Recharging Hydrating Cream – Hyaluronic acid and ginger root hydrate skin and revive elasticity for a rejuvenating effect.
24h Hand & Body Hydrator – A fast absorbing formula that refreshes skin without any excess residue.
Cooling Shave Cream – For a close yet comfortable shave, this formula aids in the skins natural healing process while aiding against irritation.
Where To Find It:
Currently available at Selfridges, El Corte Inglés and several select retailers in the UK, Italy, Russia and Spain. Take a peek at the line here: Selfridges.
---
Looking for more hair tips for the season? Check out these grooming guides and stay tuned for even more hair inspiration!