Strong, bonded hair is the secret to gorgeous color and flawlessly finished styles. Up until recently, these treatments were primarily available only in the salon. However, with the latest innovation, Redken is bringing bond-building to the comfort of your own home. Giving you the power to build better bonds instantly.
What Causes Over-Processed Hair
Anytime our hair undergoes a change, from coloring to styling, we are at risk of causing over-processed hair. While you can take all precautions to avoid it, over-processing happens. It can be suddenly from too much bleach or, over time, from constant damage. If you have over-processed hair, you'll notice is that your strands feel exceptionally dry and often break easily. While you can't go back in time and change what caused it, you can add bond-building treatments to your hair care routine to help build back stronger, smoother hair.
At-Home Bond-Building Treatments
Bond-building treatments used to be reversed for salon-only use and often took place after highlights or as an add-on for your blow dry. While you can (and should) still receive the benefits of this salon-only service from your stylist, there are new at-home bond-building options that allow you to treat hair between salon visits.
With groundbreaking innovation and instantly noticeable results, working the entire range, or even the Redken Acidic Bonding Concentrate Leave-In Treatment, alone will dramatically improve the look and feel of your hair.
As one of the most concentrated Bonding Care Complex formulas, this pre-shampoo rinse-out treatment allows for a total hair transformation in just 5 minutes. After just a single use, you'll notice 2x stronger and 14x smoother results. * The pH-balanced formula, featuring Citric Acid (an alpha hydroxy acid) will reinforce weakened bonds and lead to 90% more conditioned hair.*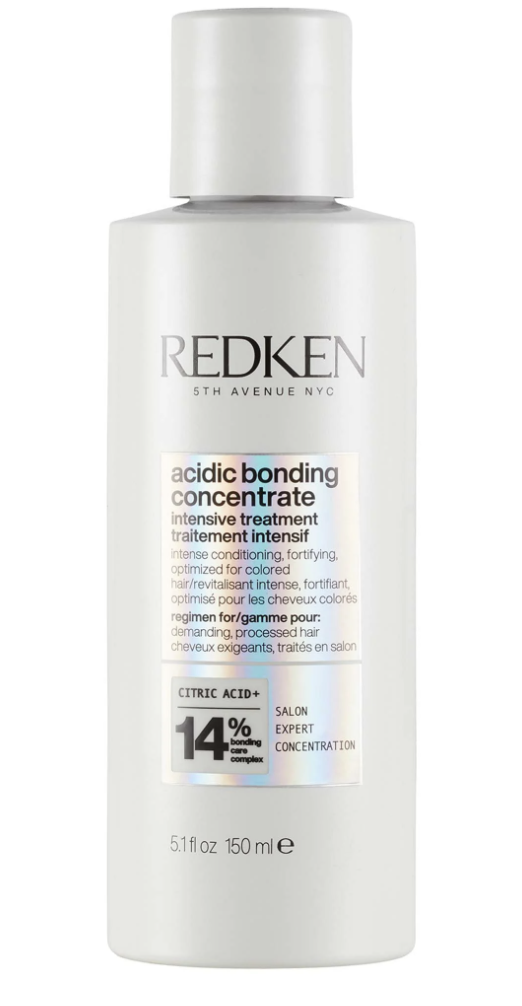 While the entire Redken Acidic Bonding Concentrate line works wonders separately, it is best when used as a system. After rinsing Redken Acidic Bonding Concentrate Intense Treatment, follow with Redken Acidic Bonding Concentrate Shampoo and Conditioner. The sulfate-free bonding shampoo and conditioner duo contains all-in-one formulas that strengthens, repairs, and protects against color fade.
Use it as a standalone or alongside the entire Acidic Bonding Concentrate range for best results — Redken Acidic Bonding Concentrate Leave-In Treatment protects the hair up to 450 degrees while fortifying weakened bonds and leading to 56% less breakage*, 88% less visible split ends** and 11x smoother hair**. From balancing the pH of the hair to leading to 88% less visible split ends in a single use, this treatment protects the entire strand — cortex, cuticle and end for smooth, silky, frizz-free results.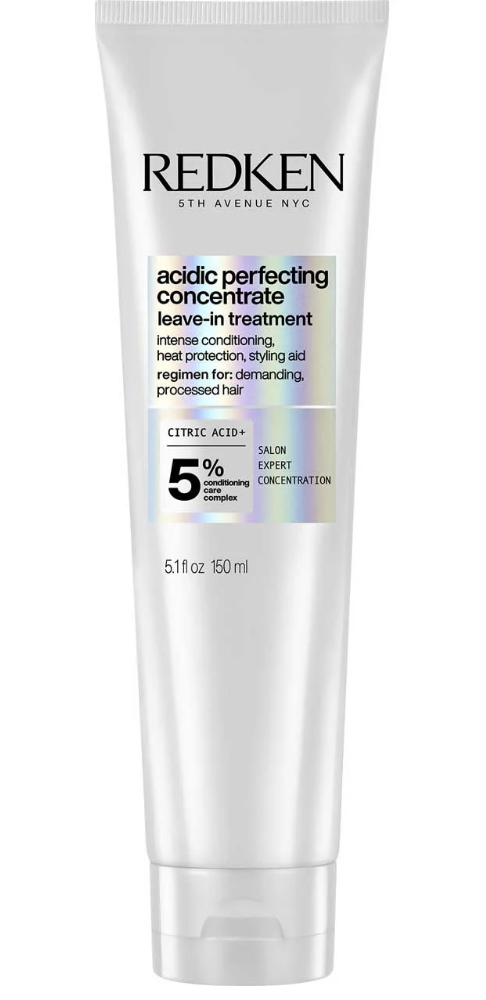 * When used as a system of Acidic Bonding Concentrate Shampoo and Conditioner vs. non-conditioning shampoo (L'Oreal Product Test: Date: August 7, 2020)
** When used as a system of Acidic Bonding Concentrate Shampoo, Conditioner and Leave-In Treatment vs. non-conditioning shampoo (L'Oreal Product Test :Date: August 6, 2020)
***When used as a system of Acidic Bonding Concentrate Shampoo, Conditioner and Leave-In Treatment vs. non-conditioning shampoo (L'Oreal Product Test :Date: July 30th, 2020)