Capturing all the vibes of Spanish Harlem and the moodiness of the city that is NYC, Ashley Flora explores the depth of a city within her latest collection. A collaboration with fellow Redken Artist Laura Frazier, these two worked with their team to expose the beauty of the gritty cityscape. Explore their take and experiences of New York in this Featured Collection.
---
The past year has been a ride, a great ride. My life has changed so many times in the past three years, but one thing that sticks is my drive, passion, and desire for my craft. I am constantly looking to do better, inspire, build, and grow as I am never done learning. Following my recent move from the Big Apple, I am thriving off of the inspiration of living in the city of dreams (and the city that never sleeps). 
My main inspiration was mood and capturing different types of moods. I lived very close to Spanish Harlem and I wanted the images to embody the sultry feel experienced at night as well as NYC edgy street vibe experienced during the day. 
Starting with a great team; I had networked with Photographer Bryce Chapman for a while and discussed teamwork and a plan. Laura Frazier is an incredible artist that also happens to be a friend of mine, so of course, Laura was in. The models and the makeup artist were incredible. Everyone networked through social media as and Chapman and I planned it all out.
The day of the shoot started early and as the hairspray misted throughout the shoot, the looks just flowed out smoothly. On my model (Nibvana) my go-to products were Redken Guts 10, Control Addict 28, Wind Blown 05, Iron Shape 11, Quick Dry 18, and Hardware 16. The use of Pink Pewter hairpieces and makeup was the perfect addition they matched this collection perfectly. The team worked so well together, It's really an amazing thing when you find like-minded individuals that just want to produce amazing work.
There were no time limits to the day; it was just a Saturday morning and afternoon jamming out to music and creating something beautiful together as a team. Experiencing this really builds your spirits up, and by the end of the day, you're just exhausted (in the best way possible) from all your energies flowing and then looking at the final result, amazed at what each person contributed. I anticipate much more to come from this talented team, we just can't wait!  – Ashley Flora, Hair Artist; Model: Nibvana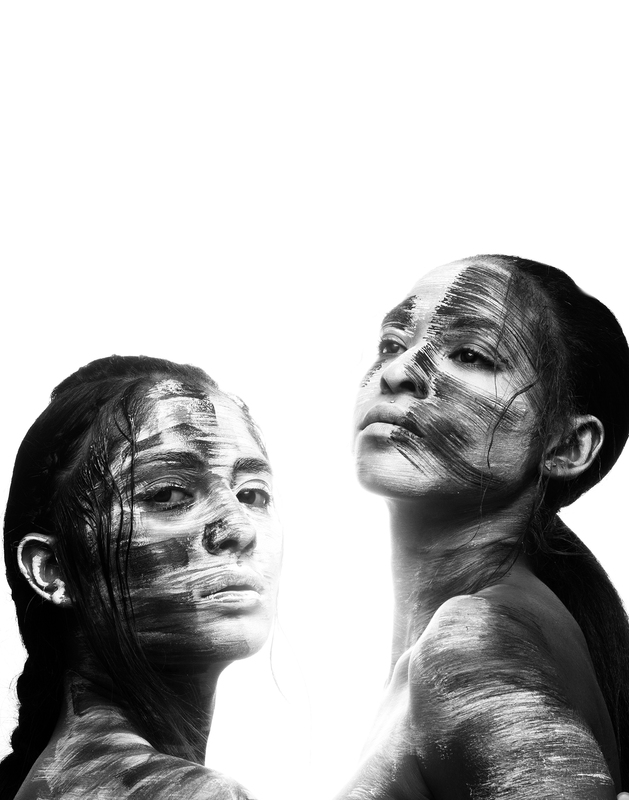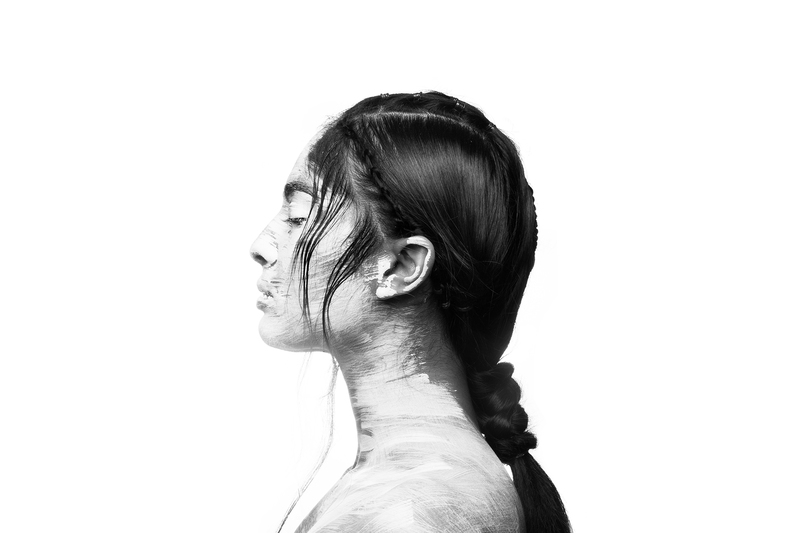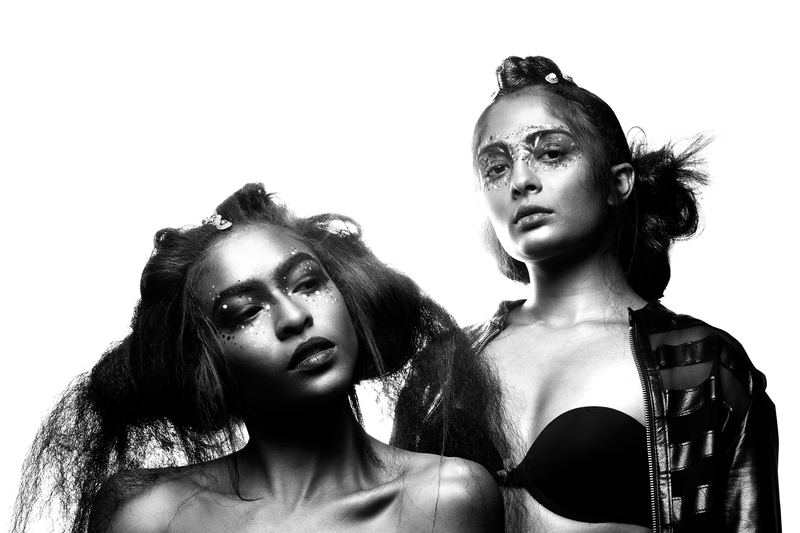 I was ultimately inspired by Ashley! Ashley invited me to collaborate on this project, sharing all her ideas for a shoot featuring two models with different and yet cohesive looks. After brainstorming with Ashley and looking at some mood boards and inspiration, I followed Ashley's lead. After watching Ashley create her first look I totally got the vibe! It felt very NYC late night with grittiness, accompanied by a whimsical yet tough feel that reminded me of David Bowie; hard at the core but unpredictably beautiful as a whole. The set just jived and flowed in such a way that couldn't be put into words, it just worked because we all were on that same creative page.
The final shots, although still gritty, had a more earthy tone to it. To end the day play with my makeup kit using Ben Nye white foundation to paint my model, we created a painted look. The first shots I used Redken Powder Grip 03 to gain control, making her braids into a moldable pony while using no heat tools. The choice of products is extremely important when transitioning into various styles. As I transitioned from my "Bowie-Buns" to the low pony in the final shot, Powder Grip 03 was the perfect primer to allow me to move through these looks with ease. I absolutely loved the accessories Pink Pewter sent us for the shoot, they helped us keep a whimsical vibe throughout each look. It was an amazing day, with a fabulous team!  – Laura Frazier, Hair Artist; Model: Nina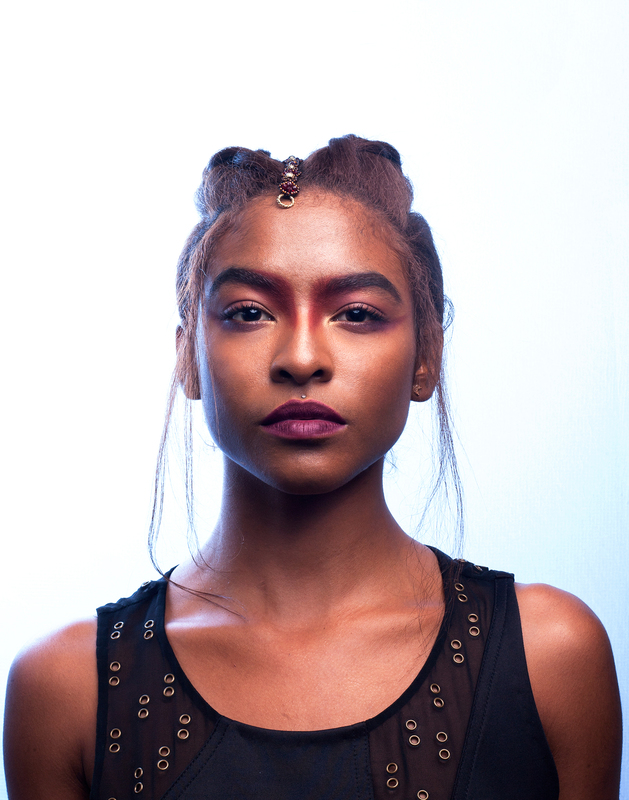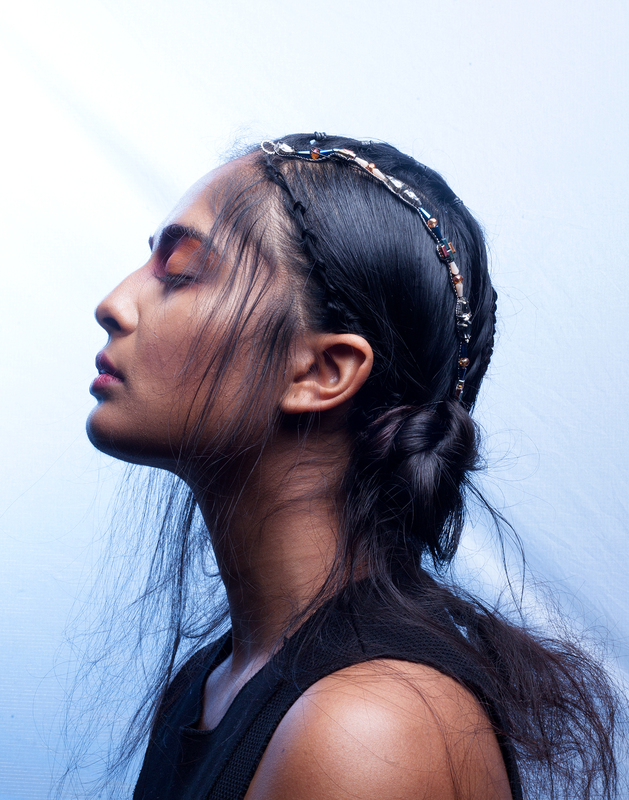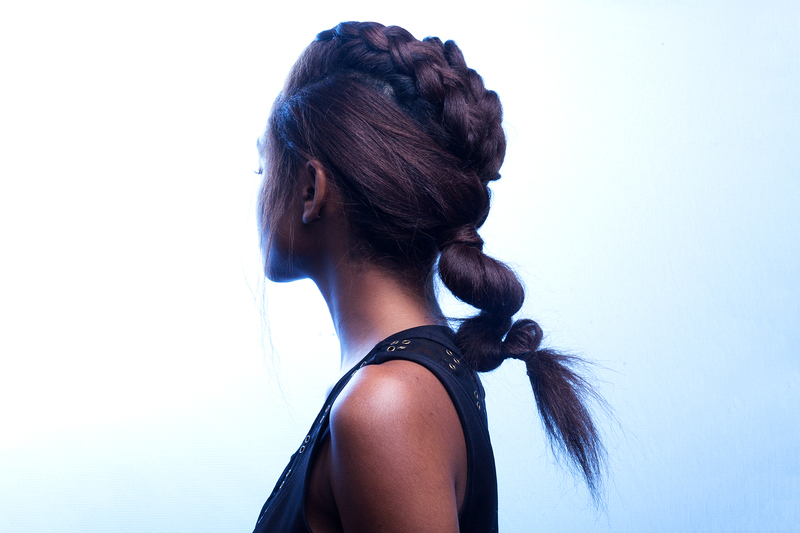 As a photographer, I am lucky to meet with people in the industry who have the same drive and passion as I do; to get the chance to work with those people is always a beautiful experience. Beautiful souls constantly throwing ideas my way keeps me on my toes and also keeps me inspired throughout the entire shoot, something that is often overlooked when it comes to shooting. A good team around you can keep you going, keep you motivated and help create a beautiful, smooth experience. For this project, I utilized just two lights, a soft lighter, and a scrim. My key light was an AB800 shot through a soft lighter. The second light was behind the scrim, which was behind the models. – Bryce Chapman, Photographer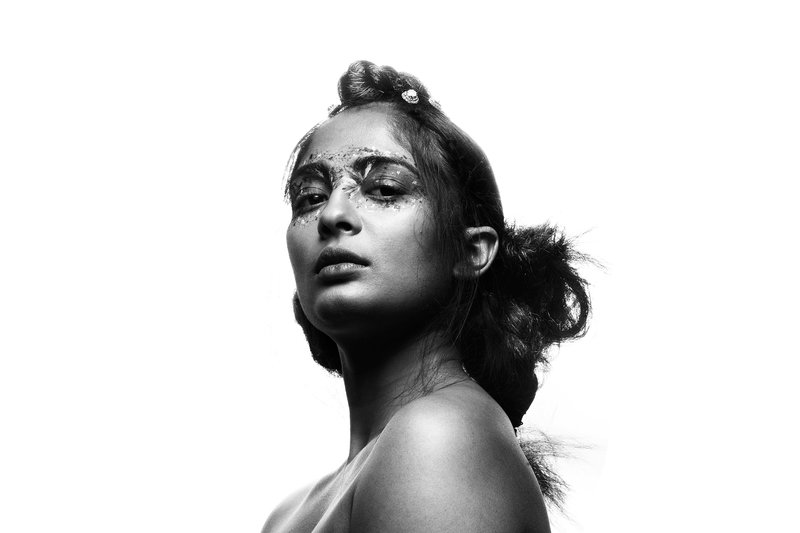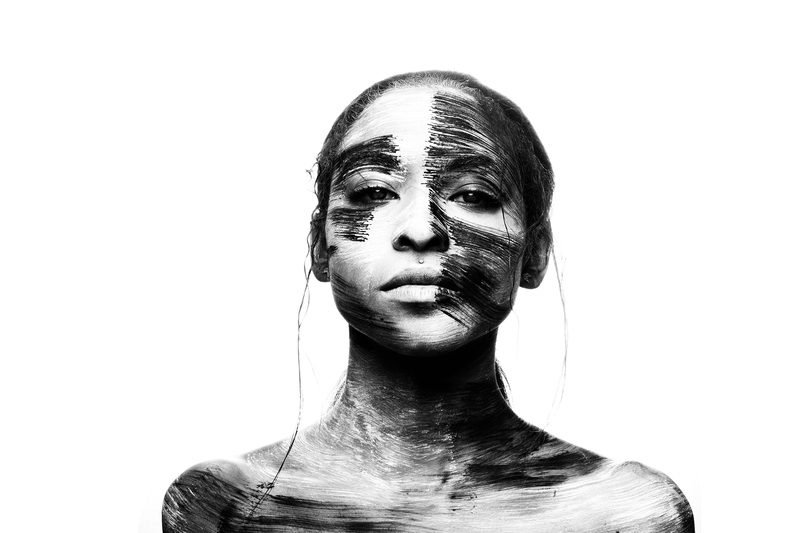 I was excited to be one of the makeup artists for this shoot. It was amazing working with such talented people who were really encouraging everyone to use their experience and creativity for this project. The concept and vibe of the shoot were one that I really enjoyed a lot because it was on the high fashion and editorial end of the spectrum, which is really when my experimental side comes out. I used a lot of cream products for makeup since the team was going for a more abstract style, and I personally love the fluidity and seamlessness that cream makeup creates. The palette and lip color from Pink Pewter was also the perfect accompaniment to the vibe. I stuck to warm, deep tones since the team was capturing the feel of entering into the fall and winter seasons. – Adrienne, Makeup Artist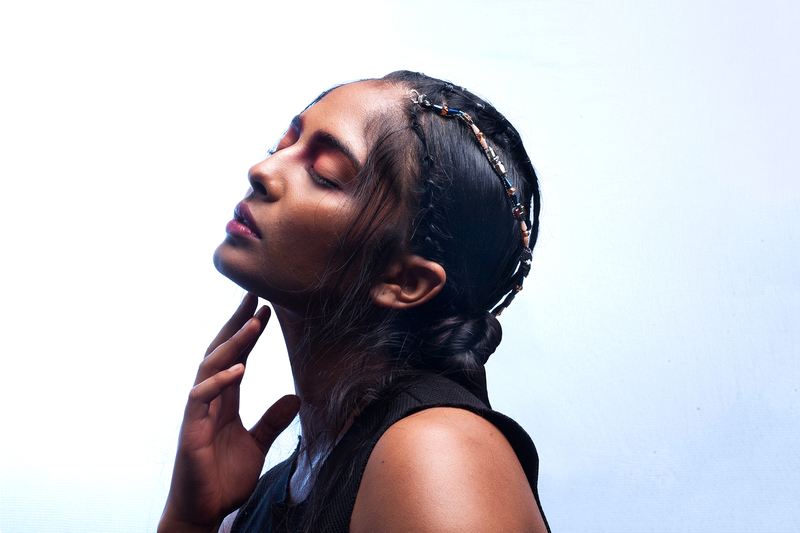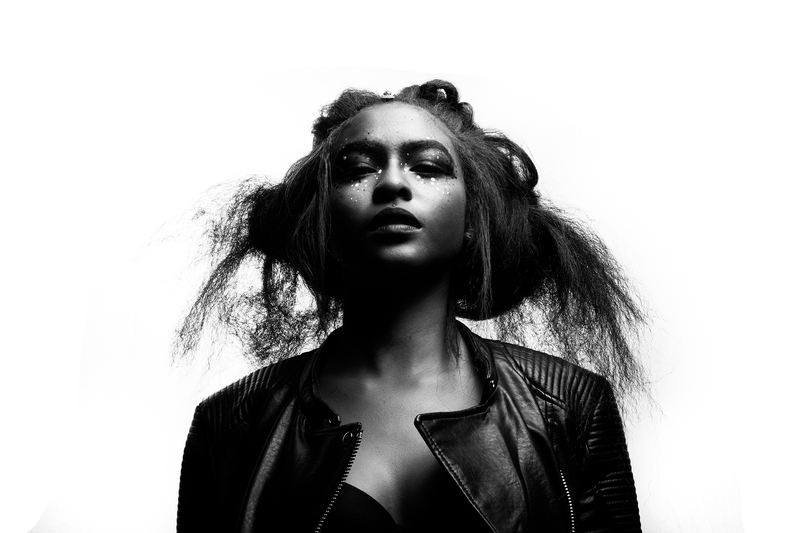 The smell of hair products surrounded me as I felt makeup brushes transform my face. All around me were delicious snacks prepared by the shoot coordinator and hairstylist, Ashley. Makeup and hair tools were piled on two tables, ranging from hair extensions to jewelry and even paint. In the background, music was blasting through the air. This was such an enlightening shoot because even though I have been modeling for close to four years, I have never embodied this many looks in one day. Between the snacks, music, and creative company, I barely noticed as Ashley twisted and pulled my hair into elaborate styles atop my head. The day flew by as we finished each look and I remember being incredibly inspired by the stylists and their energy – the only time they stopped for a break was when we in front of the camera. I hope everyone who sees our work can also see this spirit and energy that went into its creation. – Nibvana, Model
To see even more hair inspiration, be sure to stalk Laura Frazier and Ashley Flora on Bangstyle, and check out these articles from fellow artists!
 
Sponsors
Hair Accessories and Makeup: Pink Pewter