When it comes to fashion and the trends we've seen moving down the runway, silhouettes and accessories tend to stand out from but, there is a shade that stands out above the rest as a movement this season – violet. Indicative of the finest super blooms we've seen all around the world – when it comes to beauty this hue is useful as it is stunning.
As a stylist, it is imperative to understand the colour wheel as it pertains to colour theory. When looking at the wheel, you'll notice that violet is on the exact opposite side of orange/yellow. Therefore based on colour theory, the violet will cancel out orange and yellow tones whether used in hair colour or makeup applications. "Brassy" hair colours are on the list of unwanted tones that usually appear when lifting hair with bleach or high lift shades. Within the colour process, this shade orange/yellow shade is not coveted but with a few changes to your formula, it can be easily remedied. Adding violet when lifting, applying colour or even shampooing lessens that brassy shade allowing for cool or neutral tones throughout the hair.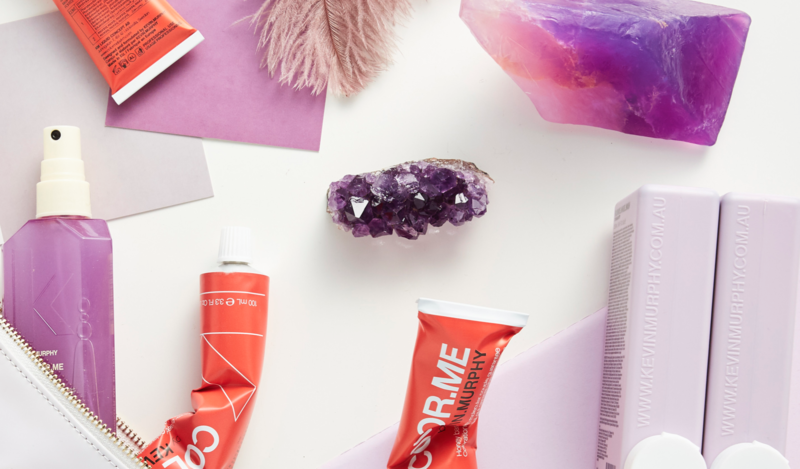 More than just a tool to cancel out unwanted tones, violet has proven a popular shade to wear this season. From runway styles to festival season, "Violet has continued to play a starring role
 on the runways but we have seen it evolve gracefully into more sophisticated, modern shades. Our new VIOLET.ASH shades add a cool edge to colour for an effortlessly edgier result," says Kevin Murphy.
A feminine feel with a perfect finish, new VIOLET.ASH shades are designed to reflect light and counteract gold shades. The new .81 violets will be a "staple for every COLOR.ME salon," says brand Global Design Director, Kate Reid.
SHADES:
Available in VERY.LIGHT.BLONDE.VIOLET.ASH, PLATINUM.VIOLET.ASH, and ULTRA.PLATINUM.VIOLET.ASH, the new tones are perfect for creating an ethereal soft violet hue in lightened hair, or simply eliminating harsh gold tones for a natural, lived-in blonde.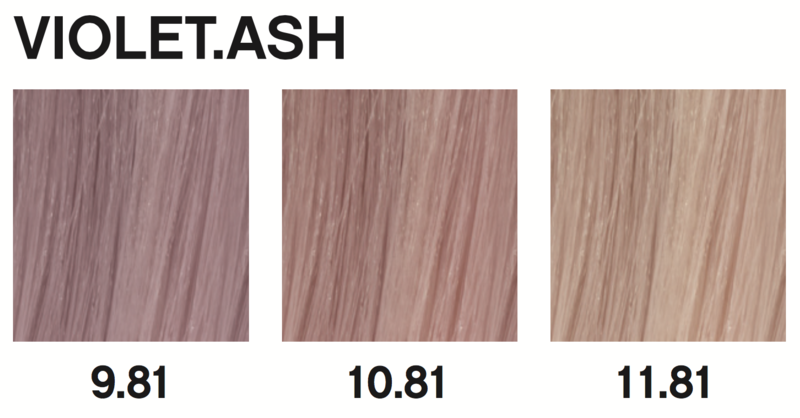 Discover the limitless creativity of your colour with easy to customise formulas featuring new VIOLET.ASH.
OPAL
9.81 + 11.2 + CREAM.ACTIVATOR 3.5 VOL. (1%)
CRYSTAL BLONDE
11.81 + CLEAR + SOFT.VIOLET + CREAM.ACTIVATOR 3.5 VOL. (1%)
AUTUMN GLAZE
11.81 + 7.66 + CREAM.ACTIVATOR 3.5 VOL. (1%)
LAVENDAR HAZE
9.81 + 5.8 + CREAM.ACTIVATOR 3.5 VOL. (1%)
DUSTED MUTED APRICOT
10.81 + 7.46 + CREAM.ACTIVATOR 3.5 VOL. (1%)
REFINED CRYSTAL QUARTZ
11.81 + SOFT.VIOLET + CREAM.ACTIVATOR 3.5 VOL. (1%)
Show us how you use VIOLET.ASH by tagging us in your latest creations on social media @love_kevin_murphy!
---
For fashion-forward colour and style inspiration be sure to visit us on Instagram, Facebook, Twitter, and Bangstyle and to see all the specials, be sure to visit the KEVIN.MURPHY store!