Total look is very important for the story telling. By total look I mean model, hair, makeup and wardrobe. All these components correctly select ed and put together, create a context, giving the viewer a sense of the character, his/her lifestyle, and help our imagination create a story behind this character. This makes the image stronger, and creates a good vernacular between the portrayed character and the hair design. I would like to refer to one of my favorite inspira tional images and analyze it.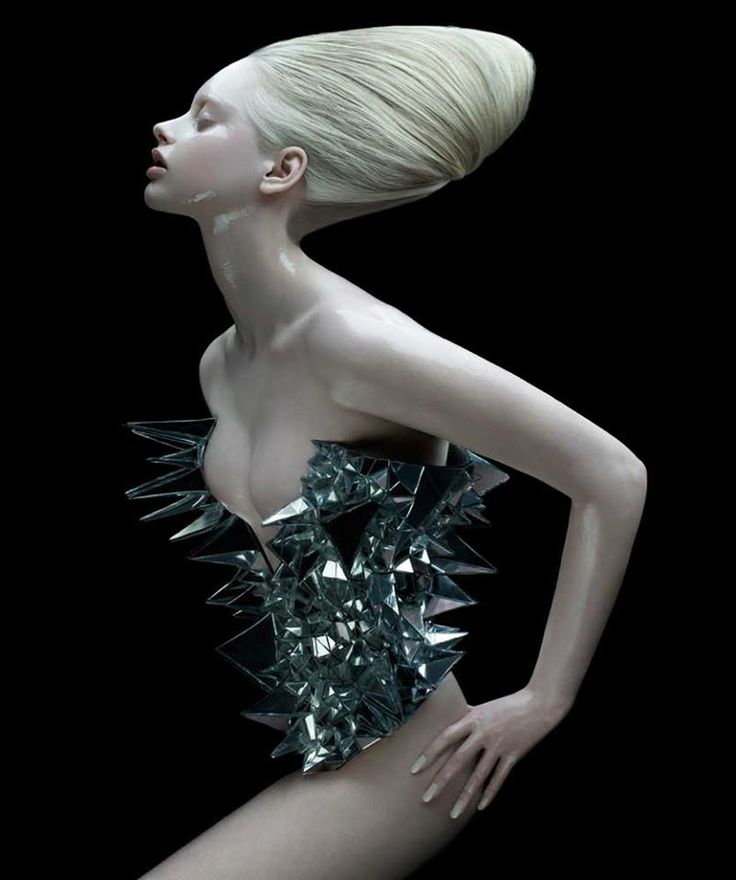 Image photographed by Leda & St-Jacques, hair design by Randy Smith.
This look is very polished, minimal and every detail is a readable futuristic element that together gives a sense of either an alien, or a futuristic princess. Lets figure out what exactly in this photograph sends out such a particular, though sophisticated message. In my opinion, lines and textures serve as a deal breaker here.
Hollywood created a very particular image of the futuristic urbanism: minimal design, clean lines, plastic and glass objects, and combination of the sharp, angular elements with the smooth and curvy ones. In my opinion, this image is a quintessence of the Sci-Fi character without being too literal. Clean and sharp lines of the mirror spiky corset, and smooth oval shape of the hairstyle along with the pale and reflective skin, make us balance on the verge between the worlds of fantasy and fashion. Lighting and pose, also play a big role. Model has her eyes closed and chin held up high, her body gives us a sense of movement and the key light, coming from above, creates a mysterious atmosphere. All of this contributes to the total look, supporting and explaining the hairstyle.
Similar feeling I tried to create for one of my recent projects in collaboration with the stylist and colorist Cameron LeSiege and model Elena Rodriguez. The "Blue flame" look was built starting with the haircolor. Cameron had decided on the color and the style: "I really wanted to take a spin on the well-known "mermaid" blue. Romance had to step aside and the edge had to take over. Style clash is what I was going for: Futuristic color meets Modern cut, shaped into a Vintage style. These strong vertical waves elegantly resemble the wildness of the blue flame." This was my starting point for creating the total look.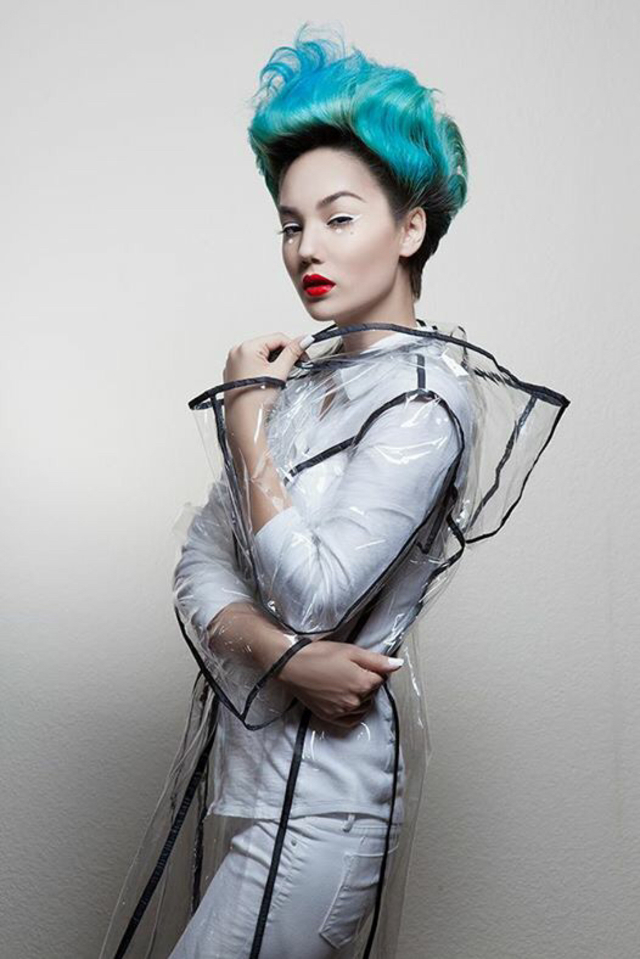 Hair by Cameron LeSiege on Bangstyle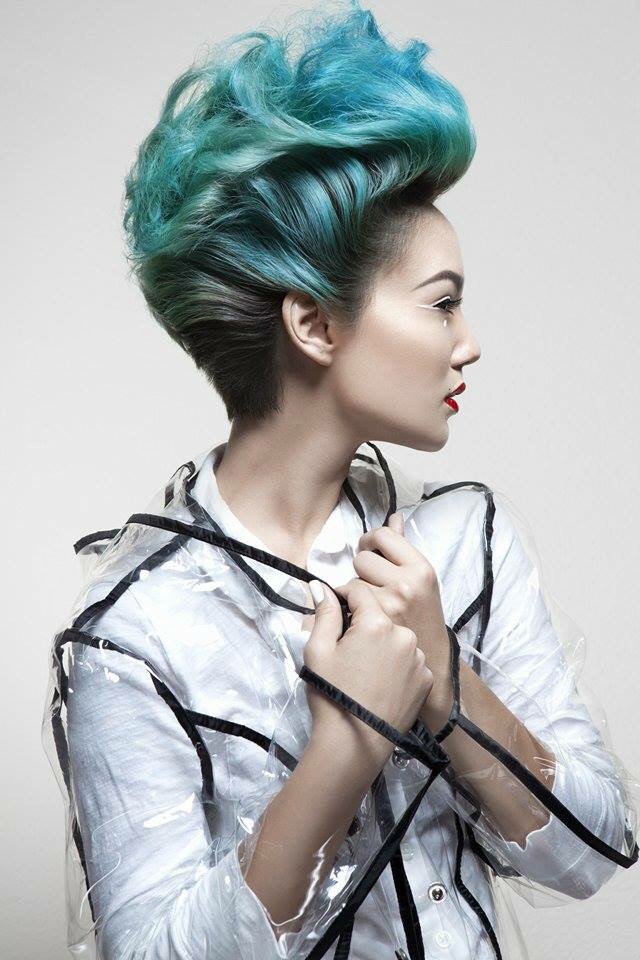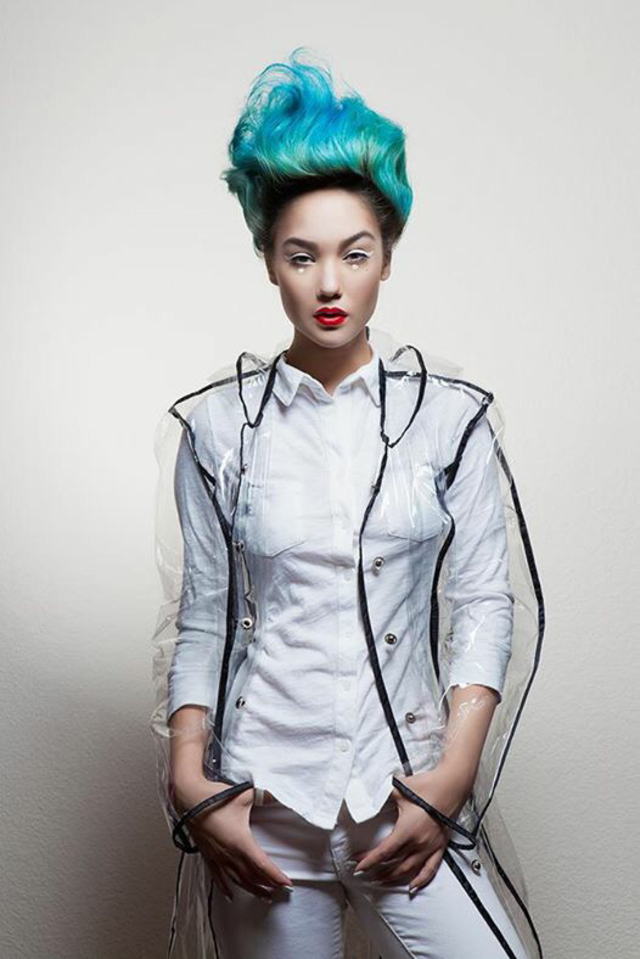 By just glancing at the color I instantly had Fantastic Four, X-men and other super hero comics pop up in my mind. This is when the idea of a futuristic space lab scientist came to life. Wardrobe color selection came as very obvious, in addition, I had this amazing clear plastic raincoat I got from my friend in Ukraine. It was a perfect match. White top and bottom clearly reminded of a lab uniform, plastic raincoat resembled protective quarantine suit. Makeup was a hard decision, but since my model had Asian features, I decided to emphasize it with a white winged eye and a visible dot under her eyes. Off white background also contributed to the look, reminding of a metal interior of a spaceship. Red lip was added to contrast with the blue hair and contributed to the overall color dynamic.
WEEKLY CHALLENGE: Browse through your favorite inspiration images. Try to read the story created by the author. Analyze what elements give you that particular understanding of the theme.